The biggest preparation planning mistakes are based on lack of communication and lack of commissioning knowledge.
Assurance Commissioning in the Energy Industry
Q&A with | CommTech Global Solutions, LLC
Tell us about CommTech Global Solutions, LLC?
CommTech Global Solutions, LLC, provides professional and reliable commissioning services to customers in all realms of the energy industry. We blend our skills in engineering and technology with innovative business models, offering a complete range of services to assist you for a successful and in compliance operational startup.
Where does CommTech Global work?
We're a national and international firm. We've worked all over North America and can work all over the world. Our home base is Omaha, Nebraska.
What services does CommTech Global Solutions, LLC provide?
We provide an extensive list for Commissioning and Startup such as; Quality Assurance, and Non-Conformance Tracking Electrical, Instrumentation, Mechanical Technical Support Verification, Procedure and Turnover Development, FERC Compliance Oversight Electrical and Grounding System Evaluations.
Our Field Support can cover everything from Inspection Personnel Supplier Verification and Factory Audits Electrical Utility and Telecom Project Coordination, Project Field Support as well as Document Control.
Finally, our Control Engineering, Drafting and Assembly services range from Control System, HMI and SCADA Design and Development Redline and As Built Drafting Services, to UL 508a Control Panel Assembly, Pneumatic Control Assemblies, System Simulation and Testing (SAT,FAT).
Consolidation of all our service domains gives our clients a comprehensive set of expertise and far-reaching experience on each project.
What makes CommTech Global different than other energy commissioning firms?
CommTech Global Solutions' founders combined their background in multiple energy industries to employ their collective expertise and experience for creating a strong customer service base. Thus, our skilled team of engineers and technicians are well-equipped to provide a wide range of specialized services. We're a start-to-finish commissioning firm includes a complete range of services to assist in compliance operational startup. We are not finished with a job until the safety regulations are compliant and our customers are satisfied. Attention to detail, fast, dependable, customer service oriented, continuous training of employees to keep up with the latest trends in energy and engineering, we're able to offer what other commissioning firms just cannot.
We also match our requirements, so they are UL certified, on every project. Our attention to every detail, whether it's control assembly or the control department, the quality assurance is second to none. We work as a one-stop-shop for control and panel, and we provide documentation control; daily check sheets and recordable documents, as well as onsite images for each project. We're transparent and thorough.
Why would a client need a commissioning firm if they already hired a reputable company for their installs?
Obviously, you wouldn't hire a company if you felt they would do a subpar job. CommTech works as that extra layer of assurance and safety for everyone that would be in contact with that product/project. We provide FERC Compliance Oversight, Field Support, UL 508a Control 
Assembly, As Built, Documentation Control, and other much more. We confront any problem that may have been an oversight, before that problem becomes a hazard.
What stage in the development process of a large energy project is a developer most likely to run into costly delays and why?
The biggest preparation planning mistakes are based on lack of communication and lack of commissioning knowledge. Here's an example; we're told a project is already built and ready for quality assurance checks, our team arrives to the worksite to find that the installs aren't finished yet. A costly and completely avoidable delay.
Give us some examples on how proper planning and preparation limit costly delays in a project?
CommTech Global Solutions LLC, provides pre-commissioning walk downs prior to project readiness. This allows us to understand the scope of what needs to be done, so we avoid any problems going into commissioning. We arrive on site ready and with a full staff for day one.
Our goal is for everyone involved with the project to be comfortable with all proposed commissioning tasks, provide a clear understanding of our services, and to work as unified team to achieve the clients' goal of a targeted in service date.
What energy sector are you seeing the biggest demand for your services currently? Do you foresee growth coming from any other energy sectors?
We're steadily seeing a break-off from fossil fuels and other typical energy resources, and solar has become increasingly popular and more affordable. To give you an idea of how solar has grown in the ten years, it would take a person years to receive any return of investment on solar equipment. Today it's much more economical to place solar on any facility and have a quicker return on investment.
In five years' time, where is CommTech Global in regards to solar and wind projects?
It's hard not to be excited for what we are seeing with regard to the future of solar and wind projects especially in solar farm development across the western and central United States. In order to be recognized as industry leaders in all realms of energy industry commissioning, it is our goal to increase our presence in these areas by 25% to 35% in the next five years.
The content & opinions in this article are the author's and do not necessarily represent the views of AltEnergyMag
---
Comments (0)
This post does not have any comments. Be the first to leave a comment below.
---
Post A Comment
You must be logged in before you can post a comment. Login now.
Featured Product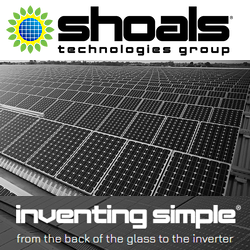 Inventing Simple® isn't just a slogan to us, it's a way of life. Using simple plug-and-play ideology, we revolutionized solar installations in 2003 with our Interconnect System™. Our harnessing system is now the gold standard EPC's use around the world. By using simple ideas, we are making solar energy a more affordable and clean power source for future generations.