Adopting conscious capitalism does not mean that you can't pursue profit. Rather, it focuses on profiting while considering the interests of all stakeholders (even the ones that can't speak for themselves, like the environment).
Sustainable, Conscious Capitalism: The Way Forward
Contributed by | Adrian Johansen
With climate change and its detrimental effects becoming undeniable truths, companies are finally starting to give in to increasing pressure from governments and consumers to become more sustainable. If your company hasn't already implemented policies to demonstrate social and environmental responsibility, now is the time to do so.
One way to go about this is embracing what is known as "conscious capitalism," a movement that aims to promote a better future for our planet and its people.
What Is Conscious Capitalism?
For the uninitiated, conscious capitalism is a business philosophy developed by John Mackey, co-founder of Whole Foods, and professor Raj Sisodia. Together, the two wrote a book on this business concept, defining it as "a way of thinking about capitalism and business that better reflects where we are in the human journey, the state of our world today, and the innate potential of business to make a positive impact on the world."
Adopting conscious capitalism does not mean that you can't pursue profit. Rather, it focuses on profiting while considering the interests of all stakeholders (even the ones that can't speak for themselves, like the environment). This results in a mindful, socially responsible, and purposeful business model. Conscious capitalism has four main principles:
Higher purpose: While profits are important in any business, conscious capitalism emphasizes having a purpose that extends beyond profit.
Stakeholder orientation: Under this framework, stakeholders include everyone from consumers and employees to surrounding communities and the environment. Ideally, conscious companies will equally value everyone involved.
Conscious leadership: Conscious capitalism encourages leaders to embrace a community or family mentality. Conscious leaders are those that inspire conscious behavior in others.
Conscious culture: As a result, conscious capitalism fosters a culture of care, trust, and unity among employees and external stakeholders.
It is important to note that conscious capitalism significantly differs from corporate social responsibility (CSR). While CSR initiatives are often tangentially attached to regular business models as separate entities, conscious capitalism is more of a philosophical shift, rooted in the company's values and beliefs. Conscious capitalism is thus a more holistic and sustainable approach to business, focusing on the dynamic relationship between the company and society at large.
Embracing conscious capitalism can greatly benefit your business. This sort of business philosophy is much better for society and the environment in the long run. At a time where individuals, companies, and governments need to take responsibility to secure the future of our planet, conscious capitalism is a way for companies to do their part.
Even from a business standpoint alone, conscious capitalism has many advantages. This framework increases cooperation between employers and employees, boosts stakeholder loyalty, increases community engagement, and leads to higher rates of employee and consumer satisfaction.
Finally, adopting conscious capitalism can actually lead to a reduction in company costs, due to benefits like energy tax credits. As stated in Rider University's Guide to Green Loans and Energy Efficient Tax Credits, "No matter the size, businesses can qualify for energy tax credits while helping preserve the environment." These sorts of tax credits as a result of using renewables are great incentives for small businesses to become more sustainable, as they help negate some stresses while also doing the environment some good.
Real-World Examples
Conscious capitalism exists differently across various industries and companies. Here are some examples of this philosophy in action:
Whole Foods
Considering one of the minds' behind the philosophy is Mackey, it shouldn't come as a surprise that the company embodies all the values of conscious capitalism. For instance, Whole Foods holds "community giving days", once every quarter, where 5% of net sales are given to a local nonprofit. This strategy considers all stakeholders, creating loyalty among customers, keeping employees motivated, and caring for the surrounding community.
Another decision that embodies conscious capitalism was co-CEO Walter Robb's idea to open a store in Detroit, where many live below the poverty line. Traditionally, this decision would be a risk for many, with no guarantee of positive returns. But for Robb, who was concerned about Whole Foods' burgeoning reputation as an elitist company, it made sense to look beyond just profits. According to him, Whole Foods "was meant to be healthy food for the world, not just for a few people." With a higher purpose at the core, the Detroit store turned profitable in less than a year.
U.S. Postal Service
Among some of the myths about the U.S. Postal Service is the notion of wastefulness and a disregard for the environment. On the contrary, the USPS is actually a market leader when it comes to sustainable practices. The service strives to conserve energy, save water, and responsibly dispose of solid waste material. Its efforts to be environmentally safe and consider all stakeholders in its operation have earned it many awards over the years. Most notably, the USPS has received the Climate Registry's Gold Award due to its initiatives that have led to a significant reduction in greenhouse gas emissions.
Southwest Airlines
Southwest Airlines is another example of a conscious company. The company follows the triple bottom line approach, which goes beyond simply accounting for financial profits and losses. It also takes social and environmental costs into the equation.
In an interview on Conscious Company, Bill Tiffany, Vice President of Supply Chain Management, and Casey Dunn, Southwest Airlines spokesperson talk about some of Southwest's conscious capitalism efforts: "Our fuel efficiency initiatives reduce costs while also minimizing our environmental impact. Similarly, our investments in the communities where Southwest flies contribute to making them great places to live, work, and visit."
Additionally, through its "Evolve" program, Southwest replaced leather seat covers and interior materials with environmentally friendly products. As a result, the weight of each aircraft was reduced by more than 600 pounds. Perhaps even more impressive is the fact the the leather from seat covers were donated to social enterprises to create soccer balls and used to spread HIV/AIDS awareness through sports. Unlike recent developments in the coach travel industry, the airline industry has historically been notorious for disregarding environmental and social concerns — Southwest Airlines, however, is a proven exception to the norm.
Today, adopting philosophies like conscious capitalism are essential to safeguard our planet and its people. No longer are isolated instances of CSR and charity enough. Rather, a holistic and sustainable approach to business is necessary. To quote Tiffany, "the business case to act in a sustainable way is simple — it's the right thing to do for (companies) and our planet."
The content & opinions in this article are the author's and do not necessarily represent the views of AltEnergyMag
---
Comments (0)
This post does not have any comments. Be the first to leave a comment below.
---
Post A Comment
You must be logged in before you can post a comment. Login now.
Featured Product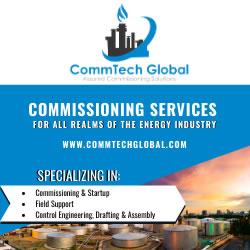 CommTech Global Solutions, LLC, provides professional and reliable commissioning services to customers in all realms of the energy industry. We blend our skills in engineering and technology with innovative business models, offering a complete range of services to assist you for a successful and in compliance operational startup. Consolidation of all our service domains gives our clients a comprehensive set of expertise and far-reaching experience on each project.