We found there was more EV adoption in California than in the Northeast. There are many factors, but it is the case that public regulators have been approving significant funding to promote electric vehicles in the west, including widespread public media campaigns.
59% of Consumers' Next Car Will Likely Be Electric
Andrew Dillon | West Monroe
Tell us a bit about West Monroe and the background for this data relating to Electric Vehicle use?
West Monroe is a national management and technology consulting firm. With the recent excitement and growth in electric vehicles, we wanted to move forward with this data study because we knew that the sector is expected to grow at a 13% compounded rate until 2022 – and has become top of mind for many utilities, cities and businesses. We were interested in exploring potential further growth in key markets that are inspiring utilities to assess how to prepare for the coming demands. With consumer vehicle owners, businesses owning vehicle fleets as well as public regulators all turning an eye toward electric, we wanted to better understand: what motivates drivers and businesses to adopt EVs? What holds them back? And what does it mean for the electric utilities expected to support, and maybe even fuel, the growth?
59% of consumers say an EV is 'likely' the next type of car they buy or lease. Why might this be?
When you talk to conventional vehicle owners, be that consumers or businesses, the trend has raised to a point where a majority of people are aware of key benefits like lower fuel costs, lower maintenance costs and in some cases, higher safety ratings. Ten years ago, this level of awareness did not exist. In addition, EVs are regularly in the news with stories like Volkswagen stating that in a handful of years they will cease making fossil fueled cars, Amazon stating they will purchase 100,000 EV trucks, and stories about Tesla vehicles outpacing sales of other conventional luxury sedans. All this is leading to heightened awareness, but the key word here is 'likely.' 'Likely' does not mean that 59% of consumers will absolutely buy or lease an EV as their next car – there are still hurdles for many buyers to overcome. However, it does illustrate the level of interest that people have in electric vehicles. EVs are becoming less alternative and more mainstream, especially with a greater variety of vehicles on the market. It is forecast that there will be 14 or more new EV models released in 2020 including SUVs, pickup trucks and commercial electric vehicles – more than 30% increase in options. In the past, consumers' main option for an electric car was high-end sedans like the Tesla S or semi-affordable electric cars like the Chevy Volt, Nissan Leaf, or Toyota Prius, but now we have a multitude of options on the market – such as Tesla Model 3, Chevy Bolt, BMW i3, Ford Focus Electric, Hyundai Ioniq, and more. Additionally, when we asked consumers who currently own an electric vehicle what their top reasons were for purchasing or leasing an EV, they cited the following: to save on gas cost (60%), environmental benefits (47%), and the convenience of charging at home (40%). These same motivations likely also apply to those who are in the market to buy or lease an EV.
Are there differences or similarities in the data when comparing the East and West coasts?
We found there was more EV adoption in California than in the Northeast. There are many factors, but it is the case that public regulators have been approving significant funding to promote electric vehicles in the west, including widespread public media campaigns. Driving down the freeway in LA, you will see large billboards promoting EVs, and if driving in downtown Portland, you will see an "Electric Avenue" lined with high speed chargers. With media spend and state incentives come customer interest. However, public regulators in many east coast states are in the process of evaluating and deciding on funding for EV programs, as well. In our survey, 17% of California consumers own an EV, compared to 15% of survey participants in Northeast Tristate — of these participants California consumers ranked higher in saying they're "extremely likely" to purchase an EV as their next vehicle relative to their Northeast counterparts (22% vs. 14%). This may indicate that continued commitment to EV adoption is stronger in states that have stronger incentives, or more committed funding to build EV Charging infrastructure as is the case with the west coast.
Though consumers are clearly curious about and interested in EVs, can carmakers and electric utilities deliver what consumers want (more changing stations, etc)?
That's a great question. From our work with key utilities around the country, utility planners are definitely proactive and looking seriously at the requirements to deliver the needed charging infrastructure that customers request. For example, many utilities are actively promoting the installation of EV chargers at a wide range of locations that EV owners would want, including workplace charging, shopping centers, parking lots, as well as multi-unit dwellings where there are no private garages. Utilities are also focused strongly on the new power demands of clustered EV charging. Yet this remains a concern among survey participants who named obstacles that deter purchasing or leasing an electric vehicle due to a lack of charging stations in their region (36%) and the lack of charging stations that affect longer trips (27%).
Auto manufacturers are experiencing the biggest shift in their industry since the introduction of higher fuel standards back in the 1970s. New trends breed new companies, and we see entirely new companies emerge to take on the big automakers like Tesla. We also see carmakers like Ford investing hundreds of millions into EV technology, announcing iconic brands like the F150 and the Mustang going electric in the next few years. Automakers risk cannibalizing their existing customers and creating market confusion, and yet sitting on the sidelines may well be the worst thing an automaker can do in the face of disruptive change. After all, it is forecasted that EVs will be lower in cost than their conventional counterparts within 2-3 years.
As of 2018, the U.S. had approximately 57,000 charging outlets and 20,000 charging stations for plug-in electric vehicles (EVs), with a considerable sum of these chargers found in California (4,800 stations and 18,200 power outlets). Plug-in power stations and charging outlets have helped the U.S. plug-in electric vehicle sales rise from 115,000 in 2015 to 358,000 in 2018. So, if carmakers and electric utilities can deliver more charging stations, we should see this correlate to the rate of EVs purchased. It will take an enormous investment, but the benefits would pay off (for consumers, the infrastructure, and the environment).
What role does age play in consumers' proposed EV adoption?
West Monroe's study found that one-third of Gen Z vehicle owner respondents own an electric vehicle, notably more than any other generation surveyed (compared to just 6% for Boomers). And two-thirds (66%) of Gen Zers surveyed noted that the next car they buy will likely be an EV – with 54% planning to make this purchase in the next two years. The EV choice is in line with other lifestyle choices that show younger auto buyers are looking for something different, something purpose-driven, and a vehicle that reinforces economic pragmatism. A belief that it is their generation that has a chance to save the planet factors in to a range of green choices.
What's more, Gen Z – the next group entering the workforce – will go so far in their sustainability beliefs to pass on a job if they don't uphold these same values. Respondents 23 and under consider employer-sponsored benefits that reward sustainable practices as important (86%), with 38% of Gen Z respondents noting this as "extremely important" and that it might prevent them from taking a job if these benefits aren't offered. For this reason, large employers are increasingly looking to add EV chargers as an expected sign of commitment to reducing carbon emissions.
What's preventing consumers from getting on board with EVs?
According to our survey, the biggest deterrents are cost (67%), a lack of charging stations (43%), and limited battery life (29%). But with the average price of electric cars falling (with a 13.4% decline since 2018), and an increase in the number of charging stations (the US is up ~16,000 public electric vehicle charging stations with ~43,000 connectors since two years ago), we can expect to see these hesitations toward EV adoption begin to drop. In addition, according to an analysis by Bloomberg on supply chain shifts and reduction in overall costs, EVs will achieve price parity in 2022, and from that point drop forever below the cost of conventional vehicles. It is the case that EVs have significantly fewer moving parts than a conventional vehicle. With this in mind, one would assume major auto parts makers will shift out of conventional parts the way newspapers shifted to digital, and as a result, conventional auto parts costs will rise, and in growing volume, EV parts continue to decline.
What would encourage consumers to consider purchasing an EV?
The survey to respondents reveals sentiments that show promise for EV adoption, as the concerns that are voiced today are trends that are improving every year. Factors that would incentivize consumers to purchase or lease an electric vehicle include: longer-lasting battery (47%), base price of EVs being similar to the equivalent model gas vehicle (38%), and more charging stations (36%). As mentioned above, EV parts and overall prices are going down and the number of charging stations is rapidly increasing. When you couple this with the fact that average EV battery life is currently around 200,000 miles, that translates to nearly 17 years of use – comparable to how long consumers tend to hold onto their non-electric cars. In the longest use case of EV driving, there is a shuttle service between LA and San Diego that uses Tesla S vehicles that have clocked 300,000 miles to date with no sign of battery failure. Clearly, massive strides are being made in these areas that are most appealing to consumers.
Is the US auto industry actively marketing EVs or should / could they be doing more?
While automakers are showing great strides producing new EV models across a wide range of size and range, according to the Sierra Club, a recent study commissioned by the Northeast States for Coordinated Air Use Management (NESCAUM) shows that six major automakers in the U.S. are spending almost nothing to advertise their electric vehicles. This could be a dilemma for auto makers to be concerned about cutting in to their existing vehicle sales. However, with the release of new models ever increasing, it is likely that automakers will integrate EV marketing into their campaigns. If Burger King can promote its new plant-based Beyond Burger, then Ford and Chevy can put bigger dollars behind their upcoming new line of EVs.
In addition to the automakers that have made big bets on EV, regulators as well state and city planners that are the biggest active promoters of EVs.
According to the International Council of Clean Transportation, national, state, and local governments have been playing an active role in promoting electric vehicles by providing subsidies, tax reductions, and other incentives for consumers. Take California's EV rebate program, for example – which offers residents up to $7,000 for the purchase or lease of a zero-emission or plug-in hybrid vehicle. Economic incentives, in particular, can help bridge the cost gap between EVs and less expensive internal combustion engine (ICE) vehicles as well as to spur the early deployment of charging infrastructure.
Overall, our survey data shows a healthy degree of skepticism backed by an optimistic wave of enthusiasm for EV adoption. The next few years should see a pivotal shift in interest. Stay tuned for our next survey as this market evolves.
Read the full report Who is Leading The Charge on Electric Vehicles? A Survey of California & The Northeast
About Andrew Dillon
Andrew Dillon is a leader in DER Integration, DER Interconnection and Transportation Electrification solutions, with over 20 years of experience delivering products and services in the area of grid modernization technologies and strategic planning. Andrew most recently manages project around utility DER roadmaps, Transportation Electrification program design, and DER interconnection solutions.
The content & opinions in this article are the author's and do not necessarily represent the views of AltEnergyMag
---
Comments (0)
This post does not have any comments. Be the first to leave a comment below.
---
Post A Comment
You must be logged in before you can post a comment. Login now.
Featured Product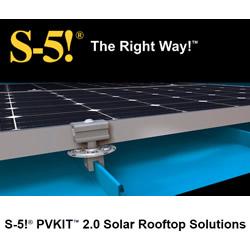 The concept of combining PV arrays with standing seam metal roofing is growing-for good reasons. Metal roofs have a life expectancy of more than 40 years. Shouldn't the mounting system last as long? With S-5! zero-penetration attachment technology and PVKIT 2.0, the solarized metal roof is the most sustainable system available -and without compromising roof warranties! PVKIT 2.0 is the also the best solution for attaching PV modules directly to any exposed fastener metal roof.