We see more growth coming, especially with our Sunflower® single-axis tracker. Having launched just last year, we have already completed over 500 MW worth of projects. Booth #1323

Q&A with | RBI Solar
Tell us about your company.
From ground mount, single-axis tracker, roof mount, carport, and landfill solar solutions, RBI Solar's mounting systems are backed by over 85 years of manufacturing experience in the commercial design-build market. Having all disciplines of a project process in-house allows RBI to act as an extension of our customers' staff. RBI Solar is one of few racking companies in the industry which offers a wide variety of possible foundation solutions to meet the site-specific requirements of each project. With nationwide installation capabilities, and in-house design and engineering teams, RBI's mission is to reduce overall project costs beyond solar racking.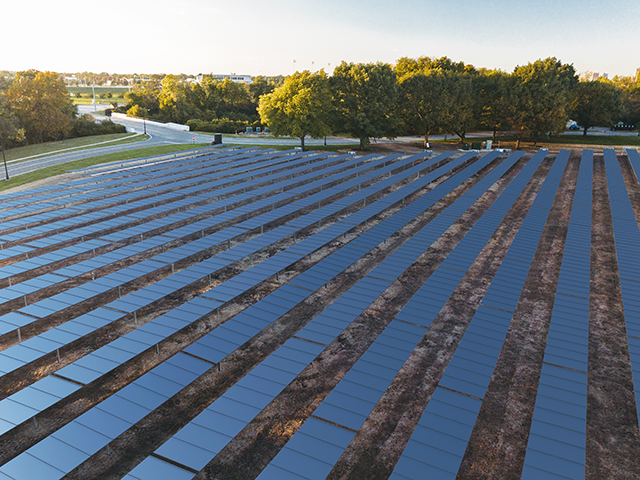 Your company will be exhibiting at Intersolar North America, what is it that makes this an important event for your company?
This is one of the biggest shows in the solar industry. With the show being moved to earlier in the year, this will mark a great opportunity to kickoff 2020 with a bang!
What makes your booth a must visit for Intersolar Attendees?
We launched the Sunflower® single-axis tracker (image attached) in 2019 and this will be the first time ever that we are showcasing the product in public. For those who are curious to see how the system works, we will have members from our technical team in the booth running demos. Come check out the Sunflower® and see what makes it the most unique single-axis tracker in the marketplace.
Intersolar has many educational sessions, forums & Demo's, is your company involved in any of them this year?
We are offering demos of our Sunflower® single-axis tracker in our booth throughout the show (Booth #1323). Contact us to find out more about this.
When you get a chance to walk the exhibit hall floor yourself, what is it you will be most interested to see? Any educational sessions, pavilions etc. you plan on attending?
We are always interested to see what new technologies are being shown throughout the industry. Rather these are inverters or new PV modules, RBI's team always looks to monitor industry trends in order to innovate our own products.
Energy Storage is undertaking rapid advancements and growth.
The biggest question we get concerning this topic is how to increase PV density on a given site. This gave birth to the Dahlia® system (image attached). The Dahlia® is a 4-high portrait fixed-tilt ground mount system that has been designed with a low clearance and tilt angle in order to maximize the amount of PV that can be deployed on a given site.
What are you projecting for 2020? Do you see more growth or turmoil ahead for solar and the economy?
We see more growth coming, especially with our Sunflower® single-axis tracker. Having launched just last year, we have already completed over 500 MW worth of projects. As long as vendors like us are innovating and developing new, cost-effective products, the industry will have the opportunity to grow.
What are the biggest challenges facing the solar industry in 2020?
Since the ITC was not extended at the end of 2019, the biggest challenge the industry will face is how to build profitable projects. With less tax credits available, budgets will be tighter, and projects will need to be constructed smoothly in order to make them pencil. It is part of our duty as a supplier and vendor to ensure our customers are getting the best value on each project they are doing.
Do you think the solar industry is in a good position to grow through what may be a bumpy next few years?
We haven't seen the official numbers from SEIA, but 2019 was on track as being one of the best years in the industry. Again, as long as vendors like us are innovating and developing new, cost-effective products, the industry will have the opportunity to grow.
The content & opinions in this article are the author's and do not necessarily represent the views of AltEnergyMag
---
Comments (0)
This post does not have any comments. Be the first to leave a comment below.
---
Post A Comment
You must be logged in before you can post a comment. Login now.
Featured Product

The Iron Edison Lithium Iron solar battery is fully compatible with popular battery-based inverters and is housed inside a rugged steel enclosure with integrated Battery Management System. Standard capacities range from 2 kWh to 42 kWh, with custom high-capacity and high-voltage models available for commercial applications like peak load shaving and UPS. The battery is designed and assembled at the company's headquarters just outside of Denver, Colorado. The Iron Edison Lithium Iron battery is an ideal replacement for lead-acid battery, with longer cycle life, smaller footprint, and maintenance-free operation. Residential applications include solar battery backup, grid-zero and off-grid energy storage. Commercial applications include high voltage battery backup, off-grid telecommunications power and peak load shaving. If you have any questions, please call us at 720-432-6433. We are happy to help!