The trends with the biggest impact that we are seeing all revolve around the design of module frames. There are a number of module manufacturers who have reduced the length of the flange found on the underside of a typical module frame.
Wire Management: Materials, New Module Geometries and the NEC
Q&A with Kurt LG Naugler, Product Manager | WILEY
Tell us about WILEY and your role with the company.
Founded in 2005, Wiley quickly became a go-to name for high quality solutions and products that fit the needs of an ever-evolving solar market. With consistent growth and products that earned the trust of installers, Wiley joined forces with Burndy, LLC in 2011 to increase the reach of products and match the rapid growth of solar seen across the world. The combined resources of two engineering companies have allowed both Wiley and Burndy to continue a tradition of matching industry needs with the best engineered products available in the market. We serve the market with a wide array of wire management and grounding and bonding products.
As the product manager for Wiley, I am responsible for ensuring that our product offering meets the needs of customers and that we are matching market needs with upcoming product launches. Based on the fast pace of the solar market, we are always innovating and coming up with new solutions to make installations simpler, safer, neater and more efficient. Our engineering team and I are always available to help solve problems or provide recommendations for product use out in the field.
Where are WILEY products being used in Renewable Energy?
Focusing on the solar side of renewable energy, Wiley products primarily serve on the balance of systems portion of an installation with wire management and grounding and bonding components. Taking advantage of our affiliation with Burndy, the organization is able to offer products used to make and connect to the ground grid all the way up to module level bonding and wire management. We pride ourselves on having products that meet any wire management or grounding application and the ability to engineer custom solutions for unique scenarios.
While Wiley does a majority of our business in the solar market, we also serve other renewable energy sectors with similar products. Wire management is of equal importance in all markets and grounding is required for all projects. We provide grounding connectors and braided bonding jumpers to hydro and wind projects and have WEEB® washers used to bond painted and coated fences that surround solar projects and even high-power substations.
What industry trends are affecting how wire management is accomplished in the field of Renewable Energy?
The trends with the biggest impact that we are seeing all revolve around the design of module frames. There are a number of module manufacturers who have reduced the length of the flange found on the underside of a typical module frame. This is the same flange that often has standard mounting holes or slots used to fasten the modules to a racking system. With the shortening of this flange component, most current wire management solutions are no longer able to be installed as desired on the flange. Fortunately, the engineering team at Wiley has been able to come up with a proprietary clip solution, the ACC-FF180, that is able to be installed on these new shorter flanges.
Another trend we have seen with module frames is to remove the flange all together and replace with more of a solid rectangle geometry. For installations using these modules without standard flanges, we generally recommend using a WBS, WIS or the new WCH1 product offering. These solutions are designed to route through mounting holes on the module frame and the WCH1 is designed to be compatible with smaller wire management holes included on some new module frames.
Why is the NEC concerned with wire management and what requirements should an integrator be aware of?
The NEC covers wire management specifically for a number of reasons. The first and most important reason is to protect the safety of those around an installation and to prevent the possibility of ground faults or even fires caused by improper wire management. Although it may not seem like an immediate concern, poor wire management can quickly lead to the degradation of wire insulation and the potential for ground faults. Leaving wires exposed to the elements, accessible to rodents or laying on an abrasive surface such as asphalt shingles are examples of scenarios that the NEC is trying to avoid with their requirements.
The main requirements can be found in section 690.31 and discuss the need for all products used in wire management be listed for use on PV arrays. In addition to being listed for use in solar applications, the NEC requires that cables are supported at regular intervals. The regular interval defined varies based on what version of the NEC is required by your AHJ but is a maximum of 4.5ft.
How will changes in the 2020 NEC affect wire management on installations?
The biggest change to the 2020 NEC in terms of wire management come in 690.31, more specifically sections (C) and (D).
In previous revision of the code, the various types of wire seen in a PV installation were broken out in their own letter section of 690.31. In the 2020 code, (C) through (F) were combined into (C) (1)-(6). Along with this restructuring came a significant change in the required support and securement for various cables.
Prior to the 2020 Code, single-conductor PV cable had no requirements on when and where they had to be secured, unless they were in a cable tray. This led to many installers running home run cables across the width of the modules, only securing them at the module frames. With current module sizes, wires were only being supported approximately every 3 feet. This can lead to a significant amount of sag in the wire, and in rooftop applications, can lead to wires contacting the roof surface.
The major change to the 2020 code comes in 690.31 (C) (1). This section requires single-conductor PV cables to be supported AND secured at least every 24 inches. This shorter distance prevents installers from running cables directly across the center of a module but is still long enough to accommodate modules with a single, center mounted junction box. To accommodate this change, installers will need to run cables along the top or bottom frame of modules, rather than directly across the center.
One other minor change was to the section detailing the requirements for multiconductor cables, such as microinverter trunk cables. While these cables are still only required to be secured at 6 foot intervals, they also now require securement within 2 feet of mating connectors and enclosures.
Why shouldn't standard products from the hardware store be used for wire management?
I should first note that some hardware stores are great and do carry products that are suitable for wire management in solar applications, but the important features to look for are a listing for use in PV applications and what material the solution is made from. Standard (non-UV rated) cable ties are made from cheap plastic that is not designed to be exposed to outdoor environments. We have seen situations where these plastics degrade, and the product fails within a matter of weeks if not days. When looking to use plastic products in solar applications, be sure to check that the plastic is at least a UV stabilized nylon 6/6 material if not UV rated nylon 12. The advantage of nylon 12 over nylon 6/6 lies in the resistance to absorb moisture that can lead to the embrittlement of the product and eventual failure.
When looking for a product that will last longer than a plastic solution, metal cable clips and wire supports are a go-to solution. As with plastic, there a various grades of metal products that determine how long a solution will last in the environment. At Wiley, we have extensively tested numerous materials and feel that the high-grade metal alloys used to manufacture our products gives the optimal balance of cost and longevity.
How do WILEY products address the changing NEC guidelines and why do you feel they are a superior wire management product?
Wiley wire management products give installers the peace of mind in knowing that when used properly, all NEC guidelines will be met. Products are tested to applicable UL standards and are all listed for use in solar applications as required by the NEC. When it comes to meeting requirements for support intervals, Wiley has a wide array of products that make meeting these requirements possible regardless of the version of the NEC applicable to an installation. We feel the Wiley's reputation for providing superior wire management products has been built by our extensive success in the field, our strong engineering background and our commitment to our customers.
The content & opinions in this article are the author's and do not necessarily represent the views of AltEnergyMag
---
Comments (0)
This post does not have any comments. Be the first to leave a comment below.
---
Post A Comment
You must be logged in before you can post a comment. Login now.
Featured Product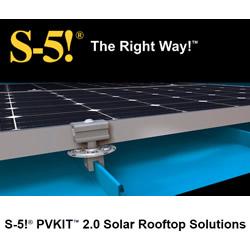 The concept of combining PV arrays with standing seam metal roofing is growing-for good reasons. Metal roofs have a life expectancy of more than 40 years. Shouldn't the mounting system last as long? With S-5! zero-penetration attachment technology and PVKIT 2.0, the solarized metal roof is the most sustainable system available -and without compromising roof warranties! PVKIT 2.0 is the also the best solution for attaching PV modules directly to any exposed fastener metal roof.