Although there are many challenges in the solar industry today, I believe reducing soft costs - which include all aspects of permitting and regulation of the industry - is one of the most difficult challenges to overcome.
COVID-19 & Looking Ahead to 2021 and Beyond, Insights from QuickBOLT
Q&A with Greg Wiener, Founder and CEO | Quickscrews International Corporation
About QuickBOLT
At QuickBOLT, we believe solar mounting can be easier. How do we work toward that belief?
We supply one of the widest ranges of innovative solar mounts for residential and commercial roofs in the US market. From our patented products to the custom production services we offer, QuickBOLT has been working with solar installers for nearly a decade to make solar installations easier than ever before.
Our highly experienced personnel are always ready to discuss your goals and concerns to ensure you get the solutions you need, when you need them.
Tell us about yourself and your company.
I'm Greg Wiener, founder and CEO of Quickscrews International Corporation, parent company of QuickBOLT. When I started Quickscrews I relied on two principals to thrive as a business – innovate and adapt. Those have never led me astray, and now we're in our 34th year as a business, with two leading brands under our wing.
With those two principals in mind, the goal has always been straightforward – solve problems. I knew if we solved problems in the marketplace, then we would stay relevant. For QuickBOLT, the problem we've been addressing since the beginning has been: how do we make solar installation as simple as possible?
For us, finding answers means talking to installers, because they're the ones using our products. Our first product improvements were making our tile hooks adjustable, then we found our niche in Asphalt Top Mount solutions. That's when I came up with the QuickBOLT mounting system. Installers have a problem – they hate lifting shingles in order to use traditional flashing, but they need to protect the roof penetrations against water. QuickBOLT solves that problem, and it has been solving that problem ever since we released it 10 years ago.

How has COVID-19 changed the way your company does business?
Initially COVID-19 had the potential to throw us off our game, but that's where my guiding principals came in – we adapted. We were looking to make some procedural changes in the company anyways so COVID simply pushed our schedule up about a year. It forced us to adapt to the chaos and uncertainty of the marketplace.
We're pretty much back to business as usual, except for the same supply chain issues everyone is dealing with. We find it especially important to communicate to our customers all the information we have as we learn it. The frustrations we face come with the lack in ability to get good information. We do what we can to make things right and get products out as quickly as we get them into our warehouses.
Have your growth and investment plans changed in the wake of COVID-19?
Our plans have stayed on target, in fact we're nearly above target. With QB2, the QuickBOLT product line is the most popular it has ever been, and that will continue to grow. We're well on our way to becoming the #1 residential solar Top Mount supplier in the United States. We have our customers, our incredible employees, and our competitors to thank for that.
It's counterintuitive, but our competitors did us a huge favor in 2020 by releasing their own Top Mount products. We'd been successfully pushing our QuickBOLT upstream for the last 10 years – competitors were saying, "it'll never work, traditional flashing is the only solution, etc." but then they changed their tune, they saw the benefits to the installers. Instead of fighting upstream, we're now leading the pack. That's where we imagined we'd end up.

During this pandemic share with us some of the new products and services your company has introduced and how you were able to continue to innovate under the circumstances.
2020 was an incredible year for our product development team. We released a few new products. Most notably would be our QB2, the newest QuickBOLT mount. This is our most exciting solution to date as it moves our Original Top Mount product line forward, and has been another game-changer in the solar mounting marketplace. How? Well, it's the strongest QuickBOLT yet, easier to install than the prior two iterations, and it 100% seals the penetration without chemical sealant. It doesn't rely on sealant thanks to our patented mechanical compression-seal technology, which we're calling BoltSeal™.
Then, we released our Direct-to-Deck Mount, and a few conduit accessories. All of those products were developed at the request of customers. That's part of how we keep innovating. Installers are constantly coming up with wild ideas, we're happy to listen, and test them out. They're the ones on the roofs at the end of the day.

What are the biggest challenges facing the solar industry today?
Although there are many challenges in the solar industry today, I believe reducing soft costs - which include all aspects of permitting and regulation of the industry - is one of the most difficult challenges to overcome. There are literally thousands of permitting jurisdictions across the country, and none of them are standardized. Installers can end up dealing with any combination of obstacles at the state, county, and city levels. Cities differ, counties differ, the state is one level but controlling local jurisdictions well, has always been the domain of the cities. It is often more granulated beyond that.
At each one of those layers, the process is slowed down, and the costs add up. Residents end up priced out, because they're the ones who'll receive the downstream impact of those obstacles and inconsistency. In the same vein, the inconsistency with rebates and mandates across the country is a huge hindrance to growth.

​What has you optimistic about Renewable Energy in 2021 and beyond?
Even though we have seen Solar on homes since the 1970's, as an industry, it is in its infancy stage. That means we can be excited about forming how the industry grows up. When we opened in 1987 as a full line fastener distributor the Fastener industry was already an extremely mature industry. Lines of channel Distribution were rigid and clear. From Importer/Manufacturer down to the user of the products, the supply chain was obvious. Fast forward to today's Solar Industry and these lines are not nearly as clear. Manufacturers, Distributors , Dealers, Resellers, and Partners -the list seems endless and completely undisciplined. So why am I optimistic?
Easy, the room for improvement is very large and will come very fast. We are already seeing consolidation on the installer side and when that happens consolidation on the supplier side is not far behind, as evidenced by Esdec's purchase of Iron Ridge and Quickmount just last year. We see that Sunrun buys Vivant and then we wait to see what Sunpower and Sunnova response will be. As the Solar industry matures and continues to gain access and success, these rough spots will smooth out. The industry will settle down, have some very strong players, a bunch of really good companies and a mix of not so good and horrible, just like any mature industry, its fun to say: Hey are we all grown up now?
The content & opinions in this article are the author's and do not necessarily represent the views of AltEnergyMag
QuickBOLT
QuickBOLT is known for their patented Microflashing® and BoltSeal™ powered mounting solutions, and have been working with solar installers for nearly a decade to make solar installation easier than ever before. Today, QuickBOLT has a wide range of innovative products for mounting solar panels onto residential roofs. QuickBOLT can produce custom products from start to finish in 60 days and are continually working with installers to deliver the exact products needed for any type of roof.
Other Articles
Many contractors in today's market falsely believe that to install solar on a Stone Coated Steel roof they must first remove the stone coated steel and then install asphalt shingles to create a flat area to install the new solar system. This is not true.
There's a goldmine of solar installations out there waiting to be claimed. Adaptable teams could take advantage of the gap in the market and open an entirely new line of income for their businesses if they only looked a bit further than they are currently.
Another new product we're excited about is our EPDM Conduit Mount for Asphalt Shingle, EPDM & TPO roofs. This mount offers great flexibility in bundling cables and wires. It is also a deck mounted product, so skip the rafters and install anywhere on the roof.
---
Comments (0)
This post does not have any comments. Be the first to leave a comment below.
---
Post A Comment
You must be logged in before you can post a comment. Login now.
Featured Product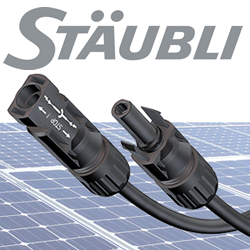 ​Stäubli Electrical Connectors are used on more than 300 GW, over 50% of the PV capacity worldwide. The MC4 family of UL and TUV listed products include connectors, in-line fuses, branch connectors, cable assembly and more.