We believe that changes that were long in the making will be implemented in very short time frames and that 2021 will stand out as an acceleration year towards industry maturity.
Solar Asset Management Predictions for 2021
Edmee Kelsey | 3megawatt
2021 will stand out as an acceleration year
With the disruption of 2020, it has never been more important to be able to anticipate change and build resiliency into solar asset management activities.
Luckily, we've always been agile as an industry; we've always had to adapt, whether it was because suddenly there was a solar tax out of nowhere, or suddenly feed-in tariffs were cut. It's in our DNA.
We believe that changes that were long in the making will be implemented in very short time frames and that 2021 will stand out as an acceleration year towards industry maturity.
Here are our predictions for 2021:
1. Scaling will be stressful
According to Bloomberg New Energy Finance, global installation records will be shattered in 2021. With a predicted 150GW+ of new solar installations and + 84GW of wind installations in 2021, asset managers will get very busy and organizations will get stretched.
Our prediction is that organizations that have not planned for growth in 2021, are likely to stumble. If they do not already have planned to have the business systems, infrastructure, and team in place, they will find 2021 much harder. It will be much more difficult (and more expensive) to find qualified staff in 2021, and the implementation of business systems does not happen overnight. With insufficient staff and without good business systems in place, manual processes that were fine in 2020, will not let these organizations move fast enough. They will either constantly be putting out fires or desperately trying to keep their head above water. All of which is stressful and could lead to further staff attrition, making the problem worse.
2. More "nosiness" from the top
BNEF's analysis shows that companies, governments, and households invested $303.5 billion in new renewable energy capacity in 2020. Renewable energy investments have transitioned from "Alternative Investment" to mainstream. With renewable energy investments taking a larger slice of investment portfolios, we expect investors to become significantly more "hands-on" in managing their investments. New investors types from different asset classes may also have a whole set of different expectations on how these assets should be managed.
Our prediction is that this will introduce new and more detailed information needs, more scrutiny of the information by investors, and quicker response time expectations. While we expect that this will increase the maturity of our industry, it also add significant workload for asset managers.
3. Digitalizing the asset register
Digitalization of the asset register gives asset managers a complete view of their asset landscape - what assets they own, where they are located, and what their characteristics and attributes are. Engineers need to identify bad actors, planners need to have accurate information on asset IDs and information, accountants need to track costs accurately and contractors need to make sense of asset hierarchy and asset location. Only when you have a true digital reflection of the assets you have on a plant, then you can drive asset performance and operational efficiency upwards. In 2020, digitalization was one of the buzz words of the industry, but did digitalization make it to the asset register? Our view is: not quite yet.
We predict that in 2021 the industry will get more serious about the capture and synchronization of asset register information across different stakeholders and different databases like monitoring solutions, CMMS systems, ERP solutions, field service apps, drone inspections, and document management systems. Expect to see more pressure on EPCs to deliver asset register information in a digitized format, better API integrations between software systems, more wide-spread geolocation information of assets, and a wider use of bar codes or QR codes in the field.
4. Empowering eyes in the field
2020 saw the emergence of remote inspections, remote measurements and virtual site visits. We predict that this is a trend that will accelerate in 2021. But nothing can replace visual observations of the engineers on site. The ability to capture these observations in a digitized format and make it available for discussion and collaboration within the team is already possible today. But to make this information easily available across owners, operators and contractors and have this information assist with decision making, planning and lifecycle management will be new for 2021.
Our prediction is that in 2021 there will be more choice for field engineers and field technicians to log problems and issues without spending much time on data input. Expect to see a wider spread use of mobile field apps that use the native capabilities of smart phones including GPS location, photo capture and annotation, voice recording etc. Expect further improvements in drone inspection capabilities and improved and more automated analysis of drone inspection data.
5. Batteries are no longer an exception
Batteries are coming of age. Prices have been falling further and supply issues are in recovery. The fundamentals behind an investment in energy storage are becoming stronger. We see that in many regions and applications, batteries have become a requirement for new projects. Solar storage projects will increase the complexity of asset management. Asset managers will need to track different technical KPIs and different revenue/cost streams.
We expect that in 2021 asset managers will quickly get up to speed on how to manage battery storage projects as more and more projects are becoming operational. We anticipate that there will be more standardization around battery storage KPIs and more streamlined integration with information and controls systems and with energy brokers.
6. Getting ready for merchant power
Selling all energy through a PPA contract, depending on the conditions, allows practically all of the market price to be eliminated. However this does not allow any flexibility to take advantage of the moments when the market prices are more favourable. Merchant PPA prices may be considerably higher than fixed bi-lateral PPAs, which makes it an attractive source or revenue. However banks and investors often want to offset the risk of variable pricing with a combination of hedges and swaps.
Our prediction for 2021 is that asset managers need to get ready to deal with the increased complexity of PPA settlements, smart O&M scheduling, grid restrictions, imbalance situations, curtailment risks and impact of force majeure events.
7. Software, software, software
Asset Management Software has never been more important to solar energy asset owners and operators as it is now. Scaling will be almost impossible without the correct business systems and tools in place. Increased information requirements from investors, pricing pressures, and difficulty of finding qualified staff will make automation of manual processes a must.
We predict that 2021 will be an exciting year in solar asset management software with many new tools and systems coming to market that will help organizations become more competitive and ready to embrace their growth.
The content & opinions in this article are the author's and do not necessarily represent the views of AltEnergyMag
---
Comments (0)
This post does not have any comments. Be the first to leave a comment below.
---
Post A Comment
You must be logged in before you can post a comment. Login now.
Featured Product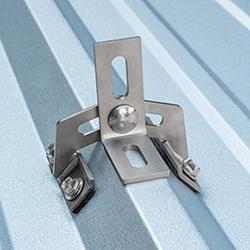 Explore new lines of income for your solar installation business with QuickBOLT's Stone Coated Steel roof mounts designed in partnership with metal roof manufacturers themselves. These SCS roof mounts work on all metal tile profiles and will help you bring in money you're missing out on. By not driving into the roofing material, QuickBOLT's Stone Coated Steel roof hooks maintain the integrity of the roof. Install with ease and confidence knowing your roof is protected against the harsh elements that these hooks are designed for.