Electrification is just beginning in many parts of the world. For western countries that have enjoyed electricity for a century, this is hard to imagine, but for 1 billion people, kerosene lamps are their reality.
Electrifying the World with Off Grid Solar
Q&A with Andy Keith, CEO | Solar Panda Corporation
What does Solar Panda do?
Solar Panda is a young Canadian company that creates and distributes economical and dependable solar home systems and appliances for off-grid customers in Africa. Each home solar kit includes lights, mobile charging, a radio, a lantern, and a flashlight, as well as the option to add a television. Using our pay-as-you-go model, hundreds of thousands now get energy for less than the cost of kerosene and phone charging daily.
Solar Panda began selling its products in Kenya in 2017 and has quickly risen to become a market leader in less than 4 years. Over 160,000 households have Solar Panda home systems, providing light to 800,000 Kenyans. These systems improve people's lives by replacing toxic and dangerous kerosene lamps, providing clean light for children to study by, providing entertainment and information, and making many daily tasks easier.
Solar Panda has grown to a company with 250 employees (54 percent women), 750 sales agents, and 30 retail stores across Kenya. Solar Panda has focused on long-term growth and was profitable prior to the pandemic, an achievement that has eluded most companies in this nascent sector.
We were recently ranked 3rd fastest growing company in Canada in 2021 by Report on Business Magazine, a publication of Canada's newspaper of record, The Globe and Mail. We earned our spot with three-year revenue growth of 10,465%.
Tell us about yourself and your role at Solar Panda.
I am the founder and CEO of Solar Panda. I graduated with a degree in engineering in 2008.
I had known even as a child I wanted to work in renewable energy. After graduation, I was 8 months into my dream job in renewable energy when I was laid off as financial markets crashed.
But they say when one door closes, another opens.
At that time, Ontario, Canada was beginning to promote utility-scale renewable energy, and I knew the solar energy industry was poised for explosive growth. I took a chance, formed a company, and put all my savings into acquiring property rights for future solar farms in Ontario. I sold those property rights to a developer with the funds to build solar farms but in need of land. And that was the start of my career in the solar industry. Before I was 30 years old, I had started and sold two profitable solar energy companies.
After selling those companies, I wasn't sure what I wanted to do next, but I knew it would be in renewables. I attended a clean-tech conference in San Francisco in 2016, where a panel discussion on off-grid solar in Africa took place. During my university years, I had volunteered in sub-Saharan Africa and knew hundreds of millions of people there lacked access to power. This is because the energy grid does not reach them and likely never will.
I had often considered pursuing large-scale solar projects in Africa, but the idea of going direct to consumer in a micro off-grid approach suddenly made perfect sense. I knew I'd found my next business opportunity.
Solar Panda's first customer was a grandmother in western Kenya, Mrs. Evarline Achieng, who bought electricity for her family in December 2017. Since then, 160,000 homes have become Solar Panda customers.
Why do you feel solar energy and specifically off-grid solar will change the world?
There are 1 billion people who do not have access to electricity in the world. According to the International Energy Agency, solar energy is now the cheapest source of electricity in history. Hundreds of millions of people will be able to get electricity thanks to low-cost off-grid solar panels. This is an unstoppable trend.
600 million Africans still lack basic energy to light their homes and power their appliances and the vast majority of these people will never be connected to the grid.
I never limit any discussion of off-grid solar to be solely about connecting people to electricity. People across the most remote and rural parts of Africa, for the first time, can access a range of household appliances similar to urban households across the globe.
Off-grid solar is being coupled with energy-efficient smart TVs, rechargeable radios, satellite entertainment and a range of other appliances and services to truly change the lives and livelihoods of families adopting it.
What caused you to focus your Canadian business on Africa? How big is the market for your products in Africa?
Electrification is just beginning in many parts of the world. For western countries that have enjoyed electricity for a century, this is hard to imagine, but for 1 billion people, kerosene lamps are their reality.
I know that most people have never been to Africa and read very little about it. It's big, it's foreign, it's far. What news there is about Africa in western media tends to be attention-grabbing negative "headlines". As a university student, I volunteered as a teacher in Africa for a semester and lived in a small village. It's not that I became any kind of an expert on Africa from living there, but it became a real place for me, where I met many bright, hard-working people, eager for education, with the same hopes and dreams for their families as everyone else the world over.
When I contemplated an off-grid home solar business in Africa, I did the math. Hundreds of millions of people in sub-Saharan Africa spend $37 billion per year on kerosene and candles.
Yes, you read that right. $37 billion on lighting alone. And they would like nothing better than an alternative to toxic, expensive and dangerous kerosene. Enter Solar Panda.
Why has Solar Panda succeeded in Kenya?
Solar Panda has the right product at the right price at the right time. Solar Panda's home solar kits include an array of high-quality products backed by a money-back guarantee and superior customer service. Basic home solar kits include not just bright LED lights for the home, but also a high-fidelity radio (re-chargeable, of course), mobile phone charging, and additional portable lights. The premium package includes a 32-inch HD TV!
All products are designed to meet exacting standards for reliability and quality while keeping prices affordable. Our customers benefit from affordable pay-as-you-go payment arrangements that save them money now and in the future. The customer owns the products outright once the loan is paid off. Our consumers have a clean, safe, and healthy source of electricity thanks to the sun's power.
Truthfully, we have never met a customer who did not want to replace kerosene with solar lights.
What is the social impact Solar Panda is creating?
Solar Panda's social impact cannot be overestimated.
70% of our customers tell us their quality of life is "very much improved". It can be felt in the areas of health, finances, the environment and even education and gender equity.
Kerosene lighting in the home is toxic and dangerous. It is equivalent to smoking 2 packs of cigarettes per day and disproportionately impacts the health of women and children who spend more time in the home.
Clean bright lighting enables children to study at night, impacting education outcomes.
Poorer countries spend a higher proportion of their income on illumination than wealthier countries. Reducing these costs has a significant impact on quality of life, as the savings can be spent on food, health needs and education.
Displacement of kerosene lamps of course reduces greenhouse gas emissions. But an under-appreciated additional aspect of this industry's impact is that it helps solar become the de facto norm, thereby influencing national regulatory decisions around energy sources.
Having appliances in the home like radios and TVs give people a window to the world for news, entertainment, and information, making a more informed citizenry and opening a world of possibility.
Not only is Solar Panda benefiting the lives of its customers, but it is also a source of income for nearly 1,000 people in Kenya, the majority of whom are women. Solar Panda is very proud of its gender equity, where 54% of its workforce is women at all levels within the organization. It also provides jobs in rural parts of the country where jobs can be harder to find.
Solar Panda recognized early in the pandemic the large impact that would be felt in education as schools closed. Home-schooling is largely not an option without access to laptops and the Internet.
It is estimated that over 10 million children in developing countries will never return to school, a devastating legacy of the pandemic. Solar Panda has helped in a small way by providing subsidized USB sticks loaded with educational content from the world-class online learning platform Khan Academy to play on its TVs.
Tell us about Solar Panda's rise to the 3rd fastest growing company in Canada. How has COVID affected growth?
Solar Panda is a Canadian company that ranked #3 on the Report on Business Magazine's list of Canada's Fastest-Growing Companies. With 250 workers, over 750 sales agents, and 30 stores across Kenya, Solar Panda has been the fastest-growing company in Africa's off-grid solar industry.
Our upgradeable modular hardware design maximizes our customers' investment in our products. We have a 99% local workforce in Kenya, which allows for local insights and expertise and positive company culture. We developed a proprietary ERP (Enterprise Resource Planning) software system that manages every aspect of our business to maximize efficiency. Solar Panda has also been founder-funded to date, leading to a lean management culture and efficient capital utilization. Prior to the pandemic, Solar Panda was profitable after fewer than four years in business, a feat that has eluded most companies in this nascent industry.
Unfortunately, the pandemic has knocked Solar Panda back, similar to many companies in Canada and around the world. The prices of electronics have increased, as well as more basic commodities, resulting in more than a 20% increase in the cost of goods sold. At the same time, due to the lack of vaccine access in developing countries, the economy in Kenya is struggling, leading to lower sales and lower loan repayment rates.
Prior to the pandemic, Africa was forecast to be the fastest-growing region in the world for the coming decade (The Economist Intelligence Unit). The pandemic will have an outsized impact in the developing world with slow access to vaccines, where currently less than 4% are vaccinated.
In your view, where do you see Solar Panda going in the next 2 to 5 years in Kenya and Africa? What is the potential?
Off-grid electricity will increasingly be the dominant option for future electrification. Just like cellular technology eclipsed landlines in developing countries, so too is the electrical grid being eclipsed by off-grid options that are now far cheaper for the millions waiting for electricity.
The demand for electricity is being driven by the demand for appliances the world over, and not just for lights, but also for radios, TVs, mobile phones, fans, refrigerators, and more. Electricity is the enabler and hundreds of millions of people in Africa want the appliances it enables. These markets together are multi-billion-dollar markets, and the demand will only grow as the economic engine powering Africa gains momentum.
I see Solar Panda expanding across Africa, selling an expanding array of appliances, with 1 million customers and counting.
The content & opinions in this article are the author's and do not necessarily represent the views of AltEnergyMag
---
Comments (0)
This post does not have any comments. Be the first to leave a comment below.
---
Post A Comment
You must be logged in before you can post a comment. Login now.
Featured Product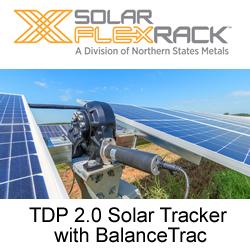 Solar FlexRack's latest solar tracker technology bundles an advanced tracker design with a full team of seasoned engineering and installation experts at your service. The next-generation solar tracker delivers a package of features that both enable increased energy yields for commercial and utility-scale solar installations, and significantly reduce project risks. That translates to smart installation cost-savings across your project budget.