EVs could have disruptive implications for the future of transportation manufacturing. However, the potential for market disruption also presents a significant opportunity for U.S. manufacturing and the forgings market in particular.
How Forgings Are Paving the Way for the Future of EVs
Kerry Kubatzke, Lead Sales Manager | Anchor Harvey
Changes on the Horizon
The automotive and aerospace industries, among several other transportation sectors, face a new shift in technology with the proliferation of electric vehicles (EVs). EVs are a complete transformation in the way vehicles are powered. Recognized as a viable, clean, and cost-effective option to green-house gas-producing internal combustion engine (ICE) vehicles, EVs could have disruptive implications for the future of transportation manufacturing. However, the potential for market disruption also presents a significant opportunity for U.S. manufacturing and the forgings market in particular.
Understanding ICE vs. EV
Understanding the potential disruptions and opportunities in the coming shift from internal combustion vehicles to EVs first requires discerning the differences between the two. While ICE vehicles and EVs may look similar at a glance, they are entirely different under the hood and floorboards. In an electric vehicle, the ICE vehicle's fuel tank is replaced by a battery pack, and taking the place of the internal combustion engine is one or more electric motors. Similarly, the multi-geared transmission and clutch are replaced with a fixed, single-gear gearbox. EV's also do not or require any form of onboard emissions control as they do not produce any carbon emissions exhaust.
The result is that electric motors are far simpler than internal combustion engines in terms of both their operations and manufacturability due to EV powertrains having fewer moving parts and less mechanical complexity. According to UBS, the Chevy Bolt's electric motor has three moving components in contrast to the 113 moving parts in the internal combustion engine of a Volkswagen Golf.
Turning Disruptions Into Opportunities
The transition to EVs represents a significant economic opportunity to reinvest in the U.S. manufacturing sector and generate advanced production jobs as well as breakthrough technologies. Major OEMs and unique startups alike are already well in pursuit of all-electric, autonomous, and connected transportation solutions for the next generation. Progress is being made, but real-world applications and large-scale adoption of many of the technologies currently being developed are still a decade or more away. By understanding the coming disruptions to the transportation industry, companies can stay out ahead of them and leverage them into new and future opportunities. Among the primary EV market disruptors are:
Lower Complexity - The simplified powertrains in EVs will eventually reduce the number of necessary vehicle components as well as the amount of labor, and thus jobs, associated with production.

Foreign Markets - China, among other nations, is promoting domestic production of EVs and EV components by subsidizing its domestic EV market. China is also expected to be home to nearly 75% of global lithium-ion battery manufacturing capacity by 2025.

Cost Parity - Analysts including General Motors' CTO Matt Tsien project a steady decline in prices with EV powertrains expected to reach price parity with their ICE counterparts within the next 10 years.3
Forging a New Path
The motivations behind the emergence of EVs are many. They include a desire for a cleaner and more sustainable environment, reductions in fuel and maintenance costs, simplified components and manufacturing processes, and new sales and domestic business potential. Electric vehicles are at a tipping point. Around the world, governments are introducing stronger CO2 regulations as consumer preferences lean increasingly toward clean transport solutions. Combined with a steady decrease in battery costs and continued acceleration of charging infrastructure rollouts, it should be no surprise that the distribution of electric vehicles in major markets is occurring at an increasing rate.
To put the rapid adoption of EVs in perspective, the 2015 EV forecast from the Organization of the Petroleum Exporting Countries, more commonly known as OPEC, expected a fleet of 4.7 million battery-electric vehicles on the road in 2040. That forecast was met at the start of 2020 — a full two decades earlier than expected. New estimates from the International Energy Agency suggest that by 2030, the number of EVs on the road will reach 145 million, a more than 30 fold increase from OPEC's original 2040 forecast. Forging companies that take proactive measures today are well-positioned to pave the way for tomorrow's EVs. By projecting the shifts in the powertrain component market and transportation industries, many forging companies already understand to at least some extent how they need to adapt and the benefits they can deliver.
Fortunately, many American forging companies are already "job shops," so adapting and maintaining a versatile business approach can be done relatively easily. Some forging companies, such as Anchor Harvey, have gone even further and launched new divisions or Electric Vehicle Workgroups to stay ahead of industry trends as the manufacturing of electric vehicles begins to catch up to traditional ICE vehicle production. Given the need for fewer components, a smaller number of forging companies and contractors are required to manufacture the components used in electric vehicles. Given the lower complexity of EV motors, forging companies that begin working with electric vehicle manufacturers to optimize their processes and parts today will be better able to avoid the contract bidding that is likely to occur in the future.
EV Optimized Forgings
The range of any vehicle, electric or gasoline, is determined using a relatively simple calculation of dividing the energy required to move the vehicle by the energy available.
To better understand how aluminum forged components have an outsized impact on range, consider a standard lithium-ion battery pack such as the one found in the Chevy Volt. The Li-ion battery pack found in the Volt has an energy density of approximately 0.3 MJ/kg (megajoules per kilogram) and about 0.4 MJ/liter (megajoules per liter). Those numbers are quickly put in perspective compared to gasoline which has an energy density of 47.5 MJ/kg and 34.6 MJ/liter — roughly 100 times greater than a standard lithium-ion battery pack. However, what electric vehicles lack in energy density, they make up for in optimized efficiencies.
High-strength lightweight aluminum forgings, particularly those optimized for electric vehicles, play a crucial role in minimizing component weight, thereby reducing the vehicle's overall weight and the energy required for acceleration. In addition to weight reduction, forged components are also able to bring down the energy requirements of EVs by optimizing for factors including rolling resistance and drag coefficient. The result of these optimizations, combined with the high efficiency of electric motors, is that an electric vehicle can utilize as much as 80% or more of the energy available in its battery packs. In contrast, according to the U.S. Department of Energy, the median usable capacity of gasoline's stored energy in a traditional ICE vehicle's tank is a lowly 21%.

Conclusion
Forgings are paving the way for the future of electric vehicles by delivering the necessary optimizations to make EVs practical. Everything from planes, trains, and automobiles to trucks, bikes, and specialty vehicles all benefit from the improved power-to-weight ratio and strength-to-weight ratio that high-strength lightweight forged aluminum components provide. Forging companies, such as Anchor Harvey and its award-winning Electric Vehicle Workgroup, are delivering the efficiencies required to accelerate the world towards an electrified future.
About Kerry Kubatzke
Kerry Kubatzke is the lead sales manager of Anchor Harvey, Freeport, Ill., with over 35 years of experience in engineering and precision forge manufacturing. Anchor Harvey is a data-driven aluminum forging company with a century-long legacy in precision manufacturing, engineering, and supply-chain management. For more information, visit AnchorHarvey.com.
The content & opinions in this article are the author's and do not necessarily represent the views of AltEnergyMag
---
Comments (0)
This post does not have any comments. Be the first to leave a comment below.
---
Post A Comment
You must be logged in before you can post a comment. Login now.
Featured Product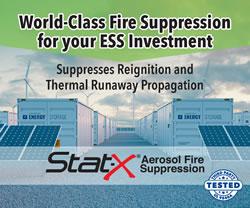 Stat-X® condensed aerosol fire suppression is a solution for energy storage systems (ESS) and battery energy storage systems (BESS) applications. Our Stat-X condensed aerosol fire extinguishing product was tested for efficacy in suppressing li-ion battery fires. It was found that the product successfully extinguished single and double cell battery fires. This testing was conducted in parallel with a large battery fire testing program on behalf of a large energy storage company.