Increasing costs are the result of converging factors, including decreasing supplies of key raw materials, changing logistics and shipping costs, and an unstable labor market. Here's a breakdown of the biggest factors affecting renewables right now.
Will 2021 Challenges Slow the 2022 Renewable Energy Market?
Marla Keene, Technology writer | AX Control, Inc
The 2022 renewable market faces some of the most challenging conditions in decades, threatening to derail global climate goals and corporate renewable energy commitments alike.
Increasing costs are the result of converging factors, including decreasing supplies of key raw materials, changing logistics and shipping costs, and an unstable labor market. Here's a breakdown of the biggest factors affecting renewables right now.
Raw Materials: Declining Supplies as Demand Booms
According to a recent report by Rystad Energy, increasing raw material prices may delay or even cancel many utility-scale solar buildouts around the world. Massive increases in polysilicon costs, along with increases in steel, aluminum, and other components, all factor in.
Chinese power blackouts, caused by power rationing in that country, may have a major impact on raw material prices. The lack of available power has affected China's steel and aluminium output. Both metals are necessary for solar panel and wind turbine production. China was the largest steel and aluminum exporter in 2020, worldwide. Magnesium, also used in solar panel production, has been likewise affected.
This production drop occurred in tandem with rising demand. According to the SEIA(Solar Energy Industries Association), 2020 US solar capacity increased by 43% over the previous year. Meanwhile, other industries like food manufacturing also saw climbing demand for the same raw materials. This has led to spiking costs as manufacturers across industries look for alternative sources. However, a recent agreement between the US and EU to remove tariffs from a portion of EU-smelted steel and aluminum could help ease steel and aluminum prices for the industry.
Additionally, semiconductors required for solar inverters and battery storage have also been hard hit by the global chip shortage. This shortage shows indications of continuing through 2022.
Rising Freight Costs, Less Space
Ports everywhere have jammed up due to unusually high traffic. Los Angeles port had over one hundred ships waiting offshore as recently as October 20, 2021, with wait times now extending to weeks. Bottlenecks will likely continue well into next year. But even trying to book incoming cargo can take time. According to broker M.E. Dey & Co, incoming ocean shipments for September 2021 were booking four to eight weeks out.
Costs for shipping have risen with traffic. But the Federal Maritime Commission recently amended rules to allow shippers to file complaints against carriers who may have violated detention and demurrage rules, and also made it possible for refunds or restitution to be paid to those injured by a shipping violation.
Meanwhile, moving parts and materials domestically also has its challenges. Truck space remains limited, with port delays to load as long as two weeks. Costs to move larger components like blades have increased substantially from 2019 as flatbed trailer demand outstrips supply. According to shipper C.H. Robinson, mid-October demand for flatbeds was more than twice national capacity.
Additionally, offshore wind has its own transportation issues stemming, in part, from a lack of vessels with the capability to install today's larger components. As an example, the US currently has four vessels large enough to support GE's Haliade-X turbines being used at Orstead's Ocean Wind project off the coast of New Jersey. As more offshore projects come online, this problem will become more pronounced.
Labor Challenges Continue For Some
A new report by the American Trucking Associations estimated the trucking industry needed an additional 80,000 drivers to meet current demand. Worse, over the next nine years as current drivers retire, the industry will need to recruit an estimated 1 million new workers to replace them.
Meanwhile, renewable energy industries added 500,000 jobs world-wide in 2020 despite pandemic impacts, a 4% increase. While 13% of these jobs required a bachelor's degree or higher, most job pathways relied on apprenticeship, vocational training, or on-the-job instruction.
And yet some renewable sector manufacturers have struggled to find properly skilled workers for needed specialties like welding. In these cases, manufacturers have turned to welding cobots or other automation solutions to meet demand.
Despite Everything, The Future Looks Positive
Despite these challenges, the future outlook for the renewable energy market is positive. The Short-Term Energy Outlook released by the EIA October 13, 2021 forecasts 6.5 GW new wind capacity and 18.3 GW solar capacity in the coming year. The EIA expects renewables to make up 22% of all energy production by Q4 2022.
Additionally, close to two-thirds of companies plan on increasing their renewable energy use over the next few years. This is driven by end-user desire to support products made with sustainable practices. But more companies are also turning to renewables as a backup to their mains power supply as they fight for energy stability in unstable times. And since many companies have goals tied to renewable energy tax credits sunsetting by 2025 or sooner, they have incentive to move forward with projects now.
About Marla Keene
Technology writer Marla Keene works for AX Control, Inc, a North Carolina industrial automation parts supplier. She writes about drones, green tech, artificial intelligence, and other technologies changing our world. Her articles have been featured in Power Magazine, Food Industry Executive, and other industry sites. Before working for AX Control, Marla spent twelve years running her own small business.
The content & opinions in this article are the author's and do not necessarily represent the views of AltEnergyMag
---
Comments (0)
This post does not have any comments. Be the first to leave a comment below.
---
Post A Comment
You must be logged in before you can post a comment. Login now.
Featured Product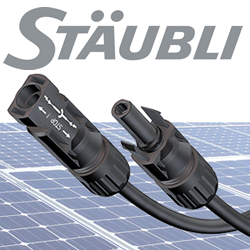 ​Stäubli Electrical Connectors are used on more than 300 GW, over 50% of the PV capacity worldwide. The MC4 family of UL and TUV listed products include connectors, in-line fuses, branch connectors, cable assembly and more.