Before drivers can start looking into the future, they need to take a look at the promises that automotive manufacturers and governments are making in regards to electric vehicle adoption and moving toward a zero-emission future.
Roadmap to Zero Emissions: What Will Mass EV Uptake Look Like?
Martin Banks | Modded
While there have been attempts at making an electric car in the past, the idea of an electric vehicle didn't exist just 20 years ago. Tesla entered the scene in 2008 as the only automotive manufacturer making only-electric cars.
Today, EVs are more affordable than the initial Tesla Roadster as the technology continues to evolve, but there are still more gasoline and diesel engines sold than their electric counterparts. As the world works together to reach a zero-emission future, electric vehicles are going to play a massive role.
What will mass EV uptake look like as humanity tries to create sustainable transportation?
An Ideal Timeline
Projections and predictions are useful, but before drivers and car enthusiasts can start looking into the future, they need to take a look at the promises that automotive manufacturers and various state and federal governments are making in regards to electric vehicle adoption and moving toward a zero-emission future.
First, start with the 2020s, which are primarily going to be focused on automotive manufacturers introducing new electric versions of some of their most iconic models.
2021: GM is releasing new versions of the Bolt EV and beginning production on the Hummer EV. BMW is planning on an electric i4 sedan, Stellantis is working on hybrid and electric models, and Land Rover is testing hydrogen fuel cells.

2022: Mercedes is planning to produce 10 different EVS, and Ford is expected to start working on the F-150 Lightning, an electric pickup truck.

2023: Honda, Mazda, and Nissan are hoping to have EVs or plug-in hybrids available for the 2023 model year.

2024: Acura and Land Rover are expected to release their first EVs this year. The electric successor to Volvo's XC60 is also expected to release this year.

2025: Audi wants to have 30 electrified vehicles by 2025, with 20 being full EV. BMW wants up to 25% of its sales to come from EVs. Ford and GM will have invested nearly $30 billion each in their EV programs. Hyundai wants 23 EV models on showroom floors, Jaguar wants to be all-electric, Land Rover will have six EVs, and Toyota wants at least 60 electrified options. VW wants at least 1.5 million EVs built, and Volvo wants 1 million.

2026: Kia is finally joining in the festivities, hoping for 11 EVs in production by the end of 2026. Mazda is planning to release a new generation of EVs, and Land Rover is phasing out diesel engines entirely.
These are all based on promises that automotive manufacturers have made over the last couple of years. As the industry moves into the 2030s, things start to get interesting.
2030: The U.K. is expected to ban gas and diesel-powered engines this year. Kia, Mazda, Mitsubishi, Subaru, and VW plan to get 40-60% of their sales from electric or hybrid vehicles.

2033-2035: Audi and Volkswagen are both planning to stop producing internal combustion engines entirely sometime between 2033 and 2035. GM is planning to do the same for its light-duty models, and Subaru wants a hybrid or electric version of every model it offers.

2036: Land Rover joins the zero tailpipe emissions crew, though they haven't yet pledged to stop producing internal combustion engines.
By 2040, GM wants their entire operation to be carbon neutral, with Mazda, Mitsubishi, and Nissan planning to do the same by 2050.
Cities are also planning for EV adoption and creating the infrastructure necessary to support them. Boston, for example, wants 23% of all new car purchases to be electric by 2025, and plans to support electric ride-sharing for people who might not want to purchase an EV or may lack the means to do so.
Dealing With Old Cars
One of the biggest challenges that cities around the world will face when adopting EVs en masse is the legions of old cars that will be left in its wake. Many of the cars that are traded in and replaced with EVs will likely still be functional, so it doesn't make sense — at least not initially — to break them down or destroy them.
Unfortunately, if cars sit for too long, they will eventually stop functioning. Gasoline turns to jelly, gaskets and rubber components dry out and crack, and even the engine itself can begin to fail. Recycling these automobiles can go a long way toward reversing the negative effects these vehicles have on the planet. Millions of tons of materials — from steel and rubber to plastic and glass — can be recycled and remade into new and different products.
Cities that wish to adopt EVs will need to come up with a plan to manage these vehicles once the mass EV uptake begins.
Overcoming Hurdles
Electric vehicles sound ideal, especially where sustainability is concerned, but there are still a number of hurdles that the industry must overcome for a full EV takeover to occur.
First is the issue of cost. When a new technology hits the market, it's always expensive. As manufacturing techniques change and evolve, it becomes both more accessible and affordable. But even as this change takes place, there are still large portions of the population who don't have the means to purchase a new vehicle. In the long run, the cost of owning an EV is lower, because they require less maintenance, but the upfront cost is still higher.
There is also the problem of range. Internal combustion engines can travel hundreds of miles on a single tank of gas — and there are gas stations everywhere. Electric charging infrastructure is improving, and it is possible to drive from one end of the country to the other, with delays to recharge the battery, but it's not as fast or efficient as it is to do the same in a standard car.
Automotive manufacturers are also contending with public perception. When Tesla first started making their electric vehicles, they were priced in such a way that luxury car owners were the only ones able to purchase them. They're getting more affordable, but that luxury perception still colors the way the public sees them.
When Will a Mass EV Uptake Take Place?
There is a lot of work yet to be done before full EV uptake can take place. A generous estimate could put the date somewhere in the 2040s or 2050s, but much could happen between now and then that could throw a wrench in things or accelerate them. The push toward a sustainable future is picking up steam. Mainstream EV uptake is inevitable, but it will be a while before the human race is ready to make that leap in full.
The content & opinions in this article are the author's and do not necessarily represent the views of AltEnergyMag
---
Comments (1)
We have seen the buildup of interest for EVs here in Detroit, where I am currently staying. The automotive industry is buzzing with news about EVs, and especially about competing with Tesla - and more than a little bit, putting Tesla in its place. The Big 3 believe they make better cars, and they don't think an EV powertrain is too much to stop them from outcompeting with Tesla. They are also optimistic about the stock prices of Ford, GM and Chrysler, given the transition to EVs and how Tesla was treated by the market because of EVs. Thank you! Auren Kaplan President & CEO, Alchemy MarketingLab https://www.alchemymarketinglab.xyz
Post A Comment
You must be logged in before you can post a comment. Login now.
Featured Product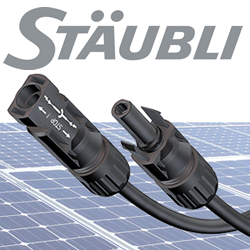 ​Stäubli Electrical Connectors are used on more than 300 GW, over 50% of the PV capacity worldwide. The MC4 family of UL and TUV listed products include connectors, in-line fuses, branch connectors, cable assembly and more.