The U.S. solar industry employs more than 230,000 workers, as of 2020, at more than 10,000 companies across every state. Imagine the possibilities, much like business leaders around the world are imagining today.
How Solar Drives the American Economy
Jeff Cardello | Solar Informatics
The solar industry in the United States is thriving. Companies have experienced record growth in the last few years and look forward to sustained developments across the nation in the future. To really comprehend the state of solar energy today, let's look at a few important facts and statistics.
The Solar + Decade
Growing annually by almost 42%, the last decade alone has been a fruitful one for solar power. We now have a federal solar investment tax credit (ITC) in place, increasing demand, declining costs and more than 97 gigawatts (GW) of solar capacity across the country allowing us to power more than 18 million homes across America. The stage for solar is all set; expect massive growth.
Catalyzing Economic Growth
The U.S. solar industry employs more than 230,000 workers, as of 2020, at more than 10,000 companies across every state. Imagine the possibilities, much like business leaders around the world are imagining today. The solar industry generated approximately $25 billion in investment in 2020,. Solar is thriving as an economic engine for the American economy and is projected to continue along this path in the pursuit of growth.
Falling Prices
In the last ten years, the cost of installing solar has decreased by more than 70%, leading the industry to expand, explore new markets and deploy systems. The price for solar today is the lowest in history, making it highly accessible for homes and business sites alike. The fact that solar is now available at rates that are highly competitive to traditional energy alternatives is a great victory, but it doesn't stop there.
Quick Adoption Across All 50 States
The U.S. solar market has largely been dominated by California, however, other markets are adapting fast. States outside of California made up the largest share of the market in 2020, due to rapid growth in Florida and Texas. This trend is expected to continue as more markets start relying on renewable energy across America, due to declining costs and increasing efficiency.
Tackling Soft Costs
Solar soft costs include labor, permits/inspections/interconnections, supply chain, acquisition and overhead. These costs can be decreased substantially. As hardware costs continue to fall, soft costs account for a greater share of systems costs. Companies are quickly starting to tackle these numbers with an integrated approach, employing all-encompassing software that helps manage each phase of the process while controlling costs, such as Solar Informatics.
Storage Its Changing the Game
We see solar being paired with storage at an increasing rate. Businesses and homeowners are demanding this trend, which is expected to grow significantly. Analysts predict that by 2025, almost 25% behind-the-meter solar systems will be paired with storage, up from a mere 6% in 2020.
Opportunities within the Non-Residential Solar Market
A growing list of states with community solar programs are diversifying the U.S. market. Also, companies like Apple, Walmart, Target, Amazon and even Google have adopted installations and growth continues in the commercial segment. As the market continues to grow, opportunities for each sub-segment increase.
Growth Forecasts for Solar
The pandemic posed obstacles for the U.S. solar market, but despite the problems, the industry set a new record of installing 19.2 GW in 2020. The industry is prepared for unprecedented growth through 2024 when the ITC steps down entirely. Over the span of the next decade, approximately 324 GW of solar will be completed, three times the amount installed in 2020.
Climate Goals
The opportunities created paint a perfect picture, but a lot must be done before the country can adopt a 100% clean energy system. The next 10 years will allow the industry to reach for new heights and accelerate growth, effectively helping decarbonize our economy and address the complicated issue of climate change in the long run.
Important takeaways:
Corporate solar adaption is expanding at a rapid pace – two-thirds of all the current capacity has been installed since 2015.

The demand of on-site commercial solar is increasing, with 844 MW installed along with almost 441 MW for off-site projects.

The number of systems operational today can generate enough electricity annually to provide electricity for almost 1.6 million homes.
The U.S. economy is dependent upon industries to accelerate growth and expansion. Despite having gone through a global pandemic, the solar industry ceased to back down, which is a testament to its actual potential. If you are ready to adapt, get in touch with Solar Informatics today.
The content & opinions in this article are the author's and do not necessarily represent the views of AltEnergyMag
---
Comments (0)
This post does not have any comments. Be the first to leave a comment below.
---
Post A Comment
You must be logged in before you can post a comment. Login now.
Featured Product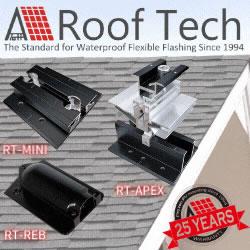 Now Roof Tech brings you the most innovative, watertight mounting systems ever developed for solar photovoltaic systems. Designed and manufactured exclusively for us by Japan's longtime leader in roofing technologies, Roof Tech products are 100% code-compliant and offer fast, simple installation and huge savings on shipping costs due to their compact, rail-less design. Learn more about our full line of versatile PV mounting solutions now available for residential installations. The next generation in rooftop solar mounting solutions."