Watershed moment in geothermal district heating and cooling systems installation with use of state-of-the-art sonic and coil drilling rigs operating up to 400% faster than standard rigs
Subterra Renewables Kicks Off Extensive Drilling at Oberlin College for Conversion to Geothermal Exchange System
News from | Subterra Renewables
Subterra Renewables, North America's leading geothermal exchange systems utility provider, is pleased to announce that drilling for Ohio's largest geothermal systems-installation is well underway at its landmark project at Oberlin College & Conservatory ("Oberlin College"). Upon completion in 2027, the university's 55-plus buildings in the district will be converted from a century-old heating system to a proven geothermal energy exchange system ("geo-exchange") to heat and cool the campus.
"With over 60 per cent of North American cities' greenhouse gasses coming from buildings in major centres, we're inspired to see our brightest minds coming together to bring greener living to the forefront as they decarbonize their heritage-rich institutions," said Lucie Andlauer, CEO of Subterra Renewables. "On this World Geothermal Energy Day, we applaud Oberlin College's steadfast drive to reaching Net Zero by 2025 and stand together in our mission to educate the public about sustainable building practices and infrastructures. Whether upgrading a structure, or building a new development, the movement towards geothermal as a renewable energy source will help eradicate the use of fossil fuels and combat climate change."
"This work integrates the earth as an energy-storage device," said Joel Baetens, Campus Energy and Resource Manager, Oberlin College. "When completed, the system will enable us to lean on clean energy for our heating needs—a pivotal step in our commitment to carbon neutrality."
Subterra's Expanding Fleet, North American Market Leadership & Energy as a Service Model
Subterra also confirmed that it has amassed the continent's largest geothermal drilling fleet with 68 rigs now in its fleet, and plans to grow to over 100 in the next 12 months. With its subsidiaries having recently purchased new state-of-the-art coil and sonic drilling rigs – Subterra proudly notes it sourced some of the assets locally from innovative drilling rig manufacturer, Ohio-based Terra Sonic International (TSi). The coil rigs allow for drilling production that is 400% faster than the standard competing rigs; and the TSi sonic rigs are equipped with innovative technology that allows for advanced setting of casings that are 200% faster and more reliable than the standard rigs used by Subterra's main competitors in the U.S. and Canada.
As one of the largest drilling projects undertaken to date using its state-of-the-art Tsi sonic drilling rigs, in addition to coil drilling rigs, the Company is forecasting expanded U.S. growth as other large American campuses and districts look to retrofit buildings or new developments with geo-exchange systems installations. Additionally, Subterra offers a unique system whereby clients may purchase the geo-exchange system at no up-front cost via its utility model of energy as a service (EaaS) offering. Users pay a monthly renewable energy fee over a long-term, multi-year period at a discount to the operating budget.
"The Oberlin district program is a watershed project for Subterra that represents a major U.S.-based drilling development and campus conversion to a geothermal district energy system, proving that our investment in technology-advanced drilling rigs will revolutionize and expedite our projects. It further demonstrates we are the unmatched geo-exchange leaders across North America," said Kareem Mirza, Chief Revenue Officer at Subterra Renewables.
He added: "As the leading vertically integrated utility supplier, we are fully capitalized with over a billion US dollars to deploy our EaaS model, whereby Subterra drills and installs the geo-exchange system at no upfront cost to the project owner, and instead, as the geothermal energy systems distributor, we provide a utility-model of EaaS. It is a fully de-risked system that dramatically reduces capital expenses, energy cost, removes loads from the energy grids and will greatly contribute to a cleaner future."
Oberlin College Project and Geothermal District Heating & Cooling Systems
Using a closed-loop network of underground fluid-filled, temperature-controlled thermal pipes, the geo-exchange system uses the earth's constant-average, year-round temperature (55 degrees Fahrenheit, or about 13 degrees Celsius) as a heat source and heat sink (absorbing excess heat during summer) to supply buildings with thermal energy for heating and cooling spaces. The underground piping system is circulated to a series of heat exchangers and heat pumps. In the winter, the energy station pumps hot water through pipes to heat buildings on the district system, and the cooled water returns to the energy station for reheating. In the summer, cold water pumps through pipes to cool the buildings.
As referenced on its website, Oberlin is at the forefront of a push across higher education to minimize environmental footprints. In 2006, it was the first of its peers to sign the American College and University Presidents' Climate Commitment, inspiring leaders at hundreds of other institutions to similarly pledge to bring their net greenhouse gas emissions to zero.
About Subterra Renewables
Subterra Renewables is a geothermal exchange utility company with the largest drilling fleet in North America, operating the most energy-efficient and resilient heating and cooling technology in the world. Most recently placing No. 1 in the Globe and Mail's 2023 Report on Business ranking of Canada's Top Growing Companies, Subterra is a vertically integrated company that custom engineers, installs, owns and operates first-of-its-kind geothermal exchange systems. As a leader in the sustainability and decarbonization movement, its best practices align with government ESG initiatives, expediting building approvals, and accelerates a path to Net Zero. Available under Subterra's energy as a service utility model, Aura™, the company serves all of North America.
The content & opinions in this article are the author's and do not necessarily represent the views of AltEnergyMag
---
Comments (0)
This post does not have any comments. Be the first to leave a comment below.
---
Post A Comment
You must be logged in before you can post a comment. Login now.
Featured Product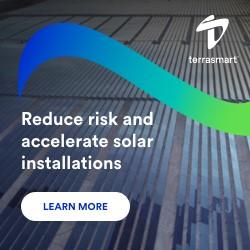 We push the limits in renewable energy, focusing on innovation to drive progress. Pioneering new solutions and ground-breaking technology, and smarter ways of working to make progress for our clients and the industry.