Battery-based energy storage system will deliver cleaner energy to Arizona customers at times of peak usage
The AES Corporation (NYSE: AES) today announced it was selected by Arizona Public Service (APS) to deliver a 100 megawatt (MW) 4-hour duration battery-based energy storage system. The project, owned and operated by AES, will provide critical peaking capacity and unmatched operational flexibility, enabling the most efficient use of renewable energy, lowering costs and emissions, and providing increased reliability for APS' customers.

This project demonstrates how technological innovation can help us deliver on today's changing energy needs, while having the flexibility to prioritize customer affordability and reliability. Under a 20-year agreement, AES will provide APS with the storage capabilities powered by Fluence's proven Advancion platform. The project will contribute to a more sustainable energy future for Arizona through the integration of more renewables in the state's energy mix.
"Arizona is realizing its great solar potential. As the state continues its transition to more sustainable energy sources, customers will require cost-effective and reliable electricity," said Andrés Gluski, AES President and Chief Executive Officer. "Energy storage can replace traditional peaking thermal generation to meet peak power demands while reducing greenhouse gas emissions and maximizing the use of renewable energy. We look forward to our continued partnership with APS to help the state and its customers accelerate a greener energy future through the broader adoption of energy storage."
The ability for batteries to absorb and discharge power has great value for regions pursuing high levels of renewable energy, such as Arizona. The storage system will collect energy when the sun is shining and then give it back during peak hours when its capacity is needed most by customers. By releasing solar energy when it has traditionally been unavailable, customers will have continuous access to a cleaner, more reliable energy mix.
"By delivering solar after sunset, these projects with AES signal a new direction for how we can meet our customers' peak need for energy with an increasingly clean mix of resources," said Brad Albert, Vice President, Resource Management for APS. "This work with AES is also part of a long-term transition to larger roles for renewable and storage technologies in Arizona's energy future."
This partnership is part of APS's plan to add nearly one gigawatt of clean energy projects by 2025. In 2017, AES began operations on Arizona's first standalone battery peaker, a 4 MW energy storage system for APS with enough storage capacity to power 1,000 homes. The pair of 2 MW Advancion energy storage arrays were deployed as part of the APS Solar Partner Program (SPP) and deliver energy to customers at the time of day when electricity is in greatest demand and most expensive. The existing system has allowed APS to maintain reliable service for solar customers while the sun is down and solar panels are not producing power.
The new 100 MW energy storage system is expected to begin operations in June 2021.
About AES
The AES Corporation (NYSE: AES) is a Fortune 500 global power company. We provide affordable, sustainable energy to 15 countries through our diverse portfolio of distribution businesses as well as thermal and renewable generation facilities. Our workforce is committed to operational excellence and meeting the world's changing power needs. Our 2017 revenues were $11 billion, and we own and manage $33 billion in total assets. To learn more, please visit www.aes.com. Follow AES on Twitter @TheAESCorp.
Featured Product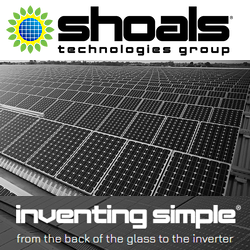 Inventing Simple® isn't just a slogan to us, it's a way of life. Using simple plug-and-play ideology, we revolutionized solar installations in 2003 with our Interconnect System™. Our harnessing system is now the gold standard EPC's use around the world. By using simple ideas, we are making solar energy a more affordable and clean power source for future generations.