Global e-waste is currently around 53.6 metric tons in 2020. In another seven years, estimates are that we'll reach 75 million metric tons. In the 2010s, the generation of e-waste increased by 60%.
Electronic Recycling on a Global Scale: Collaborative Efforts and Success Stories
Article from | ERI
Global e-waste is currently around 53.6 metric tons in 2020. In another seven years, estimates are that we'll reach 75 million metric tons. In the 2010s, the generation of e-waste increased by 60%. The United States is probably the worst offender, right? Wrong. Asia accounts for about half of it (24.9 metric tons). The problem is that only half of the states in the United States have e-recycling regulations in place.
Europe is the best continent when it comes to recycling e-waste (42.5%). Asia is second (11.7%), and the Americas and are third (9.4%). Still, those rates are low. As of 2019, only 71% of the world's countries have legislation or regulations regarding e-recycling. It's not great. What collaborative efforts are in place to change that?
The 2030 Agenda For Sustainable Development
Several Heads of State and other government representatives gathered in 2015 to establish the global 2030 Agenda for Sustainable Development. This plan is designed to end hunger and poverty, fight inequality, and protect both the world's natural resources and the environment.
One area of focus is the growth in e-waste around the world. Part of the 2030 Agenda is to bring positive change to the way people produce and consume goods and services to make them sustainable. A clear focus on a circular economy is happening around the world by regulating e-recycling and purchases of electronics built with recycled materials.
The Basel Convention
This is one of the pioneers when it comes to e-recycling. The Basel Convention on the Control of Transboundary Movements of Hazardous Wastes and Their Disposal was signed in 1989 and went into effect in 1992. It's an international treaty that reduces the transportation of hazardous waste from developed countries to less developed countries.
In 2019, it was amended to add plastic waste as one of the regulated materials. The United States didn't sign that amendment, making any shipment of plastic waste to other countries a violation of the Basel Action Network.
The China National E-Waste Action Plan
One of the best programs we've seen was China's National Old-For-New Home Appliance Replacement Scheme. People interested in purchasing new home appliances could sell their older appliances to an e-waste recycling company to get a 10% of the value to put towards their new appliances. People were interested and this helped fix the global financial crisis China was experiencing. Plus, items were recycled properly.
The problem is the program ended when the economy recovered. But, e-waste recycling companies, EEE producers, and many branches of the government believed that e-recycling needed to continue. This is why China embraced an extended producer responsibility program funded by advanced disposal fees.
The Closed Loop Partners Program
Starting an e-recycling program can be expensive. The Closed Loop Partners Program aims to change that by offering capital to those who want to form programs for a circular economy. Funds are available for e-waste collection, sorting, and processing, which leads to the materials needed for production. If an area needs financial support to get started, Closed Loop's programs provide that helping hand.
EPRA
Canada established the Electronic Products Recycling Association (EPRA) to create electronic recycling programs across the country. The country's residents can drop off their e-waste at drop-off points, retailers, and during special collection events.
Governments of each province can participate in or establish their own provincial e-recycling programs. The same is true of all programs though – they have to be free. To ensure this, Alberta and the Northwest Territory, established an environmental fee that's added on the sale of any new electronics.
The European Union's RoHS and WEEE Directives
The European Union introduced two policies to address e-waste: RoHS and WEEE. Here's a quick summary of each one.
RoHS:
EU laws classify e-waste as hazardous waste. It's hazardous because of the materials used within many electronic and electrical components, including cadmium, lead, and mercury. The RoHS Directive restricts the use of these and seven other substances when making electronic and electrical equipment and components.
While this helps make electronic waste safer overall, it also forces all manufacturers in the European Union to follow the same rules, which increases fairness as companies have to use the same materials and cannot cut corners.
WEEE:
Waste Electrical and Electronic Equipment (WEEE) is a growing waste stream and the European Union realizes it. To address it, they established partners for a program that collects and properly recycles e-waste. It also helps individual countries in the European Union to establish ways to keep bad actors from sneaking e-waste out of the country illegally.
The public gets to share their input into how well the EU Directive on WEEE is working, so it's not just government officials setting laws and hoping they work. The public can share how well it's going and what would make it better.
The Global E-Waste Monitor
Through a United Nations University (UNU) and United Nations Institute for Training and Research (UNITAR), and International Telecommunication Union (ITU) collaboration, the Global E-Waste Statistics Partnership was established. The program raises awareness of the importance of e-waste and uses tracking programs to show how much e-waste is generated around the world and how much is recycled.
The Silicon Valley Toxics Coalition's E-Waste Reduction Initiative
The Silicon Valley Toxics Coalition (SVTC for short) came from projects by three women's health and labor rights organizers. They received a grant from OSHA and established the Project on Health and Safety in Electronics (PHASE) and later the Electronics Committee on Safety and Health (ECOSH).
All of this came from concerns that workers in industrial jobs were facing too much exposure to health hazards from sitting in front of computer monitors and video display terminals. When an attorney and activist worried that leaks in manufacturing sites like Fairchild Electronics and IBM were impacting health and safety in Silicon Valley homes, SVTC was born. It focused on best practices to protect workers and the residents and land around these plants. As technology advances, SVTC also helps educate people on solar, e-waste practices, and nanotechnology.
Recycle With Partners That Support Best Practices Around the World
When it comes to recycling electronics that are no longer needed, you want a partner with the bandwidth to recycle safely and properly. You want a company that has partners around the world to ensure every corner of the world can recycle old or broken electronics.
ERI has nine certified e-waste and data destruction facilities around the United States. Plus, we have an international network in more than 46 countries. In all, our programs provide more than 100 certified and vetted ITAD and e-recycling facilities that focus on security, the environment, and our workers' safety.
How can we help you ensure you're recycling your business electronics responsibly and correctly? Our team is fluent in the current data destruction regulations for all industries and helps you remain in compliance when you must recycle computers, printers, smartphones, tablets, and many other office electronics. Reach us online or by phone to schedule pick-up service, data destruction at your location or one of our secure facilities, and other vital services that can be added to e-recycling services.
The content & opinions in this article are the author's and do not necessarily represent the views of AltEnergyMag
---
Comments (0)
This post does not have any comments. Be the first to leave a comment below.
---
Post A Comment
You must be logged in before you can post a comment. Login now.
Featured Product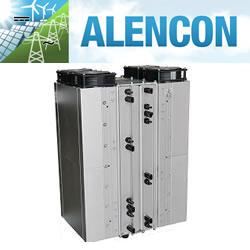 Alencon Systems is the premier manufacturer of high power, high voltage DC:DC optimizers for alternative energy applications including solar, battery energy storage, Microgrids, Fuel Cells and Electric Vehicle charging. Alencon's DC:DC converter offerings include the SPOT, BOSS and CUBE series DC:DC converters. The SPOT is a modular, uni-directional DC:DC solution ideal for solar applications. The BOSS is a modular, bi-directional unit for use with battery energy storage. The CUBE is a monolithic DC:DC converter which is available in both uni-directional and bi-directional modalities. Pictured above, is the Alencon SPOT.