Leading renewable energy consultancy and service provider, Natural Power, has appointed Angelika Gibula as Head of Servicing.
Angelika has vast experience in overseeing the planning and scheduling of services across UK and Europe, leading teams of wind turbine technicians, and developing and implementing processes, procedures and strategies to improve

operational efficiency. She joins from ESG Energy Service Group where she was Sales and Operation Manager / Country Manager UK, and has previously worked for Senvion UK and Windparkservice UK.
Stephen Brignall, Director of Service Operations and Asset Management at Natural Power said: "As our servicing business has continued to go from strength to strength under the leadership of Paul Wilson, we're delighted that Angelika has joined to take this part of the business through its next stage of growth through the expansion of our independent servicing offering."
Angelika will take over from Paul Wilson who is due to retire in 2025. Paul will remain in the business but will step down from his current role so he can start preparing for his retirement whilst also being available to support Angelika during the induction phase.
On joining the business, Angelika said: "I look forward to joining Natural Power as the next Head of Service. It is a very exciting time for the green energy sector, especially with the Government's ambitious plans to convert our country into a net zero economy. I am confident that with the strong foundations built by Paul and the team, we will continue our path to become the number one independent service provider for onshore wind in the UK. I also look forward to growing our team and supporting our clients in achieving their clean energy aspirations."
Natural Power provides a comprehensive servicing offering that includes routine maintenance and repairs; reactive and predictive maintenance; and annual servicing. It aims to provide clients with peace of mind and long-term value when it comes to servicing and repair by ensuring assets are working for as long as possible and with as little downtime as possible.
The team supports clients to achieve the most from their assets by keeping them safe, reliable and compliant. Office-based asset managers work hand in hand with the on-site teams including servicing and repair technicians, who form an integral part of the operations and asset management team.
Natural Power currently manages more than 200 onshore wind, offshore wind, solar, hydro and heat sites around the world. Find out more at www.naturalpower.com/uk/expertise/service/engineering-operations/operations-and-asset-management
Featured Product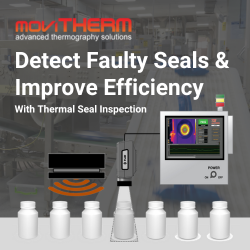 MoviTHERM's Thermal Seal Inspection (TSI) solution provides precise and reliable detection of defects in a variety of packaging types, including pouches, bags, blister packs, bottle caps, and more. By detecting defects in your packages, the TSI solution helps increase efficiency in your production line and ensures top-quality packaging is delivered to your customers every time. With state-of-the-art technology and an experienced team, MoviTHERM is dedicated to delivering accurate inspection solutions and peace of mind to its clients. Contact MoviTHERM today to learn more about their thermal seal inspection solution.