The two countries where we have seen the most substantial investment and growth is China and India, where they see opportunities to export technologies worldwide and invest in global solutions. This is something that Europe has practiced over the past few years.
Wind Energy Outlook
Uwe Schenk | Helukabel USA
Please tell us a bit about HELUKABEL and how you are involved in the Wind Energy Industry.
HELUKABEL® first entered the market in 1978 and began our U.S. operations in 2007. We first entered the renewable energy space in 1998. Since that time we have grown to be one of the leading, global cable and wire solution providers for this market sector.
While there is a lot of competition in this industry, there are only a few cable companies who provide one-stop shop capabilities to equip the entire turbine, from rotor tip to tower base. We are able to stand out from our competitors by developing cutting-edge cable technology that is at the forefront of the wind industry.
Are there any recent changes to standards from UL or CSA etc. that customers should be made aware of that might impact there operations?
The most significant UL standards that are changing cable and wire requirements in wind turbines are UL Standards 6141 (large wind turbine equipment), 6142 (small wind turbine electrical systems), and 6171 (wind turbine tower converters and connections). These standards specifically describe the individual components that are acceptable for use in wind turbines. These standards go a lot further than NFPA 79 edition 2012, which provides only the basic requirements for cable installation in a turbine.
Once these new UL standards are put into full effect, wind turbine operators in North America will only be allowed to use cables that meet these approvals. AWM approved wire can still be installed but only for a short time thereafter.
What advancements has HELUKABEL made in terms of new products and approvals received for their use?
The development of new products is one that is constantly in motion at HELUKABEL®. We work very close with the research and development departments of our customers across all of our industrial sectors in order to produce cables that are built to meet the ever evolving technology. Our global customer benefit from our continuous R&D process, because we are not limited only to domestic industries. Our entire portfolio of products for the wind industry was created with a global use in mind allowing our cables to be used in multiple countries.
With that being said, our latest wind cable technologies revolve around torsion resistance and alternative conductor types. The nacelle, which is constantly turning to maximize the use of wind, puts a unique set of torsional stresses on cables in the drip loop of the turbine. We are constantly taking data acquired from customers along with the data that we collect from our 26-foot tall wind turbine test tower, and putting that into our HELUWIND® WK-Series to enhance their ability to withstand the constant twisting and un-twisting that is combined with being pulled into and out of the tower/nacelle area.
The test tower allows up to 20 cables with diameters ranging from 5 mm – 100 mm (<1 in. – 3 in.) to be mounted and tested simultaneously with the maximum torsion possible – upwards of +/- 150° per meter (~3 feet).
Copper is always in demand, and the price is constantly fluctuating. Therefore, we are looking into alternative conductor materials or copper alloys that perform comparably to copper but are far less volatile in terms of price. One such material is aluminum, which has been used before but has always been very stiff and not easy to use. What sets us apart in the aluminum conductor space is we offer cables that have flexible aluminum conductors that are lighter, easier to work with, and safer because of their flexibility.
We also recently received approval for our C8 crimp technology, which passed the IEC 61238-1 Class A High-Voltage Test based on the TÜV Dortmund requirements. This new crimping style to connect cable lugs to aluminum conductor cables gives HELUKABEL® a unique position of being the only company that can deliver an aluminum cable and lug assembly with an approved connectivity technology up to 400 mm2 (777 kcmil).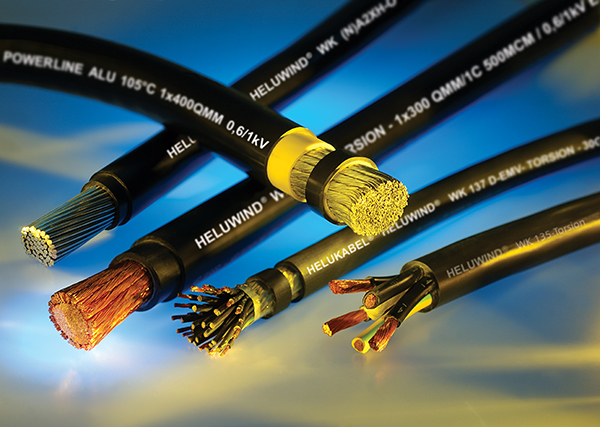 What are some trends you are seeing currently and into the future in regards to turbine construction and how that affects the cabling?
The biggest trend that we are noticing is the ability to combine a high-quality product with cost effectiveness. Finding this balance is a very fine line that must be walked by companies in the wind industry supply chain. Cost intensive products such as the tower are constantly changing in both design and materials. For example, towers can now be made of wooden timbers or they may be of a hybrid construction.
The high quality/cost effective trend has not gone unnoticed by our engineers. We recently launched our new generation of highly flexible aluminum power cables, like the WK POWERLINE ALU. This diesel locomotive (DLO)-like cable is made of finely-stranded aluminum and is highly flexible, offering customers the performance capabilities of a standard copper cable, but at a fraction of the cost. The cost savings of the POWERLINE ALU not only can be felt by converting from copper conductors to aluminum, but also during installation and maintenance since one cable length can go from the copper-wire drip loop at the top of the tower to the inverter at the base. A mere four to six hours of installation time compared to a few days.
2012 saw a massive increase in installed Wind Capacity from previous years. Analysts and media attribute this as a result of an uncertain future of the renewal of the Production tax credit (PTC) and a rush by wind developers to meet the December 31st deadline to receive that tax incentive. Do you agree with this assessment? If not what do you attribute this banner year for Wind Capacity to?
I would agree that the uncertainty around the PTCs has had a part to play in the massive build up by wind developers over the past year. This effect was also seen in Germany when they instituted a reduction in subsidies to installers and manufacturers for solar power. Companies ramped up production to meet the deadline and have subsequently reduced their output as the financial assistance has been lowered.
Beyond the commercial aspect of wind power, there has been a push to expedite the development of green technology to benefit the environment. Wind power, like solar, hydro and geothermal, avoids the costs that are associated with nuclear fuel and carbon dioxide (CO2) emissions.
If the PTC credit is not extended can the Wind Industry continue to see growth in the US without tax incentives?
The entire economic basis for developing wind farms rests upon government assistance at this point. The industry and many of the main investors are waiting for a sign from the government before they make an investment in a wind farm and the subsequent equipment. Without that sign, we are seeing cutbacks to current projects and companies putting a halt to projects that were planned. The continued PTC uncertainty has already begun to take a toll on the industry as companies are starting to lay off employees as they scale back, if not shutter, operations.
A second point is that the current power grid infrastructure for wind is not yet set up to be on par with the current sources of power production (coal, nuclear, etc.). Once the infrastructure is in place, then it will be a good time to discuss the removal of government assistance. However, the wind sector is still in its infancy and requires further nurturing to be able to competitively compete with other forms of power production.
Which other countries are currently investing in wind energy at a substantial and growing rate?
The two countries where we have seen the most substantial investment and growth is China and India, where they see opportunities to export technologies worldwide and invest in global solutions. This is something that Europe has practiced over the past few years.
We hope that U.S. companies involved in the wind sector will join forces with these new green energy partners to help further the industry.
Are there incentives in these countries that could be modeled to work in the USA?
These countries are similar to the U.S. as they use or have used government subsidies to help fund investment. What we have also seen in recent years is that foreign companies involved in the wind market have set up U.S. operations to lower the costs involved in transporting turbine parts from outside of the U.S. Companies see the enormous potential for wind in the U.S. and have identified it as a market that has the greatest potential for future growth.
Do you see HELUKABEL being involved in other forms of alternative energy industry over the next 5 to 10 years?
HELUKABEL is a pioneer when it comes to green energy and we are involved in many forms of alternative energy including solar, where we produce the necessary cable and accessories to bring the power of the sun from the panel to the home or business.
We are looking forward to the future expansion of the green energy space and will work with our customers to make sure we are prepared with the necessary cabling to meet their needs as the technology in the alternative energy industry becomes more advanced.
Uwe Schenk
Uwe Schenk is HELUKABEL®'s Global Segment Manager - Wind and is responsible for the sales and development of HELUWIND® product line and its integration into the wind energy market. Uwe has over 13 years of wind cable experience and has been involved in the cable and wire industry for over 16 years.
The content & opinions in this article are the author's and do not necessarily represent the views of AltEnergyMag
---
Comments (0)
This post does not have any comments. Be the first to leave a comment below.
---
Post A Comment
You must be logged in before you can post a comment. Login now.
Featured Product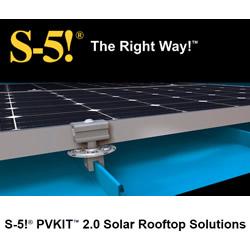 The concept of combining PV arrays with standing seam metal roofing is growing-for good reasons. Metal roofs have a life expectancy of more than 40 years. Shouldn't the mounting system last as long? With S-5! zero-penetration attachment technology and PVKIT 2.0, the solarized metal roof is the most sustainable system available -and without compromising roof warranties! PVKIT 2.0 is the also the best solution for attaching PV modules directly to any exposed fastener metal roof.