In December 2012, Ottawa's City Council signed a 20 year contract with Plasco, committing 109,500 tonnes of municipal solid waste to a Plasco waste conversion facility. The City's support was achieved through a collaborative approach, commitment to open and transparent communication, and careful attention to risk management.
Solid Waste to Syngas - From Demonstration to Commercialization
Contributed by | Plasco Energy Group
Plasco Trail Road is the only operating commercial-scale conversion facility in the world that converts municipal solid waste into a consistent syngas than fuels GE Jenbacher engines to generate electricity.
Plasco entered into a partnership with the City of Ottawa, Canada in April 2006 for the construction of the commercial-scale demonstration facility. Construction was completed in July 2007 and the facility began processing Ottawa's garbage in January 2008.
Plasco Trail Road was constructed to:
Demonstrate Plasco's proprietary technology at a commercial scale to customers and investors
Produce environmental performance data that is significantly lower than existing emission standards in leading jurisdictions
Validate Plasco's operating costs and net energy production efficiency
Plasco Trail Road has demonstrated:
Successful electricity production using synthetic gas in GE Jenbacher engines
Superior environmental performance validated by the Ontario Ministry of the Environment
Economic viability of Plasco Conversion Facilities based on revenues from net electricity produced and fees for accepting waste for processing.

Collaborative Approach for Regulatory and Public Approval
On October 24th 2011, the Ontario Ministry of Environment (MOE) issued permanent operation permits for PTR. Plasco received the permanent permits after a three-year demonstration period and an Environmental Assessment Screening Process mandated by the province of Ontario that included public consultation.
Plasco Energy Group worked collaboratively with local and provincial levels of the Canadian government to develop rules for permitting an innovative technology. This process involved an extensive public outreach program including public meetings, City Council presentations, community events and government agency consultation.
Through this approach, Plasco Trail Road was granted temporary demonstration permits in 2008 that specified more stringent air emission regulations than existing standards.
Plasco received majority approval by Ottawa City Council for the construction of the demonstration facility. The company also achieved over 85% favourable public opinion via an independent third party public polling survey.
The Plasco Process: How it works
The municipal solid waste (MSW) stream enters the conversion chamber where the waste is converted into a crude synthetic gas (syngas) using recycled heat. The crude syngas that is produced flows to the refinement chamber where plasma torches are used to refine the gas.
Now refined, the syngas is sent through a Gas Quality Control Suite to remove sulphur, remove acid gases and segregate heavy metals found in the waste stream. The result is a clean, energetic syngas.
The syngas is used to fuel internal combustion engines that efficiently generate electricity. Waste heat recovered from the engines is combined with waste heat recovered from cooling the syngas in a Heat Recovery Steam Generation (HRSG) unit to produce steam. The steam can either be used to generate additional electricity using a turbine (combined cycle generation), or it can be used for industrial processes or district heating (cogeneration).
The solid residue from the conversion chamber is sent to a separate high temperature Carbon Recovery Vessel (CRV) equipped with a plasma torch where the solids are melted. Plasma heat is used to stabilize the solids and convert any remaining volatile compounds and fixed carbon into crude syngas. This additional crude syngas is fed back into the conversion chamber. Any remaining solids are then melted into a liquid slag and cooled into small slag pellets. The slag pellets are an inert vitrified residue sold as construction aggregate. Leachability tests have been conducted on slag emerging from the process and have confirmed that the slag does not leach and is non-toxic.
The entire process is continuously monitored by a proprietary control system that ensures sufficient syngas stability to fuel internal combustion engines regardless of the variations in the energy content of the MSW.
Commercial Results
In December 2012, Ottawa's City Council signed a 20 year contract with Plasco, committing 109,500 tonnes of municipal solid waste to a Plasco waste conversion facility. This new facility will have capacity to convert 150,000 tonnes per year of Ottawa's post-recycled waste into green power and other valuable products.
The City's significant support was achieved through Plasco's collaborative approach, commitment to open and transparent communication, and careful attention to risk management.
"Back in 2005 Plasco set out to prove its potential with a demonstration plant…. they also set out to prove to the ministry of the environment that very low emission levels could be achieved. Finally, they set out to prove that they could get investors to build a full commercial plant without a capital contribution from the City. Today, Plasco has grown from 8 people to more than 150 employees all here in Ottawa. This company has attracted more than $250 million in new investment in Ottawa since the City first sat down to consider a joint venture opportunity."
Ottawa Mayor, Jim Watson, December 15, 2011
To address key concerns from various stakeholders, Plasco focused on:
Leveraging credibility of top quality investors
Developing relationships with strong strategic partners for key execution roles
Eliminating scale up risk though Plasco Trail Road operation and demonstration
Mitigating construction and completion risk through an Engineering, Procurement and Construction (EPC) wrap
Contracting credit worthy long term feedstock and power off-take contracts
Engaging the public to communicate project details and address questions
Innovative thermal technologies are steadily advancing toward commercialization as communities like the City of Ottawa recognize the need for superior waste management solutions.
As conversion technologies become part of integrated municipal waste management programs, communities around the world will benefit from sustainable, efficient solutions that reduce negative impacts on the environment and out health.
About Plasco Energy Group
Plasco Energy Group Inc. is an innovative technology company based in Ottawa, Canada. Plasco's conversion technology is a sustainable solution that helps communities achieve their landfill diversion and renewable energy goals. Plasco recovers high value from post-recycled waste and reduces the negative impact waste has on the environment.
Plasco's committed investors have significant depth, quality and credibility. Company investors include Soros Fund Managment, Areas Capital Management, First Reserve and Black River Asset Managment. Over $390 million of equity capital has been committed to Plasco since 2005 and approximately $250 million has been invested to date in developing the technology and building the market.
Plasco's business model is to finance, build, own and operate all facilities. Together with its partners, Plasco takes on all risk for financing, developing and operating Plasco Conversion Facilities.
The content & opinions in this article are the author's and do not necessarily represent the views of AltEnergyMag
---
Comments (0)
This post does not have any comments. Be the first to leave a comment below.
---
Post A Comment
You must be logged in before you can post a comment. Login now.
Featured Product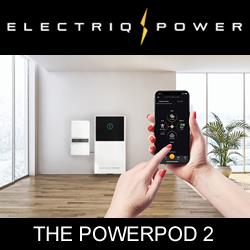 The Electriq PowerPod 2 is a fully-integrated home energy storage, management, and monitoring system powered by LFP batteries. The high-performance, cobalt-free product includes a hybrid solar/battery inverter controlled by intelligent software. The PowerPod 2 provides backup power and can self-consume or export excess power back to the grid.