The winner of the competition is the team that best blends affordability, consumer appeal, and design excellence with optimal energy production and maximum efficiency.

Bob Hetherington | AltEnergyMag
I think the Solar Decathlon is one of my very favorite events as well as one of the most important competitions we cover. Any time you put a bunch of unfettered enthusiastic and passioate students on the playing field, good things can result. This year there are 20 teams participating from all over the world.
In case you are unfamiliar with the decathlon, here is how it is described:
The U.S. Department of Energy Solar Decathlon challenges collegiate teams to design, build, and operate solar-powered houses that are cost-effective, energy-efficient, and attractive. The winner of the competition is the team that best blends affordability, consumer appeal, and design excellence with optimal energy production and maximum efficiency.
So, all of these houses will be transported, built and operated by the students to the Orange County Great Park in Irvine, CA --- open to the public --- free of charge --- from Oct 3 to 6 and Oct 10 to 13/13. If you are in the area and interested in the future this is a must visit. The website with all the entries and info is at http://www.solardecathlon.gov/index.html
The last decathlon was in Washington DC and we did visit it as well as write an extensive series of articles --- https://www.altenergymag.com/emagazine/2011/08/the-solar-decathlon/1756
The teams that are participating this year are as follows. You can see all the details for each entry on the DOE site:
Each entry is unique and the most interesting outcome of this competition is the diversity of ideas that are presented. The teams are obviously influenced by the climate of their location as well as the availability of local expertise and materials. Here are just a few teasers for you:
Team Austria: Vienna University of Technology
Team website: www.solardecathlon.at
Team Austria's U.S. Department of Energy Solar Decathlon 2013 entry is a simple, smart, and sustainable house. Powered by a rooftop solar photovoltaic system, Living Inspired by Sustainable Innovation (LISI) generates more power than it uses over the course of a year. The house adapts to a range of climate zones and flexes to meet a variety of lifestyles.
Design Philosophy
In developing LISI, Team Austria was guided by a vision for a healthy, sustainable future and a concept that could adapt to many lifestyles and climates. Viewing the house as a "social creature" eager to find its place in a richly diverse community, Team Austria honors a sense of stewardship in the use of our planet's most precious resources.
Features
Renewable and eco-friendly construction and insulation materials made of timber are easily transported and provide indoor climate comfort and carbon-neutrality.
Changeable architectural elements create a variety of sensory conditions—closing to form a protective cocoon for occupants and opening to allow them to expand their space.
Two patios create a balance between interior and exterior and public and semi-public spaces.
The passive solar design, combined with an automated screen and awning system, provides shade to keep the living spaces cool and comfortable.
A patio herb garden draws water from a rainwater reservoir.
Generous storage, completely integrated into the walls, frees the primary indoor space from clutter.
Technologies
Photovoltaic modules provide an annual surplus, which can be used to power electric bikes or vehicles.
A centralized utility room contains all the automated mechanical systems the house needs, including a photovoltaics monitor, ventilation, plumbing, and hot water supply.
Two high-efficiency, air-water heat pumps supply cold and hot water for space heating and cooling as well as for domestic hot water.
An energy-recovery ventilation unit acts as a heat and humidity exchanger between exhaust air and fresh intake air to keep the living spaces comfortable and healthy.
A multifunctional subfloor system regulates the indoor climate using water, air, and active cubic capacity.
A heat-recovering shower tray reduces the energy demand for hot water by almost one-third.
Through a tablet application, the automated house control hub, energy performance history, and live data can be accessed in an intuitive way.
University of Nevada Las Vegas
Team website: solardecathlon.unlv.edu
The University of Nevada Las Vegas designed its DesertSol house to reflect the spirit of the Mojave Desert. With reverence to the sun as both a source of harsh conditions and a solution for sustainable living, DesertSol harnesses abundant sunlight for solar electricity while capturing rain to provide evaporative cooling and irrigation. The ultra-efficient house is envisioned as a vacation home for a seasonal retreat—a basecamp for desert adventures that responds to its unique environment.
Design Philosophy
DesertSol makes careful use of the desert's solar and water resources. Its design fuses modern architecture with a weathered aesthetic, the comfort of carefully selected materials, and the excitement of intriguing spaces to foster a spirit of openness and adventure.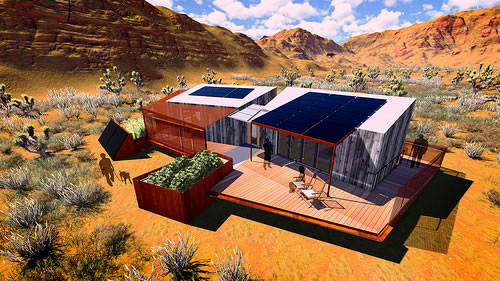 Features
A weathered wood rain screen shades the building's structure.
Digitally fabricated retractable solar shade screens shield the hottest sides of the house in the summer and provide direct sun for warmth in the winter.
A water feature captures water from the occasional desert downpour and uses it for irrigation and spot cooling on the outside deck with a cool tower, which uses less water than conventional misters.
Folding doors open completely, allowing indoor activities to spill onto the outdoor deck space and doubling the square footage for entertaining.
A home automation system ensures the house operates at peak efficiency and allows the lights, appliances, and thermostats to be controlled from an easy-to-use interface on a mobile device.
Technologies
Photovoltaic panels provide electricity and shade the outdoor living space.
Solar thermal collectors provide radiant floor and water heating.
Advanced structural design framing clad in reclaimed pre-weathered materials saves lumber and provides more insulation to the living spaces.
A fire-protection sprinkler system combined with a potable water plumbing system ensures that fresh water is available each time a cold-water fixture is used and results in a non-stagnant sprinkler system.
Layers of closed-cell, open-cell, and continuous rigid insulation ensure that the house is air-tight and highly heat-resistant and prevents thermal bridging.
Team Alberta: University of Calgary
Team website: www.solardecathlon.ca
Borealis, the University of Calgary's entry to the U.S. Department of Energy Solar Decathlon 2013, addresses the housing needs of professionals working in remote locations, such as the northern regions of Alberta, Canada. This modular house is easy to transport and assemble, it's affordable, and it provides a comfortable and sustainable home away from home.
Design Philosophy
Borealis was designed in consideration of the housing shortages and high housing costs driven by northern Alberta's resource industries (energy, mining, and forestry). It provides an alternative to crowded work camps and brings a solution to the difficulty of finding labor to build housing in these areas. Named after the iconic Northern Lights and lush Boreal forest, Borealis is designed to be sustainable and ecologically sensitive.
Features
The three-module design features a core shared module with a kitchen that separates two private modules that can be configured as work or rest spaces.
A living wall in the bathroom hosts plant life for cooling, air purification, and connection to nature throughout the year and is sustained by large sun-tunnel skylights.
Exterior cladding uses sustainable products such as responsibly sourced, naturally moisture- and rot-resistant cedar wood siding and fiber cement boards that use post-industrial waste wood fiber.
Large, south-facing windows provide natural light and views to the outdoors and open to provide passive cross-ventilation.
Technologies
A roof-mounted solar photovoltaic array is controlled by a system that monitors individual panels to allow site-specific array optimization. Micro-inverters allow maximum production of electricity from every panel without the array being dependent on any one panel.
Light-emitting diode fixtures are used throughout the house to achieve ultra-high efficiency and use 10 times less energy than traditional incandescent bulbs.
A custom energy monitoring system provides feedback on the lighting, appliance, and mechanical loads and enables optimization of the mechanical system at any location using a simple Web interface.
The central mechanical room controls all activity within the house from one location.
A solar water heating system harnesses the sun's energy to heat domestic hot water.
The content & opinions in this article are the author's and do not necessarily represent the views of AltEnergyMag
---
Comments (0)
This post does not have any comments. Be the first to leave a comment below.
---
Post A Comment
You must be logged in before you can post a comment. Login now.
Featured Product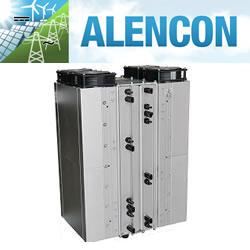 Alencon Systems is the premier manufacturer of high power, high voltage DC:DC optimizers for alternative energy applications including solar, battery energy storage, Microgrids, Fuel Cells and Electric Vehicle charging. Alencon's DC:DC converter offerings include the SPOT, BOSS and CUBE series DC:DC converters. The SPOT is a modular, uni-directional DC:DC solution ideal for solar applications. The BOSS is a modular, bi-directional unit for use with battery energy storage. The CUBE is a monolithic DC:DC converter which is available in both uni-directional and bi-directional modalities. Pictured above, is the Alencon SPOT.