Not all custodians will accept IRAs that invest in alternatives but there are many that have specifically developed the expertise to serve this market.
Custodians Can Help Energy Companies Market Alternative Investments To Self-Directed IRA Investors
John Johnson | GoldStar Trust Company
A growing number of alternative energy businesses are raising funds by marketing private stocks, limited partnerships, promissory notes, and similar investments directly to holders of self directed Individual Retirement Accounts, often through their investment advisors. These types of investments are generally defined as non-traditional or "alternative investments" as they are not traded on an organized public exchange and require special expertise to establish value
This interest in self directed IRAs is driven by the fact that the Internal Revenue Service allows owners of these IRA accounts to purchase alternative investments which meet specific criteria. Some estimates put the combined asset value of these accounts at nearly $100 million.
Energy companies choosing to pursue this market, let's refer to them as "sponsors", will find themselves working closely with firms known as IRA custodians because all self directed IRAs must be established through a custodial firm. These are usually banks, credit unions, brokerage firms, savings and loan associations or trust companies that have been approved by Federal and/or state agencies to provide asset custody services to individual investors and financial advisors.
Not all custodians will accept IRAs that invest in alternatives but there are many that have specifically developed the expertise to serve this market. Investors who want to establish self directed IRAs specifically to purchase an energy sponsor's alternative need only to identify a custodian willing to accept the account. If sponsors, advisors or investors do not know of any alternative investment custodians, they can identify such firms through a simple Internet search. Potential investors who already have a self directed IRA should confirm that their current custodians will handle such investments. If not, they can open an account with an alternative custodian and roll the funds from their prior custodian to the new account.
Sponsors should view custodians as firms whose primary role is to help facilitate their IRA clients' purchase of alternative investments while making certain they meet specific guidelines mandated by the Internal Revenue Service.
When an IRA holder wishes to purchase a sponsor's investment, the custodian's staff will review all relevant offering documents against IRS suitability regulations. Then the custodian actually purchases the investment in its name from funds in the IRA. When requested by the client, the custodian will sell the investment and deposit the proceeds into the account.
A custodian also provides all of the administrative services that alternative investments and the IRS require. It monitors the investment's IRS compliance status for entire time it is held in the IRA. It also receives and records all interest payments and deposits them in the IRA account while making any payments from the account that are required by the investment. It monitors a sponsor's business or financial transactions related to these alternatives as well as by the IRA account holders themselves. This is to help the IRA avoid what are defined as "prohibited transactions", which, if they should occur might result in the account being penalized by the IRS.
Custodians and their clients must be able to establish a value of all investments in an IRA each year. Prior to the purchase of a sponsor's investment, the sponsor, the IRA holder and the custodian agree on an independent third party to determine this value.
While custodians provide these critical services for IRAs invested in energy alternatives, sponsors should know that they never offer any type of investment advice to clients or their advisors. The same holds true for legal or tax advice.
The sponsor / custodian relationship usually begins when investors or their advisors decide to purchase the sponsor's alternative investment through a self directed IRA and identify a custodian willing to accept this type of account. In some cases, custodians serving the alternatives market will conduct preliminary IRS suitability reviews of a sponsor's alternative investment which in turn encourages the sponsor to refer prospective investors and their advisors to these custodians. However since investors can open self directed IRAs with any firm willing to custody alternatives, a sponsor may have an opportunity to work with a number of custodians.
Just what the differences are, energy sponsors may wish to so some research and to develop a profile on custodians, with which they may have an opportunity to work. This can be accomplished by reviewing these firms' web sites, locating media coverage about them, conducting social media searches and identifying presentations they might have made at key conferences and trade shows. These profiles might include:
Alternative Investment Experience ---- How long has each been serving clients investing in alternatives? How many alternative investment accounts do they have? What type of alternative investments do their clients hold? How many individual alternative investments does this include? Have they any experience with energy company alternatives?

Client Education: What educational information about the firm, self-directed IRAs and alternative investments does the firm make available to prospective clients and their financial advisors?

Technology and Communications: What record keeping and communications technology is in place to efficiently and seamlessly open and administer alternative investments, communicate with the sponsors, clients and advisors and to issue required reports?

Fees : What is each custodian's fee structure for establishing and administering self-directed IRAs?
Energy companies should realize that they face competition for self directed IRA funds from sponsors representing all facets of the alternative investment world. However, the path to each IRA account leads to and through a custodian.
John Johnson is president of GoldStar Trust Company, headquartered in Canyon, Texas. Goldstar is one nation's leading self-directed IRA custodians with more than twenty years of experience and serves more than 37,000 IRA accounts with assets of more than $2.2 billion dollars as of March 31, 2013. The firm has developed a special expertise and experience in serving alternative investment IRA account holders.
The content & opinions in this article are the author's and do not necessarily represent the views of AltEnergyMag
---
Comments (0)
This post does not have any comments. Be the first to leave a comment below.
---
Post A Comment
You must be logged in before you can post a comment. Login now.
Featured Product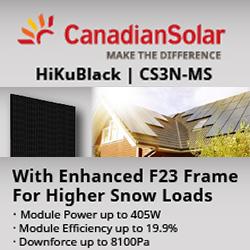 Aesthetic appearance for residential systems: With black backsheet & black frame, Power range 380 ~ 405 W, Low power loss in cell connection. Enhanced reliability: · Low temperature coefficient (Pmax): -0.34 % / °C, LID LeTID less than 2.0%, Lower hot spot temperature, Better shading tolerance.