CMT's annual two-track summit incorporating - 'Biomass Supply Chain' and 'Biofuels World Asia' - traces Asia's biomass feedstock market trends and the progress in use of biofuels in road transport and aviation.
Centre for Management Technology (CMT) brings in feedstock suppliers to start off the BIOMASS SUPPLY CHAIN track with Akarin Vongapirat, Managing Director of BNS Wood Industry, outlining Thailands Rubberwood pellet & biomass market while Andrea Alessandrini, Managing Director of PT Trenergy Biomasse, shares insights on Indonesias palm biomass market with growth of the countrys biomass fuel demand.

Southeast Asian Country Analysis include :
• Myanmars biomass power developments and plans to use biomass for electricity generation by Htun Naing Aung, Chairman & CEO of Kaung Kyaw Say Engineering
• Vietnams biomass growth & opportunities for export by Dam Dinh Vinh, Deputy General Director of Vinomig Green Energy
• Biomass, biofuels & biogas prospects in Philippines & Indonesia by Tony Segadelli, Managing Director of Owl Energy
Opportunity for an integrated biomass power and biofuels value chain is presented by palm oil producer Kencana Agris Head of Energy Karel Sampe Pajung while other panelists in the Biomass Supply Chain Track are from: Indufor, Prodesa, EnerOne and Turboden Srl (Mitsubishi Heavy Industries Group Company).
Main highlights for the BIOFUELS track include contributions by - PSC Starch Products on cassava market in Thailand & the current economics for ethanol production; Japans IHI Corporation on biofuel from algae (Botryococcus) and COFCO on Chinas ethanol demand.
Other presentations from the Biofuels track are:
• Goodfuels - Sustainable Fuels for Marine - Possible Production in Asia?
• International Air Transport Association (IATA) - Commercializing Sustainable Alternative Biofuels to Reduce Aviations Footprint on the Environment
• Mitr Phol Sugar on Biomass Co-Products Development of Thailands Sugar Market
• Novozymes on Advanced Biorefining in Asia Pacific
Log on to Biomass & BioEnergy Asia http://www.cmtevents.com/aboutevent.aspx?ev=160102&pu=265084 for more details.
Alternatively contact Ms. Hafizah at +65 6346 9218 or email hafizah@cmtsp.com.sg
Featured Product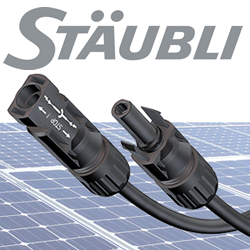 ​Stäubli Electrical Connectors are used on more than 300 GW, over 50% of the PV capacity worldwide. The MC4 family of UL and TUV listed products include connectors, in-line fuses, branch connectors, cable assembly and more.