The Industrial line is designed to support large daily loads where the batteries are cycled regularly in a range of PV systems including micro-grids, off-grid resorts, rural telecom applications and more
Santa Fe Springs, Calif., May 14, 2012 - Trojan Battery Company, the world's

leading manufacturer of deep-cycle batteries, has expanded its Industrial
line offering of deep-cycle batteries for renewable energy and backup power
applications to include two new sizes. The new 2-volt additions are
designed to make transport and installation of the batteries easier as well
as offer more design flexibility for a variety of photovoltaic (PV)
applications.
The new Industrial batteries include the IND27-2V model featuring a 1457Ah
capacity at C20, and the IND33-2V version that offers a 1794 Ah capacity at
C20. The Industrial line is designed to support large daily loads where the
batteries are cycled regularly in a range of PV systems including
micro-grids, off-grid resorts, rural telecom applications and more.
"Trojan Battery has taken great care in designing its Industrial line to
meet the unique requirements of our customers operating PV systems in
diverse regions around the world," said Bryan Godber, Trojan's senior vice
president of renewable energy. "Our broad product portfolio of battery
technologies is engineered to specifically address a wide range of renewable
energy applications. Designed for high-capacity performance and rugged
durability, the newest additions to Trojan's high-capacity Industrial
battery line significantly expand the company's product offerings to address
an extensive scope of renewable energy and backup power applications."
To enhance safety, the new Industrial batteries also feature customizable
terminal protectors which increase protection against shock or short
circuiting and terminal corrosion. The protectors feature perforated
cut-outs along the sides and top enabling them to be customized to fit the
specific cable configuration required by customer.
Trojan's Industrial line is specifically designed for deep-cycle use and
optimized for deep discharge and recharge cycles characteristic of renewable
energy systems. It is engineered for high-energy requirements delivering
1,500 cycles at 80 percent depth-of-discharge, and features advanced battery
technologies that provide optimum performance. The Industrial line features
the following unique design elements.
Rugged Construction & Intelligent Design The 2-volt cells of the new
Industrial line additions are assembled in a rugged polypropylene housing
designed to protect the internal plates from damage that may occur during
transport and installation. The cells are enclosed in a larger polyethylene
outer case that protects against damage caused by harsh environmental
conditions such as moisture and dirt buildup, as well as safeguards against
potential acid leaks. For added protection the thick-walled case features a
lattice-design that reinforces the outer case's structural integrity. This
dual container construction provides added protection against extreme
temperatures.
Trojan Advanced Battery Technologies
Engineered for high-energy requirements, the Industrial line features the
following advanced battery technologies that provide optimum performance.
Alpha PlusR Paste with T2 TechnologyT & DuraGridT Design Trojan's Alpha Plus
Paste is a proprietary, high-density paste formulation precisely engineered
to deliver outstanding battery performance. This high-density paste
optimizes porosity development in the active material utilizing the active
material more effectively resulting in sustained battery performance over a
longer period of time. Trojan's T2 Technology features a patent-pending T2
metal agent which is incorporated into Trojan's Alpha Plus Paste further
strengthening the electrochemical processing capabilities of the paste.
Together the Alpha Plus Paste with T2 Technology increase both sustained
capacity and total overall ampere-hours resulting in more operating power.
Combined with the innovative DuraGrid design, which provides a thick grid
structure that resists corrosion, the Alpha Plus Paste with T2 technology
increases overall battery life. The Industrial line's low-profile grid
configuration also optimizes current flow throughout the grid network and
maximizes the amount of electrolyte that can be added resulting in longer
intervals between watering.
Reinforced Protection Wrap
Trojan's Industrial batteries are engineered with a robust positive plate
construction that enhances overall performance. Trojan's DuraGrid
technology combined with Alpha Plus paste securely locks the active
materials to the grid creating an exceptionally strong positive plate. The
Industrial line includes a five component wrapping and insulating system
comprised of a stranded vertical slyver, which are filaments of glass
wrapped around the positive plate's active mass surface, a 20 mil backing
bat and a secondary 20 mil horizontal compression mat. The entire mat is
wrapped with edge-protecting Koroseal that is heat bonded as well as bonded
to the plastic boot to protect the bottom of the plate and to keep the
Koroseal in place. The advanced plate construction protects against
shedding and assures the electrochemical performance of the battery's active
materials.
MaxguardR XL Separator
Exclusively available in Trojan's Industrial and Premium line batteries is
the Maxguard XL separator. Featuring a wide-channel design, the Maxguard XL
separator increases acid flow for optimum battery performance. Thirty
percent thicker than our standard flooded battery separators, the Maxguard
XL provides even greater resistance to stratification which is a typical
mode of failure in batteries used in renewable energy systems.
About Trojan Battery Company
Trojan Battery Company is the world's leading manufacturer of deep-cycle
batteries, offering a complete portfolio of technologically-advanced
deep-cycle flooded, AGM and gel batteries that provide maximum long-lasting
performance to meet the requirements of today's advancing renewable energy
systems. Trojan Battery Company, founded in 1925, is ISO 9001:2008 certified
with U.S.-based operations in California and Georgia. For more information,
visit www.trojanbatteryRE.com
Featured Product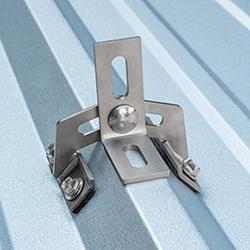 Error-Proof Compression: The QB2 doesn't leave any room for user error when it comes to Microflashing® compression. Once the Dual Drive Shoulder Screw is secured, the Microflashing® is compressed. Only 3 Components: The QB2 is comprised of Microflashing®, an L-foot and a Dual Drive Shoulder Screw. No more Nuts needed to tighten and secure the L-foot! Not only does this simplify the installation process, it also cuts down the installation time.