• Southern California Edison (SCE) will install a battery energy storage system from Current, powered by GE, later this year in response to Californias Aliso Canyon energy emergency • SCE additionally plans to install a controls upgrade package to integrate the battery energy storage system with a gas turbine • Hybrid technology helps SCE respond to Californias changing regulations and grid requirements • GEs LM6000 Hybrid EGT* package expected to help SCEs customers save on fuel costs, while reducing natural gas consumption and emissions, plus improving gas turbine start-up time and reliability
BOSTON - Oct. 4, 2016 - GE and longtime customer Southern California Edison (SCE) today announced a plan to install the worlds first battery storage and gas turbine hybrid. The two-project solution first calls for installation of a battery energy storage system from Current, powered by GE, followed by upgrades to a GE LM6000 gas turbine to integrate the two systems. The LM6000 Hybrid EGT, which is scheduled to be deployed at two SCE sites in the coming months, was developed in response to changing regulations and grid requirements in the wake of Californias Aliso Canyon energy crisis earlier this year and will ultimately support increasing renewable energy capacity on the California grid.

"GEs new LM6000 Hybrid EGT product fits well with SCE's objective of providing cost-effective, innovative solutions that enhance grid reliability, flexibility, and fast response for our customers," said Phil Herrington, Vice President of Generation for Southern California Edison.
The solution, which will qualify for Californias Independent System Operators tariff for contingency re-serve, answers a critical need for Southern California, where regulations on natural gas usage and storage are changing in the wake of the states Aliso Canyon energy crisis earlier this year. GEs Power Services and Current businesses worked to develop the joint solution in a competitive offer in collaboration with Wellhead Power Solutions, LLC.
"This was truly a best-in-class joint effort by Southern California Edison, our partners at Wellhead Power Solutions, and multiple GE businesses to enhance our technology and add Currents battery storage system to existing GE turbines," said Eric Gebhardt, Chief Platforms & Operations Officer for Current, powered by GE. "As a team, we worked together to quickly provide a complete scope of the challenge and find a solution in a very short time frame. Now we can bring this same technology to other GE gas turbine customers around the world."
The LM6000 Hybrid EGT product integrates a 10 MW battery energy storage system from Current and an existing GE LM6000 aeroderivative gas turbine with control system upgrades provided by GEs Power Services. The system will allow the turbine to operate in standby mode without using fuel and enable immediate response to changing energy dispatch needs. By eliminating the need to constantly run the turbines at minimum loads to maintain spinning reserves, the LM6000 Hybrid EGT will save fuel, reduce maintenance costs and cut down on greenhouse gas (GHG) emissions.
"We are excited to launch this innovative hybrid solution to provide immediate power, increase the flexibility of our gas turbines, leverage new software controls solutions and increase customer competitiveness," said Paul McElhinney, President and CEO of GEs Power Services. "With our total plant solutions capabilities, we are able to help California increase its grid efficiency and help SCE deliver more affordable energy in a changing marketplace."
The LM6000 Hybrid EGT offers ancillary and grid support at a lower cost and smaller GHG footprint than traditional resources, plus it can provide 50 MW of GHG-free spinning reserve, flexible capacity, and peaking energy; 25 MW of high-quality regulation; and 10 MVA of reactive voltage support and primary frequency response when not online.
The battery energy storage system is expected to be installed and operational by the end of 2016, and the updated and integrated turbine controls are scheduled to be operational in early 2017.
Featured Product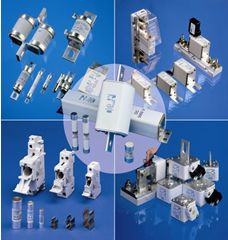 SIBA Fuses: your trusted source for all your circuit protection applications, from solar power to wind power. We are the world leaders in these applications and the most trusted name for your circuit protection needs. We have been working for over 60 years in semiconductor fuses, including ULTRA RAPID®, medium, and high voltage, standard European, miniatures, electronic fuses, and a wide range of DC rated fuses (24 VDC - 5000 VDC) for all types applications. We work with medium and high voltage fuses for protection of transformers, including submersibles, motors, medium and high voltage switchgear, compact substations, cable feeders, and high voltage capacitor circuits. New: Full line of PV UL Listed fuses and fuse holders. View our Catalog.