Solar contractors can now easily access hundreds of solar loan options to instantly finance homeowners in one, simple platform.
Energy Financing Hub announced today the launch of the solar industrys first energy financing platform. This unique, simple platform features hundreds of viable solar loan programs nationwide, enabling solar contractors to offer instant financing at the point of sale, based on every homeowners individual needs and qualifications.

"Our platform solves the needs of not just the contractors and homeowners, but for the lenders, too," said Amir Salahi, co-founder and CEO of Energy Financing Hub. "Lenders love us because we bring the contractors to them. Contractors love us because we help them close on the spot. Homeowners love the fact that they can go solar within minutes. Its a win-win for everyone!"
Energy Financing Hubs platform was developed by experienced energy professionals to meet the demands of the evolving market. Dropping prices have made solar system ownership more affordable to an increasing number of homeowners. More homeowners are choosing to either purchase solar for their home outright or to seek a lender for a loan. No longer are they limited to choosing an expensive solar lease or Power Purchase Agreement (PPA).
"There are many lenders in the solar industry who offer solar loans, but not all of them offer the right loan for all customer profiles," Salahi said. "Energy Financing Hubs simple platform is a revolutionary tool that helps contractors find the right solar loan option for all their customers on the spot. This will simply increase their closing ratio and consequently lower their cost-of-customer acquisition."
Lowering costs for both contractors and homeowners was an important factor for Energy Financing Hub. Currently, federal subsidies, such as the Federal Tax Credit, help support adoption of solar energy across the nation. Today, that Federal Tax Credit currently supports 30 percent of the total system value. However, by year 2021, this credit will gradually drop to 0 percent for residential projects, leaving those in the solar industry left with solving how to lower the cost of solar installations to stay competitive.
"Hard costs have dropped dramatically over the past few years, so it it time for soft costs to go down," Salahi said. One of the major areas to lower in soft costs is to increase the solar companies closing ratio, which will lower their cost-of-customer acquisition. For example, if a company spends $3,000 to get 10 new prospects, and they close two out of 10, then their cost-of-customer acquisition is $1,500. Now, if the same company closes four out of those 10 new prospects, their cost-of-customer acquisition goes down to $750 which means 50% reduction."
Energy Financing Hubs platform will help sustain homeowners growing demand for solar. It simplifies a complicated process, helping contractors close more deals while successfully decreasing their cancellation rate.
To learn more about Energy Financing Hub or to schedule a demo, please visit: http://www.energyfinancinghub.com.
####
About Energy Financing Hub
Energy Financing Hub owns the nations first solar loan energy financing platform. Our proprietary platform aggregates hundreds of solar loans from various, prestigious lenders throughout the nation, providing solar contractors the simplest way to offer financing to their potential customers in real time. Our easy-to-use platform helps contractors increase their closing ratio, lower their cost-of-customer acquisition and increase their profitability. To see if you qualify as a contractor or to join our growing network of lenders, visit: http://www.energyfinancinghub.com
Featured Product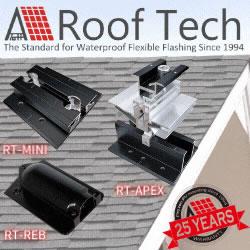 These ongoing webinars cover Roof Tech's background, product design (RT MINI and APEX), code and best practices. You will learn about a proven system that reduces installation time while keeping the integrity of the roofing system. This training will earn you one NABCEP Continuing Education Credit. Please check the AltEnergyMag event calendar for upcoming dates.