Identifies significant opportunities for domestic materials and components manufacturers.
NextEnergy recently wrapped up phase one of an extensive study on the lithium ion battery cell supply chain. Supported by the Department of Commerce Economic Development Administration, the analysis identifies significant opportunities for domestic materials and components manufacturers. Dan Radomski, vice president, New Market Services at NextEnergy will present the preliminary findings at The Battery Show in Novi, Mich., on Tuesday, November 13 at 4:05 p.m.

"The unparalleled research that NextEnergy has done on the battery supply chain will accelerate opportunities for domestic companies to transition into the supply chain of lithium ion batteries. This will have significant economic impact in Michigan and in the U.S.," said Mike Finney, president and CEO, Michigan Economic Development Corporation.
NextEnergy engaged with battery cell procurement and sourcing professionals to identify the current state of the domestic and global supply chain for critical battery cell materials and components. The year-long study included visits to multiple stakeholders, such as LG Chem, Ford Motor Company, General Motors, Johnson Controls Inc., A123 Systems, Toda, Soulbrain and others.
"NextEnergy identified substantial domestic gaps in the lithium ion supply chain, which could have a significant impact on our domestic economy and the advanced battery industry," said Radomski. "For example, take just one component of the lithium ion battery supply chain; the electrolyte shipping containers. We project that by 2015, the annual demand for electrolyte containers will be approximately 167,000. Forty percent of the container cost is from the fittings, while the balance is from the container itself. By learning how to transition similar production processes from a familiar market to this new growth industry, manufacturing companies with the appropriate competencies can provide these specialized containers to electrolyte companies. This, along with other supply chain recommendations, could have a potential impact of $500 million on the domestic economy."
The study also uncovered that many of the experienced incumbent suppliers of materials, components and equipment are overseas firms – and most of those supplier have yet to make a commitment to domestic production. The expectation of battery demand growth for vehicles and grid storage applications alone is likely to stimulate transient investments to shorten supply chains for U.S. battery manufacturers.
NEXTENERGY
Founded in 2002 as a 501(c)(3) nonprofit organization, NextEnergy is headquartered in Detroit's Alternative Energy Renaissance Zone and serves to accelerate energy security, economic competitiveness and environmental responsibility through the growth of advanced-energy technologies, businesses and industries. For more information, visit nextenergy.org.
THE BATTERY SHOW The Battery Show is world's premiere and free-to-attend advanced battery showcase. The exhibition demonstrates the very latest battery technologies and solutions, ranging from electric vehicle applications to material suppliers. Its two-track business and technology conference examines battery market development and opportunities, including how technical advances are likely to impact performance, safety and cost. The Battery Show launched in 2010; it is produced by United Kingdom-based Smarter Shows. For more information on The Battery Show, visit thebatteryshow.com. The 2012 Battery Show is Nov. 13 – 15 at the Suburban Collection Showplace in Novi, Mich. It is co-located with the Charging Infrastructure Expo, a free-to-attend exhibition in its first year focused on electric vehicle charging technologies across the entire supply chain.
Featured Product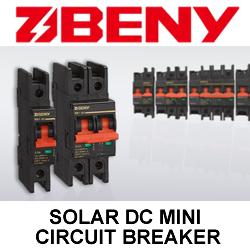 The BB1-63 modular miniature circuit-breakers can be used in solar DC circuits up to 1200 VDC (4-poles execution). Application in solar DC circuits, battery energy storage systems and UPS. Arc flash barrier design keeps solar equipment more safe and reliable. For DC circuit over-current protection.