Trojan has been conducting IEC 61427 testing on its deep-cycle, flooded Industrial batteries since October 2010
SANTA FE SPRINGS, Calif., Nov. 27, 2012 - Trojan Battery Co., the world's

leading manufacturer of deep-cycle batteries, today announced that its
Industrial line of batteries for renewable energy applications has achieved
a major milestone in Trojan's ongoing IEC 61427 testing by surpassing a
15-year cycle life.
Trojan has been conducting IEC 61427 testing on its deep-cycle, flooded
Industrial batteries since October 2010, and results to date show that the
batteries are outperforming their rated 10-year design life. Because
Trojan's deep-cycle batteries are designed to operate at partial states of
charge, the testing parameters being performed involve heavily discharging
the batteries, which is a typical scenario in solar applications. By
stressing the batteries and operating them in this abusive testing
environment, Trojan's goal is to evaluate the overall effectiveness of the
battery line's ability to perform in renewable energy applications where
operating at a partial states of charge is common.
Trojan is following IEC cycle endurance testing parameters based on
photovoltaic applications where the batteries are exposed to a large number
of shallow cycles at different states of charge, inherent in renewable
energy environments. The cycle endurance test is an accelerated simulation
in extreme conditions of the battery's operation in a photovoltaic energy
system, and is conducted by submitting the single 2V cell to a period of 150
cycles. Even though the Industrial line has surpassed the equivalent of a
15-year cycle life test, Trojan's engineering team reports that IEC 61427
testing of the Industrial line is still in progress after 2,250 cycles.
"These ratings illustrate Trojan's authenticity in reporting our battery
life and capacity ratings," said Bryan Godber, Trojan's senior vice
president of renewable energy. "We are pleased to discover that IEC testing
results for the Industrial line surpasses Trojan's published battery design
life estimates. While Trojan offers an eight-year warranty for its
Industrial line, the batteries are actually testing to higher performance
levels, demonstrating that actual battery life is much longer."
The Industrial line supports large daily loads where the batteries are
cycled regularly. The batteries are engineered for high-energy requirements
delivering 1,500 cycles at 80 percent depth-of-discharge, and features
advanced battery technologies that provide optimum performance.
"As installations of off-grid and unstable grid solar applications such as
telecom BTS stations, micro grids, rural electrification and backup power
increase worldwide, so will the need for reliable, deep-cycle batteries for
energy storage," Godber said. "The IEC testing illustrates that Trojan's
Industrial batteries can withstand extreme operating conditions where
continuous deep discharge and recharge of the batteries is typical."
About Trojan Battery Company
Trojan Battery Company is the world's leading manufacturer of deep-cycle
batteries, offering a complete portfolio of technologically-advanced
deep-cycle flooded, AGM and gel batteries that provide maximum long-lasting
performance to meet the requirements of today's advancing renewable energy
systems. Trojan Battery Company, founded in 1925, is ISO 9001:2008 certified
with U.S.-based operations in California and Georgia. For more information,
visit www.trojanbatteryRE.com.
About International Electrotechnical Commission (IEC) Founded in 1906, the
IEC is the world's leading organization for the preparation and publication
of International Standards for all electrical, electronic and related
technologies. IEC provides a platform to companies, industries and
governments for meeting, discussing and developing the International
Standards they require. All IEC International Standards are fully
consensus-based and represent the needs of key stakeholders of every nation
participating in IEC work. Every member country, no matter how large or
small, has one vote and a say in what goes into an IEC International
Standard. For more information, visit http://www.iec.ch/index.htm.
Featured Product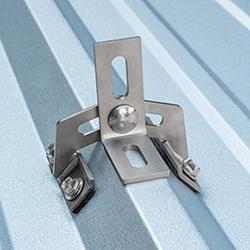 Explore new lines of income for your solar installation business with QuickBOLT's Stone Coated Steel roof mounts designed in partnership with metal roof manufacturers themselves. These SCS roof mounts work on all metal tile profiles and will help you bring in money you're missing out on. By not driving into the roofing material, QuickBOLT's Stone Coated Steel roof hooks maintain the integrity of the roof. Install with ease and confidence knowing your roof is protected against the harsh elements that these hooks are designed for.