Jana brings more than 25 years of battery development and engineering experience to his position at Trojan.
SANTA FE SPRINGS, Calif., Dec. 12, 2012 - Trojan Battery Company, the

world's leading manufacturer of deep-cycle batteries, has announced the
appointment of Kalyan Jana as senior applications engineer to support the
company's renewable energy group. Jana brings more than 25 years of
battery development and engineering experience to his position at Trojan.
Jana's strong background in lead acid battery engineering and design
strengthens the scope of Trojan's RE team. He will work closely with
Trojan's renewable energy team and customers to develop and conduct battery
technical and application training at customer locations, trade shows and
conferences, as well as via webinars. Jana also will support Trojan's RE
sales team efforts on new customer outreach activities and new business
presentations. In addition, he will assist the RE marketing team in
developing technical briefs and related collateral materials.
"Kalyan's expertise in deep-cycle battery technology will be a strong asset
to Trojan as we continue our expansion worldwide to support a variety of
renewable energy applications," said Bryan Godber, Trojan Battery senior
vice president of renewable energy. "He will serve as Trojan's battery
engineering expert on the RE team to address detailed battery technology
topics and specific customer requirements."
Jana has held a variety of technical engineering positions in the battery
industry with responsibilities ranging from application engineering, product
development and management to new business development and technical
support.
Jana earned his MBA from the University of Phoenix and holds a bachelor of
science degree in electrical engineering from the Birla Institute of
Technology, Mesra located in Ranchi, Jharkhand, India.
About Trojan Battery Company
Trojan Battery Company is the world's leading manufacturer of deep-cycle
batteries and a longtime battery technology pioneer, having built the first
golf car battery in 1952. Trojan batteries provide power for a wide variety
of industrial, renewable energy, recreational and auxiliary power
applications. Founded in 1925, the company is ISO 9001:2008 certified with
operations in California and Georgia and maintains two of the largest and
most extensive research and development centers in North America dedicated
to engineering new and advanced battery technology. For more information
visit www.trojanbattery.com.
Featured Product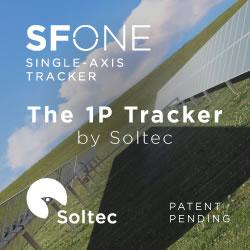 Under the slogan "engineered for greatness", the SF8 tracker aims to revolutionize the photovoltaic market with its new minimum 2x60 configuration and 4 to 6-strings. This tracker is elegantly designed while it reinforces its structure to perform in any terrain. In addition, the SF8 tracker increases the rigidity of its structure by 22% more than the previous generation of Soltec trackers, the SF7. The SF8 is specially designed for larger 72 and 78 cell modules, an increasing market trend.