Trojan customers and distributors are now able to access a comprehensive library of Trojan information with the power of their iPads.
Santa Fe Springs, Calif., Dec. 19, 2012 - Finding the most current

information on Trojan Battery Co. products and markets is now faster and
easier with the launch of the company's new iPad App. As the world's
leading manufacturer of deep-cycle batteries, Trojan customers and
distributors are now able to access a comprehensive library of Trojan
information with the power of their iPads.
To download the free Trojan iPad App, users simply visit the "Apple App
Store" on their iPad, search "Trojan Battery Company," and select "Trojan
App." The Trojan App features a wide variety of documents including market
brochures, technical spec sheets, user's guides, white papers, glossary of
battery terms, Trojan Tips video tutorials and corporate videos.
"The company developed the Trojan iPad App to simplify accessing in-depth
Trojan Battery product and market information," said Elke Hirschman, vice
president of marketing at Trojan Battery. "As the industry becomes
increasingly mobile, Trojan recognized the need to provide our customers and
sales network with a mobile app to quickly deliver critical information on
features, specifications and benefits of Trojan's deep-cycle batteries.
Trojan's new iPad App is a comprehensive resource for technical and
operational information."
About Trojan Battery Company
Trojan Battery Company is the world's leading manufacturer of deep-cycle
batteries and a battery technology pioneer, having built the first golf car
battery in 1952. Trojan batteries provide power for a wide variety of golf,
industrial, renewable energy, recreational and auxiliary power applications.
Founded in 1925, the company is ISO 9001:2008 certified with operations in
California and Georgia, and maintains two of the largest and most extensive
research and development centers in North America dedicated to engineering
new and advanced battery technology. For more information on Trojan Battery
Company, visit www.trojanbattery.com.
Featured Product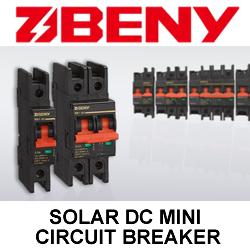 The BB1-63 modular miniature circuit-breakers can be used in solar DC circuits up to 1200 VDC (4-poles execution). Application in solar DC circuits, battery energy storage systems and UPS. Arc flash barrier design keeps solar equipment more safe and reliable. For DC circuit over-current protection.