• New Power Purchase Agreement (PPA) advisory services aid the transition to renewable resources that stabilise budgets, accelerate sustainability initiatives • PPAs provide lower-cost, fixed-price power, helping businesses cut electricity costs by 10 to 50 percent • NEO Network, a virtual community of companies committed to buying and developing renewable energy using PPAs, expands to Australia
MELBOURNE - March 22, 2018 - Schneider Electric, the leader in the digital transformation of energy management and sustainability, has launched new services to assist businesses in the adoption of low-cost renewable energy, through power purchase agreements (PPAs) and other projects.

The rapid closure of coal-fired power plants and an increase in the price of large-scale generation certificates — two of several converging events that have caused wholesale prices in Australias National Electricity Market to as much as triple since 2016 — have left companies struggling with inflated energy bills and budgets. In parallel, businesses are working to respond to stakeholders or strategic demands for renewable energy adoption and more sustainable operations.
"Our partnership with Schneider Electric has proven valuable as we evaluate renewable energy and cleantech opportunities," said Bruce Frandsen, Senior Manager of Global Utilities and Sustainability for Equinix, Inc., a global internet services company with data center and colocation facilities in Sydney and Melbourne. "The market knowledge, technical expertise and ability to engage stakeholders has helped us achieve our clean energy procurement and carbon-reduction goals."
In addition to the consulting services, Schneider Electric is expanding its New Energy Opportunities (NEO) Network™ to connect Australian companies with resources to efficiently navigate the process of evaluating PPAs, and other renewables and cleantech options. An online community of corporations, developers and solutions providers, the NEO Network gives members a forum to share insights, identify prospects and accelerate projects. It also provides access to exclusive global market intelligence.
Over 70 international organisations are already active in the NEO Network, including Equinix and more than 15 other companies with footprints in Australia.
"The array of technologies, contracting vehicles and market players can hinder companies," said Steve Wilhite, Senior Vice President of Schneider Electric Energy & Sustainability Services. "However, given the sharp incline of energy prices, organisations need to clear those barriers and act quickly. Prices for wind and solar will continue to fall, and businesses will not only benefit from a financial perspective, but PPAs and similar transactions are ideal to push sustainability initiatives forward."
Brian Morris, Vice President of Energy & Sustainability Services in Australia, said the opportunity for savings is immense. "According to the Clean Energy Council, renewable generation is expected to almost double from 2016 to 2020, giving companies a broad range of prospects. PPAs in particular have already delivered electricity cost savings between 10 and 50 percent."
Supported by the NEO Network, the new services include strategic project sourcing, negotiation and execution, including consultation on "club-type" or aggregated PPAs where two or more companies enter into a joint venture to purchase renewables at scale.
Schneider Electric is the worlds largest renewable energy and cleantech consultant to commercial, industrial and institutional (C&I) buyers, having advised on more than 50 percent of all corporate PPAs signed since 2016. This includes the recent design and implementation of renewable energy agreements for Brown-Forman, Digital Realty and Kimberly-Clark.
Participation in the NEO Network is available to C&I buyers, and renewable energy and cleantech solution providers via subscription. To learn more, visit neonetworkexchange.com.
For more information on Schneider Electric, visit schneider-electric.com/ess. And for energy and sustainability news, visit Perspectives or follow @SchneiderESS.
About Schneider Electric
Schneider Electric is leading the Digital Transformation of Energy Management and Automation in Homes, Buildings, Data Centers, Infrastructure and Industries. With global presence in over 100 countries, Schneider is the undisputable leader in Power Management - Medium Voltage, Low Voltage and Secure Power, and in Automation Systems. We provide integrated efficiency solutions, combining energy, automation and software. In our global Ecosystem, we collaborate with the largest Partner, Integrator and Developer Community on our Open Platform to deliver real-time control and operational efficiency. We believe that great people and partners make Schneider a great company and that our commitment to Innovation, Diversity and Sustainability ensures that Life Is On everywhere, for everyone and at every moment.
www.schneider-electric.com.au
Featured Product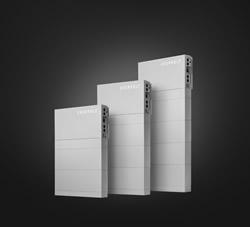 Heterojunction technology minimizes electron loss - Thin amorphous silicon layers reduce electron carrier loss to minimal levels. The result is a remarkably high-efficiency solar cell that produces Greater long-term energy output. Innovative pyramid structure absorbs more sunlight - A uniquely effective pyramid structure optimizes sunlight capture. By reducing outward reflection and directing sun rays inward to the cell, HIT absorbs more sunlight and generates more electricity for your home. Dual-sided cells multiply energy output - Advanced bifacial cells work in concert with the pyramid structure to multiply solar power output exponentially. Available sunlight is captured from both sides of the panel, converting more sunlight into electricity.