Investment Capitalizes on Accelerating Growth in C&I Solar Market
EDF Renewables North America (EDF Renewables), a leading developer in the renewable energy sector, and EnterSolar, a leading provider of distributed generation solar solutions to corporate commercial and industrial (C&I) customers, today announced a strategic partnership whereby EDF Renewables will acquire a 50 percent interest in EnterSolar. Together, the companies will offer C&I customers the most comprehensive array of behind-the-meter services.

The partnership leverages EDF Renewables unparalleled experience in renewable energy and storage, and its proven long-term expertise in distributed solar solutions to corporate C&I customers internationally, along with EnterSolars 12-year solid track record in developing behind-the-meter solar photovoltaic projects for a broad range of corporate clients. As part of the agreement, EDF Renewables is providing growth capital as well as additional project financing capabilities to EnterSolar.
The partnership will allow both entities to capitalize on the strong and accelerating demand for distributed generation solutions from the corporate C&I sector.
"We are delighted to announce this partnership with EDF Renewables, which, in conjunction with a strategic investment, provides EnterSolar with enhanced growth opportunities and the ability to further advance our goal of becoming the preferred provider of distributed generation solar solutions to the corporate marketplace," stated Paul Ahern, president, EnterSolar.
"We are impressed with the quality of the EnterSolar team and the striking natural fit between our offerings. EnterSolar has a remarkable customer satisfaction track record with C&I customers, while EDF Renewables Distributed Solutions brings strength and experience specific to ground-mount solar projects up to 30 MWp alongside behind-the-meter battery storage for the C&I sector. This new partnership will benefit from complementary synergies," said Raphael Declercq, executive vice president, EDF Renewables. "The partnership now provides our customers with a wider choice of comprehensive distributed energy solutions."
About EDF Renewables North America:
EDF Renewables North America is a market leading independent power producer and service provider with over 30 years of expertise in renewable energy. The Company delivers grid-scale power: wind (onshore and offshore), solar photovoltaic, and storage projects; distributed solutions: solar, solar+storage, EV charging and energy management; and asset optimization: technical, operational, and commercial skills to maximize performance of generating projects. EDF Renewables North American portfolio consists of 10 GW of developed projects and 10 GW under service contracts. EDF Renewables is a subsidiary of EDF Energies Nouvelles, the dedicated renewable energy affiliate of the EDF Group.
For more information visit: www.edf-re.com.
About EnterSolar:
Based in New York City, EnterSolar is a leading provider of solar photovoltaic solutions to the commercial marketplace. Unique in its combination of business operations and solar expertise, the Company works with commercial enterprises to deliver optimal solar energy alternatives with compelling, long-term ROI. Expert in the dynamic legislative environment, EnterSolar provides clients with real-time guidance in order to best leverage financial incentives at the regional and state levels. For more information, visit: www.entersolar.com.
Featured Product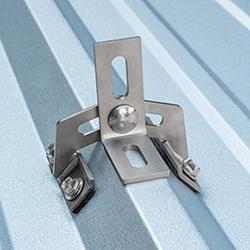 They have been changing the game for 10 years with their original Top Mount line for Asphalt Shingle roofs, and by now supplying one of the widest ranges of solar mounts in North America. From their patented products, to the custom production services they offer, QuickBOLT has been working with solar installers for nearly a decade to make solar installations easier than ever before.