Unique PV Mounting Solutions Designed in Japan
NOVATO, Calif., July 7, 2014 -- The U.S. market will be introduced to a unique line of photovoltaic mounting systems designed and developed by Roof Tech Inc., a subsidiary of Japan's leader in roofing technologies. Roof Tech will showcase its products at Intersolar North America Booth 9732 from July 8th to 10th at Moscone Center in San Francisco.

Mounting Systems Designed Exclusively for Residential Solar Installations
Roof Tech offers three signature products designed specifically for installation of residential solar power systems. Unlike traditional PV mounting systems, Roof Tech products are fully waterproof, embody a design esthetic that is both pleasing to the eye and environmentally responsible. The product line includes:
RT- [E] Mount™ and RT-[E] Mount Air™ are compact, PV mounting brackets that attach anywhere on the roof. All parts are shipped in a box complete with butyl rubber flexible flashing, renowned for its watertight performance and durability.
The clear Advantages are:
*Adapts easily to any kind of installation: deck or rafter (P.E. reports available)
*Minimal impact on roof due to thermal expansion and contraction of the array
*Eliminates need for rails
*Substantially reduces installation time and labor costs
*Cuts shipping costs by 60% over rail systems
*Aesthetically pleasing appearance: skirt option available for RT-[E] Mount Air™
*Uses fewer materials to minimize environmental impact
*Lower cost than traditional mounting solutions
*Manufactured with highest quality materials: anodized & coated aluminum alloy with stainless steel hardware
*Includes wire management
*Allows roofing nails to remain intact to protect integrity of roofing paper
*Fully waterproofed
*Compliance with 2012, 2009 and 2006 International Building Code® (IBC)
*Compliance with 2012, 2009 and 2006 International Residential Code® (IRC)
*ICC (International Code Council) evaluation (Durability and Water Resistance) report section: 07 65 00 –Flexible Flashing
Roof Tech U set Solar® is a unique patented frame design with incorporated mounting. Roof Tech is now offering exclusive partnership opportunities to PV manufacturers who adapt their products to the U set Solar design.
About Roof Tech, Inc.
Roof Tech, located in Novato, California, is a subsidiary of Yanegiken, a Japanese company founded in 1968 to research and develop roofing technologies. Yanegiken has established joint development agreements with some of the world's leading manufacturers of solar power systems with a built track record of 400,000 homes in Japan. Yanegiken earned its IS09001: 1994 Certification in 2000, and its ISO14001: 2004 Certification in 2006.
Featured Product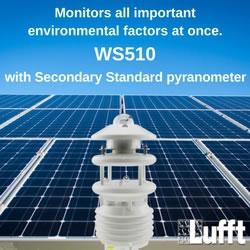 Professional weather sensors form the heart of large solar plants supporting their operation and performance. Lufft was the first manufacturer to combine several sensors in one housing, bringing the largest multiparameter weather sensor family with 19 members into being. Many of them are well-suited for solar site assessment and continuous monitoring. The most commonly used one is the WS600 delivering data on temperature, air pressure, wind, relative humidity and precipitation. Through its open protocol, it can easily be attached to radiation sensors e.g. from Kipp&Zonen. Other models have an integrated Silicon, Second Class or Secondary Standard radiation sensor.