Innovation extends companys volume leadership in module power density
HILLSBORO, Ore., May 4, 2015 - SolarWorld announced today that the company is following its groupwide conversion to high-power PERC technology with adoption of even higher-efficiency cells featuring five bus bars. Taken together, the innovations will extend the companys leadership in producing high-power conventional crystalline silicon solar panels at significant volumes.

By moving from three to five bus bars, the primary electrical contacts that stripe photovoltaic cells, SolarWorld can manufacture cells and modules in which electrons travel shorter distances from grid lines to bus bars and thus enable more to reach the bus bars. The advance lifts module power by 2 percentage points.
The companys factory in Hillsboro, Ore., began producing cells featuring five bus bars early this spring. Production of these cells for certain products will ramp up this summer. The milestone is a yet another step along the companys path to manufacture the industrys first 300-watt, p-type, standard 60-cell modules at production volumes.
"SolarWorld is constantly driving solar technology advances into the future," said Mukesh Dulani, president of SolarWorld Americas Inc., based in Hillsboro. "Our customers count on us to push the leading edge of high-standard mainstream solar technology. We never stand pat on our record of high quality, reliability and efficiency."
"Customers also depend on SolarWorld to provide the best lifetime system value in the industry," Dulani said.
About SolarWorld REAL VALUE: SolarWorld manufactures and sells solar power solutions and in doing so contributes to a cleaner energy supply worldwide. As the largest solar producer in the United States and Europe, SolarWorld employs about 3,400 people and carries out production in Hillsboro, Ore., and Freiberg and Arnstadt, Germany. From the raw material silicon to solar wafers, cells and panels, SolarWorld manages all stages of production ‒ including its own research and development. The company maintains high social standards at all locations across the globe and is committed to resource- and energy-efficient production. Headquartered in Bonn, Germany, SolarWorld was founded in 1998 and its stock has been publicly traded since 1999. Connect with SolarWorld on Facebook, Twitter and www.solarworld-usa.com.
Featured Product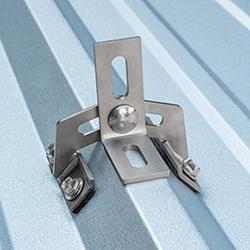 Error-Proof Compression: The QB2 doesn't leave any room for user error when it comes to Microflashing® compression. Once the Dual Drive Shoulder Screw is secured, the Microflashing® is compressed. Only 3 Components: The QB2 is comprised of Microflashing®, an L-foot and a Dual Drive Shoulder Screw. No more Nuts needed to tighten and secure the L-foot! Not only does this simplify the installation process, it also cuts down the installation time.