700 kW project with NEC Retail to serve Texas electricity consumers with clean, roofless solar power.
ROBSTOWN, TEXAS (June 25, 2015) - The worlds leading community solar provider, Clean Energy Collective (CEC), has announced today a partnership with NEC Retail Co-op Electricity to bring community-shared solar to south Texas. CEC will develop a 700 kW (AC) solar PV facility, giving customers the opportunity to own local clean energy generation through CECs roofless solar program.

This array will be the first large-scale solar garden in the Coastal Bend with 7,000 panels available for purchase by any NEC Retail member. NEC Retail, the only not-for-profit co-op electricity provider in Texas, is able to serve all consumers in Texas who have the ability to choose their electricity provider.
Through the NEC Retail Roofless Community Solar Program, any NEC Retail residential or commercial member—especially those that rent or lease their properties—can purchase 100-Watt panels in the shared array to offset their electric usage charges. CECs RemoteMeter™ software will automatically track each members power generation and integrate into NEC billing system to provide monthly on-bill credits.
"Were pleased to partner with CEC to bring this new and exciting roofless community solar model to fruition," said John L. Sims, CEO at NEC Retail. "Roofless solar allows the greatest number of consumers to participate in and enjoy the benefits of locally produced clean power. As a member-owned utility, we have gathered feedback from the member-owners over the past year, and they have overwhelmingly given their consent and are ready to take this step forward with their company."
CEC has identified potential sites for the array, which is expected to be completed later this year. The facility will incorporate single-axis tracker technology that follows the suns path across the sky, maximizing solar exposure and power generation by as much as 15% over traditional fixed systems.
"Community solar has proven to be a win-win for customers and utilities of all kinds, so we are very excited to bring the CEC model to Texas," said Paul Spencer, CECs chief executive officer. "NEC Retail members are clearly ready and motivated to embrace this roofless solar option. We expect this one will sell out quickly."
With the move into Texas, CEC is now operating community shared solar in 10 states with 20 utility partners, and has more than 50 community solar facilities under its umbrella.
To request additional information regarding the program, please visit NECRooflessSolar.com
About Clean Energy Collective
A solar tech start-up in 2009, Clean Energy Collective (CEC) has grown to become the worlds leading developer of Roofless Community Solar solutions. CEC pioneered the model of delivering clean power-generation through medium-scale solar PV facilities accessible to all utility customers. Since establishing the first community-owned solar array in the country in 2010 near El Jebel, Colorado, CEC has built or has under development more than 90 Roofless Community Solar projects with 20 utility partners across 10 states, representing 100 MW of community solar capacity. www.easycleanenergy.com
Featured Product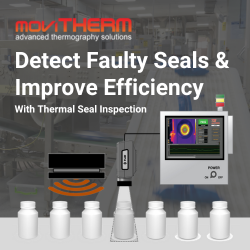 MoviTHERM's Thermal Seal Inspection (TSI) solution provides precise and reliable detection of defects in a variety of packaging types, including pouches, bags, blister packs, bottle caps, and more. By detecting defects in your packages, the TSI solution helps increase efficiency in your production line and ensures top-quality packaging is delivered to your customers every time. With state-of-the-art technology and an experienced team, MoviTHERM is dedicated to delivering accurate inspection solutions and peace of mind to its clients. Contact MoviTHERM today to learn more about their thermal seal inspection solution.