The Gemini Offshore Wind Farm has agreed a contract to become the first commercial users of Windnova, brand new project management software, designed specifically for the offshore wind sector.
The web based software, developed by Windnova S.L, monitors and controls activities associated with the development and operation of offshore wind farms. Drawing on decades of experience in offshore wind, the development team at Windnova claims its software saves time, improves quality and control, supports conflict resolution and reduces costs.

Details of the three year contract, for an undisclosed value, were confirmed this week, as Gemini completed its first quarter using Windnova on what will be one of the worlds biggest wind farms.
Mick Hoyle, Construction Manager, Gemini Offshore Wind Farm said, "Windnova is allowing us to have a high level of visibility and control across the different infrastructures in the Gemini Project. It helps us to create, manage and monitor all elements of QHSSE and Construction, allowing a full, reliable reporting process of the works."
Located in the Dutch part of the North Sea, 85 km off the coastline of Groningen, the Gemini offshore wind farm will have a capacity of 600 MW, producing around 2.6 TWh of renewable electricity. Construction at sea will start in the summer of 2015, with the wind farm projected to be fully operational in 2017.
Alvaro Fernandez, Managing Director, Windnova said, "This software has been in development and testing for almost four years and we are extremely pleased that its first commercial use will be on one of the worlds biggest offshore wind farms. The system has been developed in response to industry need, with the input and assistance of experienced professionals from different companies, packages and projects. Any offshore wind farm involves a lot of risks, mostly relating to the work and performance of the multiple contractors involved. Full control and proper management of these works is therefore crucial to success. Experienced people in the sector who needed a structured way of working and reporting have assisted in the development of Windnova. The Gemini project is the first commercial project achieving real benefits from Windnovas QHSSE and Project Execution modules, allowing the Gemini team to track and record all activities in a very comprehensive way."
Certified to the ISO9001 Quality Management System, Windnova combines several modules and features for project execution and the operation and maintenance of offshore wind projects. The system can be customised, allowing each project to be personalised to meet the users requirements. Being cloud based, Windnova does not require installation processes or hard drive space and is very easily updated.
The systems different modules allow users to connect easily to each other, controlling the volume and quality of communications and minimising the risk of data loss. The modules include a Project Register which tracks key information on contractors, vessels, personnel, ports and turbines. Live tracking of vessels and personnel is available on a real time basis. Safety, risk prevention and quality control are covered in a special module and a document control and reporting system allows comprehensive project reporting.
More information on Windnova at www.windnova.eu and on Gemini Offshore Wind Farm at http://geminiwindfarm.com/
Featured Product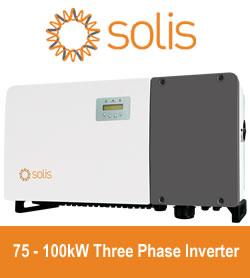 Solis75kW - 100kW series high-power string inverters are widely used in industrial and commercial rooftops. Solis's new three-phase string inverter is the first choice for industrial and commercial photovoltaics. 75-100kW three phase series string inverter have Maximum 28 strings input, support "Y" type connection in DC side. Maximum string input current 13A, support bifacial modules access.Supports anti-PID function to improve system efficiency.