Plug Power Now Poised to Convert $20 Billion European Electric Lift Truck Market to Hydrogen Fuel Cells
LATHAM, N.Y., July 31, 2015 -- Plug Power Inc. (NASDAQ:PLUG), a leader in providing clean, reliable energy solutions, announced it has completed the previously announced acquisition of HyPulsion, the European joint venture created by Plug Power and Axane, S.A., a subsidiary of Air Liquide S.A. in 2012. Effective immediately, Plug Power will assume all responsibilities for the development, engineering, sales and marketing efforts in Europe for its GenFuel hydrogen and GenDrive fuel cell product lines and corresponding GenCare services.

Plug Power will offer its CE-certified GenDrive products to European lift truck customers in the $20 billion European electric lift truck market. For the short-term, Plug Power will continue to develop, engineer, and manufacture all products in the United States with a sales and service force in Europe.
Air Liquide will remain a strategic hydrogen production partner to Plug Power, acting as a hydrogen supplier to Plug Power's material handling customers. Additionally, Air Liquide will continue to represent a seat on Plug Power's board of directors, a position held since 2012.
"Plug Power is ready to move in Europe," said Andy Marsh, CEO of Plug Power. "Our success with customers like BMW and Volkswagen has helped open doors in Europe, a $20 billion market where customers have a strong mandate for cleaner, more productive distribution centers and where Plug Power has an impressive head start on our competitors."
About Plug Power Inc.
The powerhouse in hydrogen fuel cell technology, Plug Power is revolutionizing the industry with cost-effective solutions that increase productivity, lower operating costs and reduce carbon footprint. Its signature solution, GenKey, provides an all-inclusive package for customers, incorporating GenFuel hydrogen and fueling infrastructure, GenCare aftermarket service and either GenDrive or ReliOn fuel cell systems. GenDrive, a lead-acid battery replacement, is used in electric lift trucks in high-throughput material handling applications. With more than 7,000 GenDrive units deployed with material handling customers, GenDrive has been proven reliable with over 100 million hours of runtime. Plug Power manufactures tomorrow's incumbent power solutions today, so customers can POWERAhead. Additional information about the Plug Power brands is available at www.plugpower.com.
Featured Product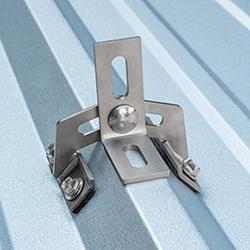 They have been changing the game for 10 years with their original Top Mount line for Asphalt Shingle roofs, and by now supplying one of the widest ranges of solar mounts in North America. From their patented products, to the custom production services they offer, QuickBOLT has been working with solar installers for nearly a decade to make solar installations easier than ever before.