Of the 326 Gigawatts (GW) of current coal power capacity in the US, a potential 60 GW could be lost by 2020 due to governments Clean Power Plan (CPP) ----'With the US boasting significant renewable power potential, the CPP has created a huge opportunity for companies in this sector, says analyst
LONDON, UK (GlobalData), 11 August 2015 - The US governments recently-announced Clean Power Plan (CPP) will have a negative impact on the countrys coal industry, with the potential loss of up to 60 Gigawatts (GW) of coal power capacity by 2020, according to an analyst with research and consulting firm GlobalData.

Pavan Vyakaranam, GlobalDatas Associate Project Manager covering Power, says that of the 326 GW of current coal power capacity in the country, around 20 GW is expected to retire in the next five years and a further 30-40 GW will find it difficult to meet the emission standards set by the US Environmental Protection Agency (EPA).
Vyakaranam explains: "Despite a decline in coal-based power generation over the last decade, coal generated around 39% of US electricity in 2014 and remains the largest source of carbon emissions. However, with the CPPs aim of reducing emissions by 32% by 2030 from 2005 levels, coal will continue to decline.
"GlobalData believes the future US power sector will try to balance low-cost natural gas power with clean power generation from renewable sources. In 2014, natural gas contributed around 27% of total US power generation, hydropower accounted for 6%, and other renewables, including wind, solar, biopower and geothermal power, had a 7% share."
The analyst adds that while increasing renewables will require substantial investment, some states, such as Texas and California, have successfully increased renewable capacity and could encourage others to follow their lead.
Vyakaranam continues: "With the US boasting significant renewable power potential, the CPP has created a huge opportunity for companies in this sector. Additionally, natural gas would benefit with new investment, as well as with the conversion of some coal power plants to gas.
"On the other hand, independent power producers and utilities with high exposure to coal in their portfolios will lose out, particularly those companies which operate the fleet of ageing coal power plants, as it is highly likely that these facilities will not meet the new EPA standards."
The analyst concludes that states have around two years before they must begin rolling out their plans and, with the US set for presidential elections in 2016, the identity of the next government will greatly influence the extent to which the CPP is implemented.
Featured Product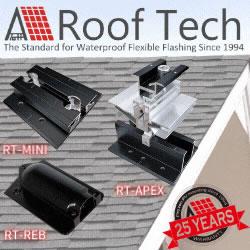 Now Roof Tech brings you the most innovative, watertight mounting systems ever developed for solar photovoltaic systems. Designed and manufactured exclusively for us by Japan's longtime leader in roofing technologies, Roof Tech products are 100% code-compliant and offer fast, simple installation and huge savings on shipping costs due to their compact, rail-less design. Learn more about our full line of versatile PV mounting solutions now available for residential installations. The next generation in rooftop solar mounting solutions."