Oxifree is a global provider of solutions to complex corrosion and contamination situations in many sectors.
Corrosion prevention specialist Oxifree Global has secured funding from renowned UK venture capital firm Octopus Investments (www.octopusinvestments.com) enabling it to invest in expanding its offering within the offshore wind industry, whilst also providing the Frimley headquartered business with the ability to roll out additional resources to support its global distribution and end user base. The business will also supplement existing well established operations in Houston, Texas with additional facilities in Europe and the Far East.

Oxifree (www.oxifree.com), is a global provider of solutions to complex corrosion and contamination situations in many sectors. Offshore windfarms are exposed to constant salt water and salt mist, causing corrosion of moving and serviceable metal parts and reducing the operational efficiency and longevity of the installation. Oxifree metal encapsulation and anti-oxidizing properties will extend serviceable longevity of metal parts, enabling cost savings and greater economic return from offshore wind farms; an area of particular importance to the sector. Oxifree currently has presence in over 30 countries across seven continents.
Ed Hall, one of the Founders and MD of Oxifree, comments: "We are delighted to announce this significant investment by Octopus which will enable us to expand our services within the offshore wind industry. Since we began trading in 2009, Oxifree has grown significantly and we intend to use this investment and support from Octopus to help accelerate us on the path to become a leading player in the corrosion prevention industry. We are also excited by the opportunity this investment gives us to provide additional support to our excellent Global distributor and end user base."
Oxifrees principal business activity is providing patent protected polymeric resin coatings and installation equipment for clients where existing solutions are not sustainable long term or financially viable.
Some of the key characteristics that together make Oxifree so special include it being wholly organic and environmentally friendly, quick to apply, highly durable, easy to remove, reusable, requires minimal surface preparation, is long lasting and contains active corrosion inhibitors within its formula.
Jane Vinson, a member of the Ventures team at Octopus Investments, comments: "At Octopus our goal is to find strong, talented management teams, with an innovative product, operating in a large market - and this is the case with Oxifree. What's more, in this business we see a strong potential to expand into complementary markets, making this precisely the type of business we look to back. The worldwide sales already being achieved by Ed, Nigel Thomson the Group Sales Director and their team are promising, and we look forward to working with the business closely in the coming years."
Oxifrees management team and vendors were advised by JDC Corporate Finance and Mills & Reeve. Octopus completed the transaction with support from Shoosmiths, Mazars and Armstrong Transaction Services.
Dave Howes, Director at JDC Corporate Finance, (www.jdccorporatefinance.co.uk) comments: "I am delighted to have advised the shareholders and management team on this exciting deal. JDCs expertise allowed us to run a competitive process to find an investor in Octopus with an excellent fit to meet the objectives of Oxifree. The investment will enable the Group to further accelerate its growth and capitalise on the large market opportunity that exists for its products and services."
Featured Product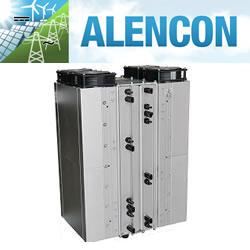 Alencon Systems is the premier manufacturer of high power, high voltage DC:DC optimizers for alternative energy applications including solar, battery energy storage, Microgrids, Fuel Cells and Electric Vehicle charging. Alencon's DC:DC converter offerings include the SPOT, BOSS and CUBE series DC:DC converters. The SPOT is a modular, uni-directional DC:DC solution ideal for solar applications. The BOSS is a modular, bi-directional unit for use with battery energy storage. The CUBE is a monolithic DC:DC converter which is available in both uni-directional and bi-directional modalities. Pictured above, is the Alencon SPOT.