Thin film record 22.1 percent research cell continues performance advancement trend
TEMPE, Ariz., February 23, 2016 - First Solar, Inc. (Nasdaq: FSLR) today announced it has established yet another world record for cadmium-telluride (CdTe) photovoltaic (PV) research cell conversion efficiency, achieving 22.1 percent efficiency certified at the Newport Corporation's Technology and Applications Center (TAC) PV Lab. The achievement confirms that First Solar is on pace with its established research cell roadmap, and validates CdTe's growing competitive advantage over multi-crystalline silicon technology and other commercial thin film PV.

The record-setting research cell was constructed at the company's Perrysburg, Ohio manufacturing factory and Research & Development Center using processes and materials suitable for commercial-scale manufacturing. In addition to the Newport TAC Lab certification, the record has been documented in the U.S. Department of Energy's National Renewable Energy Laboratory (NREL) "Best Research Cell Efficiencies" reference chart.
This is the ninth substantial update to CdTe record efficiency since 2011, firmly establishing a sustained trend of rapid performance improvements that significantly outstrips all other commercial technologies.
"We are tracking very closely to a technology roadmap we presented in 2013 and revised upward in March 2014", said Raffi Garabedian, First Solar's Chief Technology Officer. "At that time, we said we'd hit a 22 percent research cell efficiency milestone by the end of 2015. We've delivered on that promise. The accomplishment validates our continued confidence in CdTe as a superior PV material that combines cost effectiveness, reliability and high performance. In recent years and based on our research cell progress, we've improved the efficiency and energy density of our mass produced commercial PV modules at a rate at least three times faster than our multi-crystalline Si competitors. We fully expect to further separate ourselves from the pack in coming years."
Garabedian noted that First Solar's lead manufacturing lines were producing PV modules with 16.9 percent conversion efficiency in 4Q 2015, and that the research cell efficiency accomplishment serves as a powerful driver for integrating performance improvement into the real-world manufacturing environment.
More Energy
Conversion efficiency of CdTe is one of several factors that translate to superior performance of First Solar's technology in the field, which have a proven specific energy yield advantage delivering more usable energy per nameplate watt than conventional c-Si modules. In other words, a PV power plant operator gets more energy (or higher Capacity Factor) for the same capital investment using First Solar modules, with a lower Levelized Cost of Electricity (LCOE). First Solar also has numerous certifications documenting industry-leading reliability, including Atlas 25+ certification, Long Term Sequential Test (harsh climates), IEC 62804 PID-Resistant Certification (resistance to degradation), and a track record of long-term predictability.
About First Solar, Inc.
First Solar is a leading global provider of comprehensive photovoltaic (PV) solar systems which use its advanced module and system technology. The company's integrated power plant solutions deliver an economically attractive alternative to fossil-fuel electricity generation today. From raw material sourcing through end-of-life module recycling, First Solar's renewable energy systems protect and enhance the environment. For more information about First Solar, please visit www.firstsolar.com.
Featured Product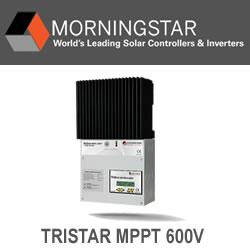 Morningstar's TriStar MPPT 600V charge controller leverages Morningstar's innovative TrakStar™ MPPT technology and our 20+ years of power electronics engineering excellence, to enable the widest input operating voltage range available from a solar array, wind turbine or hydro input. This controller's standard and DB versions are for off-grid applications, and the TR versions were developed to enable retrofitting grid-tied systems with battery backup.