Currently the UK is seen as the leader for the development of marine energy technologies. Around 10MW of wave and tidal stream devices are being tested in UK waters, more than the rest of the world combined.
Currently the UK is seen as the leader for the development of marine energy technologies. Around 10MW of wave and tidal stream devices are being tested in UK waters, more than the rest of the world combined. Despite being in the early stages of development, The Carbon Trust estimates that UK companies could capture around 22% of the global market for marine energy, which could be worth around £76 billion between now and 2050. Plus the Department of Energy & Climate Change (DECC) predicts that wave and tidal stream energy has the potential to meet up to 20% of the UK's current electricity demand, representing a 30-to-50 GW installed capacity.

So what is marine energy? Sometimes referred to as 'marine power' or 'ocean energy', this renewable source encompasses all energy that is generated through the ocean e.g. waves, tides, temperature differences or salinity. Wave and tidal form the two main streams of marine energy. To put it briefly, wave energy is formed by winds blowing over the surface of the sea. Whilst tidal stream energy is created by the constantly changing gravitational pull of the moon and sun on the world's oceans. The UK has great potential in wave and tidal streams, with its excellent marine resource and its expertise in oil and gas exploration. As DECC has recently announced its five year plan to 'secure, affordable and clean energy supplies', this is the perfect opportunity to develop marine technology here.
Many marine energy projects are already in full swing across the UK. Seagen tidal stream generator has been operating in Strangford Lough, Northern Ireland since 2008, and its license has been extended till 2018. The world's first tidal stream farm (also known as an 'array') Meygen's Inner Sound project, is currently under construction in the Pentland Firth, Scotland. Whilst the Tidal Lagoon project in Swansea Bay, Wales will be the world's first, man-made, energy-generating lagoon, with a 320MW installed capacity and 14 hours of reliable generation every day. The growing number of marine energy projects in the UK serves to demonstrate the potential this renewable technology has in our waters.
Despite its potential, this renewable power is not without its problems. Like many emerging industries, marine energy has struggled to secure financial banking, outside of government bodies for research, development and technology demonstrations. This is worsened by the fact that capital costs of marine energy projects are at the moment relatively high compared with other renewables, such as wind. It is not just the initial funding which raises concerns, operations and maintenance can also be costly. As a result this could hinder future government & investor support. Furthermore there are concerns over the difficulty of connecting marine energy sites to the national grid, given their location. Finally although marine power's damage to the environment is significantly less than its energy counterparts, the possible affects to existing ecosystems must be considered.
Later this year The UK Marine Energy Conference 5th July, will address such challenges and discuss possible solutions. Through a combination of conference discussions and networking, the event will provide a platform for stakeholders to discuss key debates, maximise potential and direct the industry towards a successful and sustainable future. The focus throughout will be on accelerating marine energy as a viable alternative in the UK and maintaining the UK's position as the forefront of marine energy development.
For more information on the UK Marine Energy Conference visit: http://www.marineenergyconference.co.uk/
Featured Product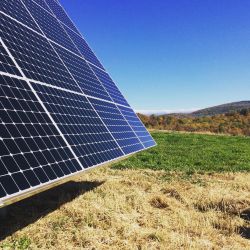 Designed and manufactured in the U.S., the AllEarth Solar Tracker is a complete grid-tied, dual-axis solar electric system that produces up to 45% more electricity than fixed systems. The tracker uses GPS and wireless technology to follow the sun throughout the day for optimal energy production. It has an industry-leading 10 year warranty and 120 mph wind rating, superior snow shedding, and automatic high wind protection. Its simple, durable design and complete system pallet simplifies costly procurement and installation time. Contact us about becoming a dealer partner or purchasing an AllEarth Solar Tracker.