DONG Energy has acquired RES Americas Developments Inc.'s (RES) more than 1000MW development project rights off the coast of New Jersey
TRENTON, N.J.--(BUSINESS WIRE)--During todays Bureau of Ocean Energy Management (BOEM) New Jersey Renewable Energy Task Force Meeting held in Trenton, DONG Energy announced that the company has taken over RES Americas Developments Inc.s (RES) more than 1000MW development project rights off the coast of New Jersey.

.@DONGEnergy announces acquisition of an offshore wind development area in New Jersey, @OceanWindNJ #offshorewind
Tweet this
The New Jersey lease area, which was acquired by RES during the offshore wind auction held by BOEM on November 9, 2015, was legally taken over by DONG Energy on May 11, 2016. RES Americas will continue to support the development of the lease area as agreed with DONG Energy.
The New Jersey lease area, which the company has named Ocean Wind, has a total size of 160,480 acres and is located approximately ten nautical miles offshore and has the potential to accommodate more than 1000MW of offshore wind, which could power 500,000 New Jersey homes.
The New Jersey lease is the second U.S. lease area for DONG Energy. The acquisition of the companys first U.S. lease area was approved by BOEM in June 2015 along the coast of Massachusetts.
Thomas Brostrøm, General Manager of North America, Wind Power, said: "DONG Energys entry into New Jersey is a great opportunity. As the world leader of offshore wind development, we look forward to expanding our profile in the U.S. and potentially building an industry."
The information provided in this announcement does not change DONG Energys previous financial guidance for the 2016 financial year.
Facts:
The New Jersey competitive lease auction was the U.S.' ninth competitive lease sale for renewable energy in federal waters for potential offshore wind energy development. Prior to the New Jersey competitive lease auction, the Department of Interior's BOEM had awarded nine commercial offshore wind leases, including seven through the competitive lease sale process (two in an area offshore Rhode Island-Massachusetts, another two offshore Massachusetts, two offshore Maryland and one offshore Virginia). These lease sales have generated about $14.5 million in winning bids for more than 700,000 acres in federal waters.
About DONG Energy Massachusetts Project:
Bay State Wind is DONG Energys first project in the U.S. As Bay State Wind, DONG Energy is proposing the construction and operation of a utility scale offshore wind farm off the southern coast of Cape Cod. On April 7, 2015, the Company secured newly assigned project development rights to an ocean area south of Marthas Vineyard, Massachusetts that was made available for lease by the Bureau of Ocean Energy Management ("BOEM") in a competitive solicitation. With water depths between 130-165 feet, this site sits approximately 15 nautical miles from the nearest landmass, Bay State Wind is proposing to use that site to build a utility scale offshore wind farm with an installed capacity of up to 1000MW.
About DONG Energy:
DONG Energy is one of the leading energy groups in Northern Europe, headquartered in Denmark. Around 6,700 ambitious employees are engaged in exploring and producing oil and gas, developing, constructing and operating offshore wind farms and power stations, and providing energy to residential and business customers on a daily basis. Group revenue was DKK 71bn (USD 10.6bn) in 2015. For further information, see www.dongenergy.com.
Featured Product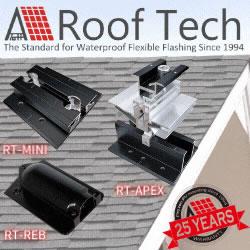 Now Roof Tech brings you the most innovative, watertight mounting systems ever developed for solar photovoltaic systems. Designed and manufactured exclusively for us by Japan's longtime leader in roofing technologies, Roof Tech products are 100% code-compliant and offer fast, simple installation and huge savings on shipping costs due to their compact, rail-less design. Learn more about our full line of versatile PV mounting solutions now available for residential installations. The next generation in rooftop solar mounting solutions."