The company was founded in Southern California in 1926, and was subsequently purchased by John Anderson.
Corona, CA - U.S. Battery is celebrating its 90th anniversary manufacturing deep-cycle

batteries for a variety of worldwide markets. The company was founded in Southern
California in 1926, and was subsequently purchased by John Anderson.
From the company's inception, Anderson focused on the deep-cycle battery market with a
commitment to providing customers with the best quality product available. In time, the
company has grown to include three manufacturing and distribution plants in Corona, CA,
Augusta, GA, and Evans, GA; as well as a global distribution network.
Despite the growth and changes in leadership, U.S. Battery maintains Anderson's
commitment to providing its customers with a high-quality, reliable product that speaks for
itself. Because of this, U.S. Battery has developed a worldwide reputation for providing the
industry's most efficient and reliable deep-cycle battery products to a number of national
and international industries.
After 90-years, U.S. Battery continues to look to the future. By continuing to introduce the
longest lasting deep cycle batteries available, U.S. Battery products have become the choice
for markets such as Golf Car, Electric Vehicle, Floor Cleaning Machines, Access Lifts and
Cranes, Recreational Vehicles, Marine, Military and Alternative Energy. "We're very proud to
continue Johns legacy, and this year we are laying the foundation for the next 90 years
through the introduction of new and innovative products, as well as the formation of many
new partnerships," says U.S. Battery CMO/Executive Vice President Donald Wallace. " U.S.
Battery remains committed to providing customers with a reliable, economical, and
environmentally responsible product that is still made here in the United States."
U.S. Battery products are Original Equipment for a variety of manufacturers, and are the
primary power source for vehicle and industrial fleets and dealers worldwide. For more
information contact U.S. Battery Manufacturing, 1675 Sampson Ave. Corona, CA 92879.
(800) 695-0945. Visit www.usbattery.com.
Featured Product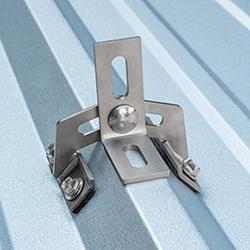 Error-Proof Compression: The QB2 doesn't leave any room for user error when it comes to Microflashing® compression. Once the Dual Drive Shoulder Screw is secured, the Microflashing® is compressed. Only 3 Components: The QB2 is comprised of Microflashing®, an L-foot and a Dual Drive Shoulder Screw. No more Nuts needed to tighten and secure the L-foot! Not only does this simplify the installation process, it also cuts down the installation time.