U.S. Battery's New 8VGCi XC2 8-Volt Offers A Performance Upgrade That Fits Perfectly With Hydrolink™ Single Point Watering Systems
U.S. Battery's new US 8VGCi XC2 allows for vehicle owners to easily upgrade their 8-volt deep-cycle battery to a higher-performing, longer lasting battery and continue to use their existing Hydrolink™* single point watering system.

Since battery manufacturers have different styles of vent caps, it's often difficult to change or upgrade to a different battery brand if you've already invested in a single point watering system. With the introduction of U.S. Battery's new US 8VGCi XC2 option, it's easy to upgrade to a better battery and keep your existing manifold-style watering system. The US 8VGCi XC2 will also fit existing Flow Rite and BWT systems as well, allowing you to also upgrade your single point watering system at a later date.
The new US 8VGCi XC2 is a Group GC8 size battery that provides 170 amp-hours at the 20-hour rate, making it a powerful and reliable power source for a variety of heavy-duty applications. Equipped with U.S. Battery's exclusive XC2™ Formula and Diamond Plate Technology®, the 8VGCi XC2 reaches higher initial rated capacity, and faster cycle up time to full-rated capacity, than any other battery in its class and price range.
Manufactured in the U.S.A., the US 8VGCi XC2 weighs 64 lbs. (29.0kg) and comes in a durable polypropylene case. This battery is only available with bayonet vent caps, and does not come with U.S. Battery's exclusive SpeedCap®. It can also be ordered with a variety of precision-made terminals to fit your particular application. For more information contact U.S. Battery Manufacturing, 1675 Sampson Ave. Corona, CA 92879. (800) 695-0945. Visit www.usbattery.com.
*Hydrolink™ is a trademark of the Trojan Battery Company.
Featured Product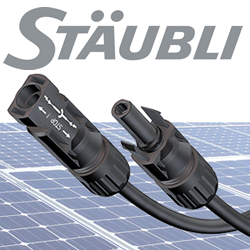 ​Stäubli Electrical Connectors are used on more than 300 GW, over 50% of the PV capacity worldwide. The MC4 family of UL and TUV listed products include connectors, in-line fuses, branch connectors, cable assembly and more.