Water deionizer will save time and money for routine electrolyte refills
Iron Edison Battery Company and Philadelphia Scientific have collaborated to offer a water deionizer system for Iron Edison Nickel Iron batteries that eliminates the need for store-bought distilled water for electrolyte replenishment.

The HydroPure Deionizer System is a wall-mounted unit that connects directly to a tap water source. The water is purified through the HydroPure cartridge to meet factory standards for Nickel Iron water quality, and is the only deionizer system approved for use with Iron Edison batteries.
"For many of our customers, the cost per gallon of water using the deionizer system will be less than the cost per gallon of store-bought distilled water," said Brandon Williams, CEO of Iron Edison Battery Company. "Were excited to offer more convenience to Nickel Iron battery owners who have already chosen the longest lasting, most durable solar battery on the market."
A purity light on the deionizer unit, specially calibrated to 6 parts-per-million (ppm) of total dissolved solids (TDS) required for Iron Edison Nickel Iron batteries, will change from green to red when the cartridge needs to be replaced. Each cartridge is rated for approximately 400 gallons of water, depending on the quality of the water source.
The HydroPure Deionizer System is compatible with the Philadelphia Scientific Battery Watering Gun-X to inject the purified water into the battery cells.
The water deionizer system, replacement cartridges and watering gun are available now on IronEdison.com.
Like most flooded deep-cycle batteries, water in the electrolyte of a Nickel Iron battery is consumed through electrolysis, requiring periodic water to be added to the battery cells to replenish the electrolyte.
Lab testing on the HydroPure deionizer cartridges showed a capacity of 406 gallons per cartridge using water with a purity level of 145 ppm TDS, which is below average for United States water quality according to Philadelphia Scientific.
Philadelphia Scientific is offering a complementary water analysis for parties interested in the HydroPure system. The report will show their waters TDS and what the cost per gallon of water would be using the HydroPure Deionizer System. Contact the sales department at Iron Edison for more information.
Iron Edison Battery Company offers Nickel Iron and Lithium Iron batteries for solar energy storage, along with complete solar energy system design services. Its team has designed thousands of off-grid and battery backup systems around the world using Nickel Iron or Lithium Iron battery types. Both Nickel Iron and Lithium Iron are longer lasting, more durable alternatives to traditional lead-acid batteries. Iron Edison is dedicated to educating people on the benefits of advanced battery technology.
Philadelphia Scientific is a world-leading provider of products and services for motive power and standby batteries, operating from North America, Europe, Southeast-Asia & Asia-Pacific. The creator and manufacturer of many market-leading products, Philadelphia Scientific continuously develops new innovations to serve the industry. This excellence in engineering, combined with a passion for quality, has made Philadelphia Scientific one of the most trusted brands in the marketplace today.
For more information on Iron Edison or the HydroPure Deionizer System, call 720-432-6433, email info(at)ironedison(dot)com, or visit IronEdison.com.
Featured Product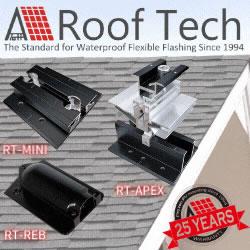 Now Roof Tech brings you the most innovative, watertight mounting systems ever developed for solar photovoltaic systems. Designed and manufactured exclusively for us by Japan's longtime leader in roofing technologies, Roof Tech products are 100% code-compliant and offer fast, simple installation and huge savings on shipping costs due to their compact, rail-less design. Learn more about our full line of versatile PV mounting solutions now available for residential installations. The next generation in rooftop solar mounting solutions."