Dutt Electronics preferred to use U.S. Battery deep-cycle, flooded lead-acid batteries for it's Energy Save industrial energy storage system, which is nominated for an EnerTIC Award.
Dutt Electronics, a manufacturer of alternate energy inverters for the OE market, found that U.S. Battery products were the best choice for energy storage for its new Energy Save power system, which has been nominated for the 2016 EnerTIC Award in the category of Smart Industry.

"We conducted a detailed study of existing storage technologies," said Ramon Ugarte of Dutt Electronics. "Our Energy Save application required a mature technology and low cost. Initially, Lithium-Ion batteries would have worked, but for a quick return on investment and low cost for our customers, deep-cycle flooded lead-acid batteries were the best choice."
The Save Energy system uses 36 U.S. Battery 185E batteries with XC2™ formulation and Diamond Plate Technology® which deliver more watt-hours per liter and watt-hours per kilogram than any other flooded lead-acid battery on the market. "There are plenty of battery brands available," said Ugarte. "But we wanted to use U.S. Battery products because their technical characteristics were the best fit, and they offer the support of a solid company with more than 90-years of history."
The Dutt Energy Save system is an integrated unit that combines a bi-directional inverter, monitoring system, and battery pack all in one unit. With autonomous operation, it balances power output between stored energy consumption and battery charging during peak energy hours to reduce overall energy costs.
For more information on U.S. Batterys line of performance products, contact U.S. Battery Manufacturing, 1675 Sampson Ave. Corona, CA 92879. (800) 695-0945. Visit www.usbattery.com
About Dutt Energy: Dutt is an electronics manufacturer in Spain whose field of interest covers any sector that requires control and conversion of energy and/or power; such as solar, industrial, energy storage and more. The company has nearly 20 years of experience in providing OEM solutions for inverters and hybrid converters. Visit www.duttelectronics.com/en/site/solutions.
Featured Product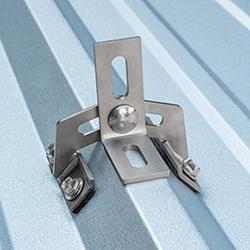 They have been changing the game for 10 years with their original Top Mount line for Asphalt Shingle roofs, and by now supplying one of the widest ranges of solar mounts in North America. From their patented products, to the custom production services they offer, QuickBOLT has been working with solar installers for nearly a decade to make solar installations easier than ever before.