Alliance BioEnergy Plus, Inc. subsidiary seeks to raise $10 million to secure and renovate abandoned Florida biofuel facility for enhanced production of environmentally friendly fuels and products
WEST PALM BEACH, Fla., March 23, 2017 - Alliance Bio-Products, Inc. (Bio- Products), a subsidiary of Alliance BioEnergy Plus, Inc. (ALLM), today announced its filing of a Regulation D (506(c)) offering with the U.S. Securities and Exchange Commission (SEC). The purpose of the filing is to secure funds through accredited investors for the purchase of a bioethanol plant in Southeast Florida that would enable the Company to increase production capacity and profitability of its sustainable, environmentally friendly alternative to petroleum-based fuels and other products through its patented Cellulose to Sugar (CTS) conversion process.

Bio-Products 506c offering will allow the company to sell 1,000,000 shares of its securities to accredited investors. The Company will offer 8% Convertible Preferred Stock at $10 per share, with a preferred minimum investment of $5,000. The offering will be conducted on a best efforts basis through the Companys website, where the Private Placement Memorandum and Accredited Investor Questionnaire are located.
Bio-Products has made an offer to purchase an 8 Million Gallon Per Year (MMGY) ethanol facility in Indian River County, Florida with the intention of converting the current gasification process into the Companys patented CTS process under a sub-license from Alliance Bio-Energy. Pending the completion of the plant negotiations and purchase, operations are expected to reach capacity in early 2018, potentially generating $25 million in EBITDA and then will look to double capacity to 16 MMGY, potentially generating $54 million in EBITDA in 2019 before maximizing capacity of 34 MMGY, generating $112 million in 2021.
The Companys patented CTS process allows it to produce biofuels for less than $1 per gallon that are 100% CO2 neutral and have 85-95% less greenhouse gases than petroleum based products.
"We look forward to taking the next steps in solidifying our purchase of our own cellulosic ethanol production plant and believe the increased demand for cheaper biofuels will continue to drive growth of the company and the industry," said Daniel DeLiege, Chairman, Alliance Bio-Products, Inc. "This offering will be the first step of many to expand the companys capacity and enable a faster turnaround through the production of less expensive ethanol from local agricultural and yard waste. We believe the purchase of this plant will put our Company in the best position possible to reach mass commercialization of our product and to ultimately produce revenue and bring value back to shareholders."
To learn more about the Company and the investment opportunity, please visit https://www.transfer.ly/invest/alliance-bio-products.
About Alliance Bio-Products, Inc.
Alliance Bio-Products, Inc. was formed as a special purpose wholly-owned subsidiary of Alliance BioEnergy Plus, Inc. ("ALLM") to own and operate Bioethanol plants in the United States.
Utilizing ALLM's patented CTS process Alliance intends to retrofit existing ethanol plants with the mechnocatalytic cellulosic conversion process, transforming them into profitable renewable energy centers that are carbon neutral, waste free and protecting our delicate environment while providing energy and high value co-products. The CTS process enjoys a family of patents centered around the main U.S. patent # 8,062,428.
Information in this document constitute forward-looking statements or statements which may be deemed or construed to be forward-looking statements within the meaning of the Private Securities Litigation Reform Act of 1995. The risks, uncertainties and other factors are more fully discussed in the Companys filings with the U.S. Securities and Exchange Commission. All forward-looking statements attributable to Alliance BioEnergy Plus, Inc herein are expressly qualified in their entirety by the above- mentioned cautionary statement. Alliance BioEnergy Plus, Inc. disclaims any obligation to update forward-looking statements contained in this estimate, except as may be required by law.
Media contact:
Kate Caruso-Sharpe FischTank Marketing and PR kate@fischtankpr.com
Investor Information Contact: LCG
702-790-2514 info@lunaconsultantgroup.com
Featured Product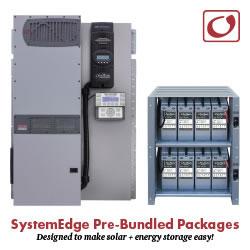 Each pre-bundled package is designed to make solar plus energy storage easy. By combining OutBack's most popular FLEXpower pre-wired systems with matched OutBack energy storage, SystemEdge takes the guesswork out of installing solar plus storage. Every SystemEdge package includes a FLEXpower factory pre-wired system, application-specific EnergyCell batteries and racking, FLEXware ICS Plus combiner and all the necessary connection hardware.