Mayfield Village, Ohio, May 18, 2017 — Maneuvering mounting rails can be the most demanding part of installing rooftop PV solar modules. But now installers can avoid that — and mount modules faster and easier — with the POWER DISK™ rail-less mounting system from Preformed Line Products' DPW Solar.
POWER DISK™ is a unique roof attachment that can go anywhere on residential rooftops. It does not need to be secured to rafters.

"Layout takes a fraction of the time and requires fewer components and tools than traditional rail-less systems," says John Markiewicz, General Manager of DPW Solar. "The layout process is simple. You can place solar modules at precisely your preferred locations."
Install solar modules in four simple steps
1. Snap chalk lines.
2. Mount POWER DISK bases anywhere on the roof deck.
3. Set solar modules in place.
4. Spin the disks to vertically adjust height to roof undulations.
Whats better about POWER DISK?
• Flexible. Modules can be set in portrait or landscape format.
• Adaptable. Attach POWER DISK directly to rafters — or not. It can attach anywhere on the roof.
• Compatible. It fits most framed 60- and 72-cell modules.
• Quick to install. POWER DISK is pre-assembled. Install it with 1½" roof deck screws (included) or optional 2½" lag bolt mounting.
• Built-in electrical grounding. Grounding clips are integrated in the mount.
• UL 2703 code compliant.
• Optional flashing available.
• Available in black.
About DPW Solar
DPW Solar, a brand of Preformed Line Products, has provided innovative mounting solutions for PV solar modules since 1993. Products include high-strength, easy-to-install racking systems for pole-mount, rooftop and ground-mount applications. Professional integrators and installers rely on DPW Solar mounting systems and enclosures, which continue to outperform in harsh environments on stadiums, airports, retail stores, schools, universities and commercial buildings worldwide. 
About Preformed Line Products
Founded in 1947, Preformed Line Products (Nasdaq: PLPC) designs and manufactures cable anchoring and control hardware and systems, fiber optic and copper splice closures, and high-speed cross-connect devices. Core markets include communications, energy, special industries and solar. Headquartered in Mayfield Village, Ohio, PLP operates two domestic manufacturing centers, in Rogers, Arkansas, and Albemarle, North Carolina. It serves customers worldwide through operations in Argentina, Australia, Brazil, Canada, China, Colombia, England, France, Indonesia, Malaysia, Mexico, New Zealand, Poland, Russia, South Africa, Spain and Thailand.
-END-
General Offices: 660 Beta Drive, Mayfield Village, Ohio 44143
800-260-3792 • 440.461.5200 • www.dpwsolar.com
Mailing Address: P.O. Box 91129, Cleveland, Ohio 44101
Featured Product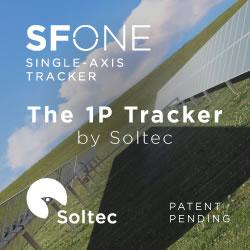 Soltec manufactures and supplies solar trackers designed and proven for extreme climate conditions, which is an ideal solution for any region's environment. Soltec's trackers are self-powered, requiring no additional PV module or grid-powered connection. Bifacial modules collect energy on both the front and rear sides, capturing reflected irradiance from the ground surface under and around the tracker and from other modules. Depending on site conditions, bifacial yield-gain can reach +30 percent.