SCOUT™ Cloud Software and SensoNODE™ Gold Sensors Help Users Monitor Condition Changes in Hydraulically Controlled Trackers with alerts to their Desktop or mobile devices. Sensors will be demonstrated live on Parker's Hybrid Actuation System (HAS) in Booth #1545 at Solar Power International, Mandalay Bay Convention Center, Las Vegas, NV Sept 11-13.
MINNEAPOLIS, Minn., Aug. 25, 2017 - Parker Hannifin, a global leader in connected motion and control technologies, has launched its new SCOUT™ Cloud Software and SensoNODE™ Gold Sensors, which provide a wireless, remote monitoring solution for the preventive maintenance of solar panels. By monitoring the pressure levels of the solar panel tracking systems hydraulic loads, end users can calculate how much extra pressure is being put on the panels. That information helps them identify individual panels that may need inspection.

"Each tracker has an expected load that should be supported at all times," says Tad Orstad, applications engineer with Parker. "A change in this supported load can sometimes indicate structural damage that needs to be addressed before the scheduled visit from field technicians. SCOUT Cloud Software and SensoNODE Gold Sensors monitor and transmit each trackers pressure levels, letting asset managers identify individual panels that may need service."
Typically, workers would have to go out to each field to inspect the solar arrays for damage. With SCOUT Cloud Software and SensoNODE Gold Sensors, they can quickly and easily monitor several fields of arrays with a desktop computer. The cloud-based solution allows them to access asset conditions from anywhere with an internet browser.
The solution also allows them to receive alert notifications via email, text, or in-messaging system, record readings and observe trend changes. So, even if a current weight is what its supposed to be, a sudden spike from the past is recorded, and the end-user will know to check the panel for structural damage that may have otherwise gone unnoticed, or perform regular maintenance on the solar tracker, Orstad says.
"Consistent increases in hydraulic load readings can also indicate motor wear for the tracker," he says. "Wear can be a sign of a failing pump, motor, or other system issue. SCOUT Cloud Software and SensoNODE Gold Sensors send alert notices via email, text, or in-messaging system to let maintenance technicians know about condition issues," he added.
Orstad will be on-hand at this years Solar Power International at the Mandalay Bay Convention Center in Las Vegas from Sept. 10-13. Stop by booth #1545 for more information on Parkers cloud-based, condition monitoring sensor solution. You can also learn more at solutions.parker.com/spmonitoring.
About Parker Hannifin
Parker Hannifin is a Fortune 250 global leader in motion and control technologies. For 100 years the company has engineered the success of its customers in a wide range of diversified industrial and aerospace markets. Learn more at www.parker.com or @parkerhannifin.
Featured Product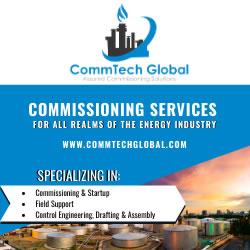 CommTech Global Solutions, LLC, provides professional and reliable commissioning services to customers in all realms of the energy industry. We blend our skills in engineering and technology with innovative business models, offering a complete range of services to assist you for a successful and in compliance operational startup. Consolidation of all our service domains gives our clients a comprehensive set of expertise and far-reaching experience on each project.