Overall competition winner to be announced on Saturday
LAS VEGAS - October 13, 2017 - UNLVs Team Las Vegas has taken top prizes in two key contests at the U.S. Department of Energy Solar Decathlon 2017 competition with their Sinatra Living home design. In Innovation, the student team received 98 out of 100 points, ranking first place and beating the second-place team by five points. In Architecture, they tied with Washington University in St. Louis for second place with a total of 94 points.

Innovation and Architecture are two of six juried contests included in the competition which runs through Oct. 15, and is taking place in Denver. The additional four contests - Health and Comfort, Appliances, Home Life and Energy - are measured contests with final results being calculated on a daily basis and into each teams final score. Currently Team Las Vegas is in fourth place overall.
For the Innovation contest, new for the competition this year, teams were judged on aspects such as how they incorporated research to decide on design solutions, how well the team integrated passive strategies and materials into their design to maximize sustainability, and the extent to which their design utilized innovative approaches to satisfy an existing market need. Complete criteria for the contest can be found at https://www.solardecathlon.gov/2017/competition-contests-innovation.html.
"We set out to build a home that was innovative, yet simple, a home well-suited to our Las Vegas community both in terms of climate and demographic," said Nasko Balaktchiev, student project manager. "The team definitely believed that we executed our concept well, and were elated and proud that the judges agreed."
For the Architecture contest, judges evaluated teams on the concept and design of their home, and how well their homes integrated solar and energy efficiency technologies into that design. Complete criteria for the contest can be found at: https://www.solardecathlon.gov/2017/competition-contests-architecture.html
In addition to a home that blends design excellence with optimal energy efficiency, Sinatra Living was designed to meet a growing social need - aging-in-place. The home combines accessibility and interior comfort with smart home and health-monitoring technologies to help older adults move safely in their environment, communicate with care givers and social services, and ultimately remain in their homes longer.
Four of the 10 contest awards have been announced so far. The grand prize award winner will be announced Saturday morning.
The public can still show support for Team Las Vegas by voting in the Solar Decathlons Peoples Choice Award. Voting takes place on Facebook at https://poll.fbapp.io/pca. Online votes are being accepted through Saturday, October 14, 2017. Results will be broadcast on Facebook on October 15.
The U.S. Department of Energy Solar Decathlon is a collegiate competition made up of 10 contests that challenge student teams to design and build full-size, solar-powered houses. Competing students gain hands-on experience and unique training while consumers experience the latest technologies and materials in innovative energy technologies, smart home solutions, water conservation and sustainable buildings.
Sinatra Livings multi-disciplinary team includes faculty and students from the School of Architecture, the Howard R. Hughes College of Engineering, the School of Allied Health Sciences, and the William F. Harrah College of Hotel Administration.
The project is sponsored by Switch and NV Energy Foundation.
For more information on the project, follow the team on Facebook at Team Las Vegas Solar Decathlon 2017 (@UNLVSD17), on Twitter @UNLVSD17, and on Instagram @UNLVSD17, or visit the Web site at www.unlvsd.com.
About UNLV
UNLV is a doctoral-degree-granting institution of approximately 30,000 students and more than 3,000 faculty and staff that is classified by the Carnegie Foundation for the Advancement of Teaching as a research university with high research activity. UNLV offers a broad range of respected academic programs and is on a path to join the top tier of national public research universities. The university is committed to recruiting and retaining top students and faculty, educating the region's diversifying population and workforce, driving economic activity through increased research and community partnerships, and creating an academic health center for Southern Nevada that includes the launch of a new School of Medicine. UNLV is located on a 332-acre main campus and two satellite campuses in Southern Nevada. Learn more at UNLV.edu
Featured Product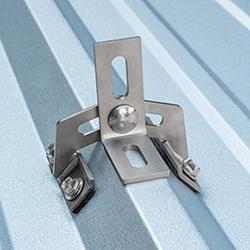 Error-Proof Compression: The QB2 doesn't leave any room for user error when it comes to Microflashing® compression. Once the Dual Drive Shoulder Screw is secured, the Microflashing® is compressed. Only 3 Components: The QB2 is comprised of Microflashing®, an L-foot and a Dual Drive Shoulder Screw. No more Nuts needed to tighten and secure the L-foot! Not only does this simplify the installation process, it also cuts down the installation time.