Construction is planned to start in October 2018 and it is expected to reach commercial operation by mid-2019. Over 720,000 of Canadian Solar's 1500V high efficiency KuMax modules (CS3U-P) will be installed on single-axis solar tracking systems.
Canadian Solar Inc. (the "Company" or "Canadian Solar") (NASDAQ: CSIQ), one of the world's largest solar power companies and Biosar Australia, a leading solar EPC provider, today announced they will jointly provide Engineering, Procurement and Construction ("EPC") services to a 256 MWp solar power project in Australia for Total Eren, a leading French Independent Power Producer (IPP).

The project, Kiamal Solar Farm, is located in Northwest Victoria and has secured several Power Purchase Agreements (PPAs) with energy retailers such as Flow Power and Alinta Energy and a 20-year PPA with Mars Australia. Construction is planned to start in October 2018 and it is expected to reach commercial operation by mid-2019. Over 720,000 of Canadian Solar's 1500V high efficiency KuMax modules (CS3U-P) will be installed on single-axis solar tracking systems. When completed, it is expected to be the single largest solar power plant in Victoria, Australia, and will produce enough electricity to meet the needs of more than 133,500 Victorian homes and displacing more than 610,000 tonnes of carbon dioxide emissions annually.
Dr. Shawn Qu, Chairman and Chief Executive Officer of Canadian Solar, said, "We are delighted to be selected by a very ambitious and professional IPP such as Total Eren to provide EPC services together with Biosar and to supply our 1500V crystalline module to this large-scale solar power project which was very diligently developed. This partnership further expands our presence and solidifies our competitive position in Australia. We are committed to providing customers in Australia and around the world with access to clean, affordable and reliable solar energy."
"Canadian Solar's wide experience and technological leadership in the solar energy market are an ideal combination for new solar projects in a very fast growing market such as Australia" said Aris Polychronopoulos, General Manager of Biosar. "Canadian Solar is the perfect partner and we are very glad to join forces with them in order to provide a strategic client such as Total Eren with EPC services in their first mega scale project in the country".
"I am delighted to launch the construction of our largest solar project worldwide and Victoria's largest solar PV plant, which was only possible thanks to the excellent work performed by our team and our partners, in particular Mars Australia, Flow Power and Alinta Energy. We selected to work with Canadian Solar and Biosar as we believe their expertise and proven track record of deployment of large-scale solar power projects worldwide will bring success to our mega project in Australia," commented David Corchia, Chief Executive Officer of Total Eren. "Canadian Solar and Biosar have been very supportive and we look forward to working with them for future opportunities."
About Total Eren
Founded in 2012 by Pâris Mouratoglou and David Corchia, Total Eren has built up a substantial and diversified portfolio of wind, solar and hydroelectric assets representing an installed gross capacity of more than 1,300 MW in operation or under construction worldwide. Through partnerships with local developers, Total Eren is currently developing numerous renewable energy projects in countries and regions where renewable energy represents an economically viable response to growing energy demand, such as in Asia-Pacific, Africa and Latin America. Its objective is to achieve a global net installed capacity of more than 3 GW by 2022. On 1 December 2017, Total S.A, the major energy company, has acquired an indirect 23% interest in Total Eren. To learn more: www.total-eren.com
The Kiamal Solar Farm is Total Eren's first investment into Australia with a nameplate capacity of 256 MWp / 200 MW. Located near Ouyen township in north-west Victoria, the Project is connected into the 220 kV transmission network through a new terminal station and substation built by TransGrid. The Project is expected to employ over 200 full-time equivalent jobs during construction and 7 jobs during the operational phase.
About Biosar
Biosar, a global construction firm, offers integrated solutions for design, supply, construction and operation and maintenance of medium and large-scale PV systems. Biosar is a member of the largest construction group in Greece, AKTOR, an international highly diversified company focused on Infrastructure, Building, Industrial, MEP, EPC and Concession Contracts, Facility and Project Management. Biosar operates in 13 countries worldwide, having as of today a total installed capacity of 1.6 Gigawatts and an order book of another Gigawatt, thus making the company one of the most successful international solar energy sector firms. For additional information, follow Biosar on LinkedIn or visit www.biosar.gr.
About Canadian Solar
Founded in 2001 in Canada, Canadian Solar is one of the world's largest and foremost solar power companies. As a leading manufacturer of solar photovoltaic modules and provider of solar energy solutions, Canadian Solar has a geographically diversified pipeline of utility-scale power projects in various stages of development. In the past 17 years, Canadian Solar has successfully delivered over 29 GW of premium quality modules to over 100 countries around the world. Furthermore, Canadian Solar is one of the most bankable companies in the solar industry, having been publicly listed on NASDAQ since 2006. For additional information about the Company, follow Canadian Solar on LinkedIn or visit www.canadiansolar.com.
Featured Product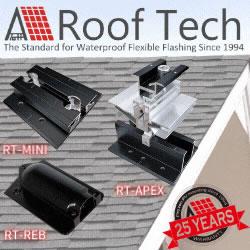 Now Roof Tech brings you the most innovative, watertight mounting systems ever developed for solar photovoltaic systems. Designed and manufactured exclusively for us by Japan's longtime leader in roofing technologies, Roof Tech products are 100% code-compliant and offer fast, simple installation and huge savings on shipping costs due to their compact, rail-less design. Learn more about our full line of versatile PV mounting solutions now available for residential installations. The next generation in rooftop solar mounting solutions."