Recent findings show that some of the longest-standing EU members, such as the Netherlands and the United Kingdom, lag significantly behind Lithuania, Latvia, Estonia and Poland in terms of reaching the bloc's 2020 renewable energy objectives
February 26, 2019: In a recently published European Union report, which showed the Netherlands and the United Kingdom to be the least energy efficient EU member states in terms of renewables, the same findings showed that the Baltic States of Lithuania, Latvia, and Estonia make up over 30% of the EU countries that have already met their 2020 renewable energy targets.

The EU has made it mandatory that all 28 member states will have to source 20% of their total energy outputs from renewables by 2020, and 27% by 2030. Despite having been previously occupied by the Soviet Union and largely reliant on energy from their larger neighbour, the geopolitical objective of the Baltic States is to be self-reliant in terms of energy by 2025.
In 2018, Lithuania, Latvia, and Estonia revealed that within the next six years they would pivot away from the Soviet-era power grids that drive their current energy systems and those of Russia and Belarus. Instead, the three countries will become synchronised with continental Europe's energy system as a result of a number of energy-tie ups with neighbouring EU countries.
Between Estonia and Finland there are the undersea Estlink 1 and 2 cables, whilst Lithuania has the high-voltage 700MW Nordbalt cable that runs across the bed of the Baltic Sea between the port city of Klaipėda and Sweden. In 2016, the 500MW LitPol interconnector between Lithuania and Poland was installed, and it represents the first phase of the Baltic States' energy integration with mainland Europe.
In terms of renewables, Estonia ranks as of the EU's leaders in terms of introducing electric and hybrid vehicles, and Lithuania aims to have 200MW of photovoltaic capacity installed by 2020 which would make it the largest producer of solar energy in the region. Latvia, despite trailing its neighbours in terms of PV and wind power, is the Baltic States' leader for hydropower.
Sun Investment Group, (SIG), a Lithuanian-Polish investment firm with one the biggest shares of the solar energy market in Poland believes that the Baltic States' drive for self-determination both in terms of energy and seeking closer ties with the EU is why they have managed to outperform longer-standing EU member states.
"Lithuania, Latvia and Estonia have only been members of the EU since 2004, but they have shown through their 2025 energy objectives that they are the strongest advocates of an inner-EU energy union between the Baltic and Nordic regions as well as closer integration with the EU as a political organisation," said Andrius Terskovas, SIG's Business Development Officer. "This dedication to energy self-sustainability and development of renewables is why our region has managed to already exceed its energy targets ahead of schedule."
Given the recent energy developments taking place within the Baltic States during recent years and their achievements in already meeting their 2020 energy targets, it is a question of 'when' they achieve full integration with the EU's main integrated energy networks.
ABOUT SUN INVESTMENT GROUP
Sun Investment Group (SIG) was founded in 2011 as an investment management and development company focused on solar energy assets within investment-grade markets. It has extensive experience in developing solar power projects across Europe. SIG is one of the biggest solar PV players in Central-Eastern Europe region. Most recent project was developed and is under construction in Poland with a cumulative power of 42,36 MWp, approximately 15% of the country's total market. Other key operational markets include Spain, Hungary, and Italy. https://suninvestmentgroup.com.
Featured Product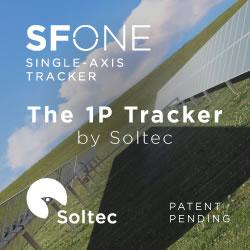 Soltec manufactures and supplies solar trackers designed and proven for extreme climate conditions, which is an ideal solution for any region's environment. Soltec's trackers are self-powered, requiring no additional PV module or grid-powered connection. Bifacial modules collect energy on both the front and rear sides, capturing reflected irradiance from the ground surface under and around the tracker and from other modules. Depending on site conditions, bifacial yield-gain can reach +30 percent.